The Deeper Concept of Rnanubandha and Karmic Relations
Introduction


First of all you need to understand what is karama and what are karmic relationships and how both are interlinked with  Debt of pasts. That shows reason for those seeds and how are they interrelated to the Past births Karmic actions, as said below Karama is neither a punishment nor a treat its just a way to know about yourself and unfulfilled desires those are keep revolving from past birth cosmic cycles.
For understanding Karmic Cycle one need to understand the essence of Karama from Bhagwad Gita and Mahabharta Bhishma Parva , chapters 43 to 124.
Story Begins: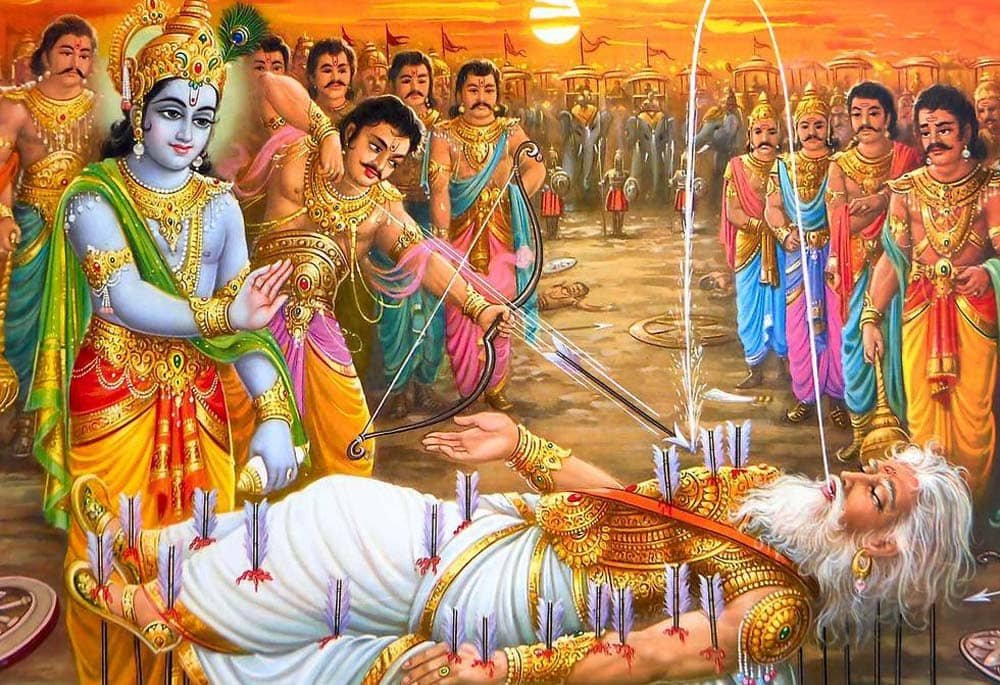 Here is the short story and shows dialogue between Bhishma  and the Arjuna During the Mahabharta war, Bhishma knew very well that even he was with the Kauravas; but it was only his body and not his heart that was with them.
Refernece taken from:
https://gita-blog.blogspot.com/2013/07/our-present-life-is-result-of-our-deeds.html?m=1
Bhishma he said to Yudhishthira, 
"My son, Duryodhana was doomed when he brushed aside Krishna's advice; your victory was assured. During the war, Place Shikhandi before me and I shall throw down my bow and arrows. I shall not fight."
Now Question arises Why Shikhandi ??
"Bhishma knew that Shikhandi was none other than Amba whom he had refused to marry in past life. She wanted vengeance from him. Later She then meditated on to Lord Shiva; she wanted a boon that she would kill Bhishma. Lord Shiva granted her the boon; she was born again to kill Bhishma but he refused to consider Shikhandi as a man and would not fight with him."
This again shows Karmic links always come forward to us in any form either in vengeance or in love, or hatred and many a times it comes as sufferings too, one has to pay his karmic debt in the form of Runanubandham (Karmic Relation with them).  
Further, During the end of Kurukshetra War, when Bhishma was lying down pierced by thousand arrows of Arjuna, Bhishma explained to Arjuna about the Past life as follows:
"O Pandavas! Everything is result of our deeds in past life. Without sowing seeds, plants never sprout. Similarly, good or bad deeds done in past life give good and bad results in the present life. By making charities in past life, one gets enormous wealth in present life without any effort.
Tapas made in past life yields pleasures in present life.
Service done to elders and gurus in past life results in acquiring knowledge and intelligence without studying under any guru. If one observes non violence in past life then that person lives for long age in present life.
Therefore, Sadhu / Saintly people always observe nonviolence, make charities, regard gurus, serve elders and guests etc. Then only they enjoy pleasures in next life. So it's all about doing Good or Bad Karmas in past life that one get a good or bad result in present life."
(Mahabharta,  Bhishma Parva,chapters 43 – 124)
Moral of the Story: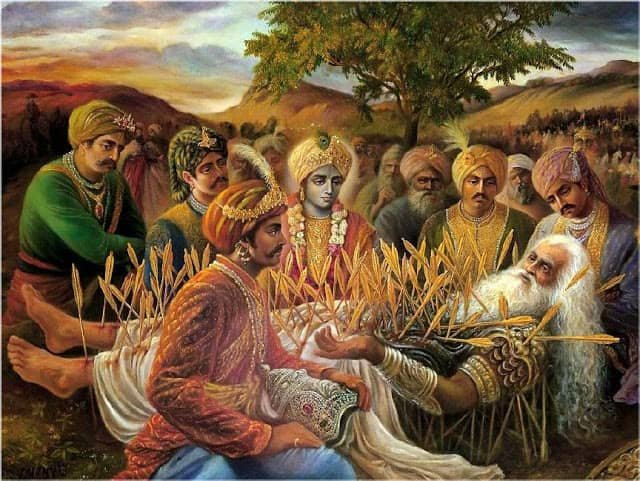 Its the Karama that become the reason of this birth, after accumulating new karamas it leads to the basis of your next birth. After the death, soul of a person gathers all accumulated karamas from current one like a reservoir in that person's mind. Later Divinity or God as per the divine Karmic law takes a handful of those Karmas and further it leads to a new karmic seed in the form of body.
So if a person has done good Karmas with those individual people, he/she might gets a good godly body in heavens first and then further they takes birth in a same learned, Religious and dutiful families, forms Close association with those family members in as a brother, sister, mother or father as a part of Karmic Rina, those having done good karama with that soul, during this whole process they enjoys relations with them.
If he/she has done bad karmas in past life then that person's soul further goes to lower wombs of birds and animals.After moving through those lower Varnas, exhausting bad karmic seeds Soul further takes birth in those families having bad pending karmic deeds with them to further clear off debts in the form of karmic relations.This way process of Birth and death in the karmic relations keep going on unless and until karmas neutralises into zero.
( Source : https://gita-blog.blogspot.com/2013/07/our-present-life-is-result-of-our-deeds.html)
Below are verses of Bhagwat Gita further justifies the Laws of Karama and connection with the Rnanubandhan Theory:
"sariram yad avapnoti yac chapy utkramatishvarah grhitvaitani samyati vayur gandhan ivasayat"
(Bhagwat Gita: Chapter Fifteen verse 8)
"Sri Krishna said:O Arjuna, As the wind carries away odours from their seat, even so the Jivatma (soul), the lord of the body, snatching these (the mind & the senses) from the body, which it casts off, migrates into the body, which it acquires.
"yada sattve pravrddhe tu pralayam yati deha-bhrt
tadottama-vidam lokan amalan pratipadyate"
(Bhagwat Gita: Chapter Fourteen verse 14)
"Sri Krishna said: O Arjuna, When one dies in the mode of goodness, he attains to the pure higher planets of the great sages."
"rajasi pralayam gatva karma-sangisu jayate
tatha pralinas tamasi mudha-yonisu jayate"
(Bhagwat Gita: Chapter Fourteen verse 15)
"Sri Krishna said:O Arjuna, When one dies in the mode of passion, he takes birth among those engaged in fruit producing activities (i.e. as a man or woman on earth); and when one dies in the mode of ignorance, he takes birth in the bird & animal kingdom."

This shows that its Karamic debts which become the seed of our many births we take in any given life cycle.
If we See further Definition of Karmic action, Below mentioned quotes are well justifying the theory:
"Karma has been a pop culture term for ages. But really, what the heck is it?Karma is not an inviolate engine of cosmic punishment. Rather, it is a neutral sequence of acts, results, and consequences.
Receiving misfortune does not necessarily indicate that one has committed evil. But it is a sufficient indicator of something else.
And that something else can be anything, as long as it is a logical consequence of what has come before.
Consider: if you fall into a well, you are not a bad person who deserves to suffer—you are merely someone who took a wrong step. Or someone who had one drink too many. Or got a head rush due to poor circulation. Or forgot to wear your glasses. Or— 
The reasons are plentiful, and all plausible. But the chain of cause and effect goes way, way back into the deepest hoariest recesses of your personal past.So never rule out retribution. But never expect it." 
by Vera Nazarian, The Perpetual Calendar of Inspiration
When you seek questions those are unfulfilled and having no clue from anywhere, that simply indicates those are nothing but are deep rooted lessons of past karmic actions.
"If you want to know the answer to 'Who am I?', then you will have to go to a Gnani purush [the enlightened one]. The Gnani Purush will give you Knowledge of your real Self [Who Am I] in the presence of the egoism. Thereafter your accounts (karmic) will be settled [& things will start falling in place].If the 'effect' is experienced, [karmic] bondage is created. If one experiences the 'effects' alone by himself, the [karmic] bondage will not be sticky. If he involves another person in it, the karmic bondage will be sticky."  
― Dada Bhagwan
Definition from the The Padma Puran
"Runanubhanda Rupena Pashu Patni Suta Aalaya Runakshaye Kshyayaanthi Tatra Parivedana."
(Padama Puran)
Meaning: Every Relations are the result of previous birth bondage. Once the debt is annihilated there is no relationship and hence end of suffering in this Samsara.
Hypothesis Says: 

It's not easy to understand what are karmic relationships which bound us from many years or why we are just stick to them from our childhoods days with many of people we interact, share, love and responds them in a unique way. The best way to understand Karmic bondage's is to just keep silent and understand them and ask millions of questions to your soul itself.
In Layman language, A karmic relationship is a deep rooted karmic actions based romantic bond that is formed with someone whom you feel connected always and somehow you thinks you are made for and most probably it might be belong from your soul group categories in order to repent, heal past life lessons and pain a soul is going through from many years.
Karmic relationships are the type of category that looks like a soulmate type bond that no one wants in a direct way, but ultimately everyone will get it in karmic cycle of this birth. These bonds are difficult to understand and are emotionally very taxing, sometime it takes shapes of abusive and verbal conflicts, and most important it has controlling and manipulative nature in sense.
There is no way to get out from such karmic bonds until and unless soul deeply learn his karmic lessons those are pending from this birth system meanwhile they keep moving in a cosmic cycle for years to understand each other. The only way to heal and understand a karmic relationship is when one or the other person try to understand its spiritual background of relations and take a decision to steps out of the karmic cycle and grows spiritually.For ending a karmic relation, someone need to become stronger, broader and he has to be think deeper meaning of life and grow himself spiritually. When any one from the karmic relation decides to walks away from the bond completely – either via physically and energetically – the relationship will be over.
To fully understand and heal a karmic relationship, you need to think much time to self realize or evaluate within yourself, look within yourself to fully understand the process of whole bond i.e  the lessons, the relationship has taught you before you decided to move over for the next relationship.
Is it a Chain of Karmic Relations or Really True Soul Mate exist : The Seed of Karmic Lessons

If you directly jump into a new relationship immediately without even realising, repenting or self evaluating the  whole situation of bond without understanding the pattern of relationship, things will keep repeating themselves again and again in any new relationship because the deep rooted issues have not been fully healed and realised yet.
Decision to Jumping again into a new relationship too soon after ending the last karmic bond will again reopen the aspects of the pattern cycle of karmic sufferings. The whole essence  in a karmic bond in any karmic suffering is to realise the mistake you are keep doing in past relationships. You must need to give the time and wounds created by all the relationship and the time they need to teach and heal you.
Once you have learned the karmic lessons and patterns of keep falling in multiple relationships and you had tried to broken down this pattern via growing spiritually, at the end you will be free from all of your patterns in a one way go and you will a free bird for forever where there will be no pending karma is in your basket . Even This cycle will be complete itself for the other person too, on it's own, without involving in any participation from you.If you have tried himself to fully heal the lessons within yourself, in any life you will be free from all the pending past karmic relations.
The only way to meet true love soulmates will only be possible after the final ending realisation and breaking the pattern of karmas, learning, suffering and after healing the a karmic bond reason being karmic relationship comes up in our life to show us the guilt, repent and the unhealed pain we are carrying from many births.When you heal the pain you carry with your karmic cycle, you will be open to experiencing the true love mate you truly deserve in this life cycle.
Does Astrology Has Answer ? The Investigation
Astrologically, we can understand those karmic bonds but not in an easy lay man language via what we are studying from classical scriptures but yes there are many tools and system to understand " runanubandham" concept or Karmic relations between two people via Jamini and Nadi systems.I have tried to explain the concept of karmic relationships and Runanubandha concept from many of jamini sutras and what i have observed from past many years in many different charts. but first of all we need to understand the basic concept, what actually is Runanubandha or Karmic debit of two people or the people we interact with them.


What are Soul mates, are they different then Karmic Relations ?
Well spiritually a Soul Mate can be any of relation that has any place in your life, it can be your family member or can be your friend too or love mate too. These are special purpose  souls that come into our lives for stronger reasons that has greater lessons and teachings are connected with it.
Every human being has categories of soul i.e Satvik, Tamasik or Rajasic etc and when we encounter any other such souls in our lives with following tatava in them,  it usually creates frictions like a two energy forces can create different, intriguing and challenging effects. Some souls will feels that they have known each other from another lifetimes, some might clash, and some might feels like they have never met such person's  company ever.
Some of the souls those comes into our lives  help us growing love and wisdom in each other, while others help us in learning difficult life lessons or realising universal truths might be in harsh way or in true manner.
Each of those soul comes into our lives creates significant life transforming moments for a greater purpose.
Spiritually Soul Mates serve as mirrors of ourselves. What we see in another soul reflects our own soul.When we are capable of seeing others souls as 'mates', (including our enemies), as members of our family that are there to teach us life lessons, then our whole perception and relation to other people changes entirely.
Now understand What is the deeper meaning of " Runanubandha " ?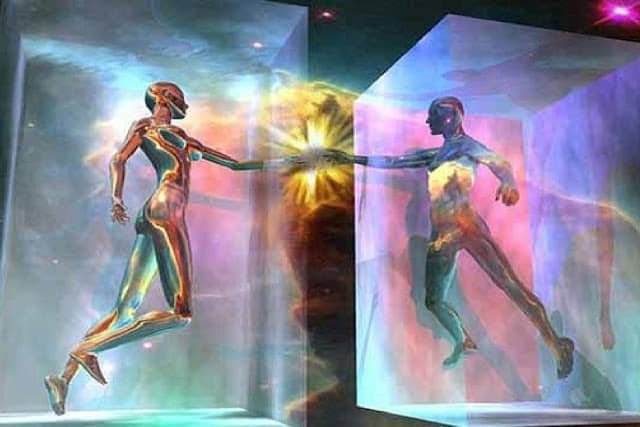 We take birth in a family, we meet friends, we meet parents, we meet many partners, we indulge with them, we create further karmas and finally after doing many sins and karmic actions we fall in a good relationship or either  we feel like marriage is a burden to us, we feels that parents are not listening to us and we leave our parents and close friends circle and live in an isolation to repent those sufferings; question is why it so ??. Logic is very clear we carry our certain karmas and we exhaust some of them and those we left we took away with for our next birth, don't you think- there is a deep mystery in this karmic cycle.
View of Sri Sri Ravishankar  on the concept of Rnanubandhan
" According to the law of Rnanubandhan as explained by Sri Sri Ravishanakr ji ,  we will meet different people in our life in the forms of mother, father, brothers, sisters, spouse, children etc. We take birth a family only because of undischarged debts of past lives we carry with them. Mathematically explained, at the same time we are creating accounts, debiting and crediting all those karmas with them. We indulge with them for creating numerous Karmic debts with all those with whom we interact.  Spiritually explained all the Karmic debts ( Rina ) lead to some sort of bondage or attachments ( bandhan ) with people we interact. If we look deeply according to Bhagwad Geeta principals, what it says about karmas is that all these Karmic attachments will try to pull us into the wheel of existence or you can say karmic or cosmic cycle again and again unless and until we will exhaust them."
( Art of Living – Gyan Dhara – The Law of Karama: 
Runanubandha, Relationships, Astrology)


The True Definition: 

Rnanubandhanis actually the bond of past birth karmic actions that results from Karmic debts at the root of repeated lives we take in this cosmic cycle.Numerous Karma which we are doing in day to day life is leading us in many "Rina" and this Rina further leads to Karma again. It is a two way cycle, If you have given or done something to somebody in some life, the memory of karmic actions will be stored in your Soul (Astral body) and all the memory will be attach with the soul. the person or the soul whom you had done something good or bad will be your debtor or creditor in this birth.If you had taken something in the past, it will be taken from you in any of birth you take, it could be this immediate birth or it could because of some of birth. If you had given good in the past it will be come back to you later somehow.
In Numerous birth we take, Astral body keep on  storing the memories, sufferings and happiness of all of runanubandham relations in countless births.Unless and until all the karma stored in the soul body is burnt away or exhausted by the physical  body, there is no point of liberation from birth cycle. Logically, we are memory of runanubandham of all the births, and the countless karmas we do  in any relationship reflects some sort of  runanubandha.
Those we are having strong  bond or relations will be part of our strong runanubandham and they usually become our parents, spouse, children and close friends in this life.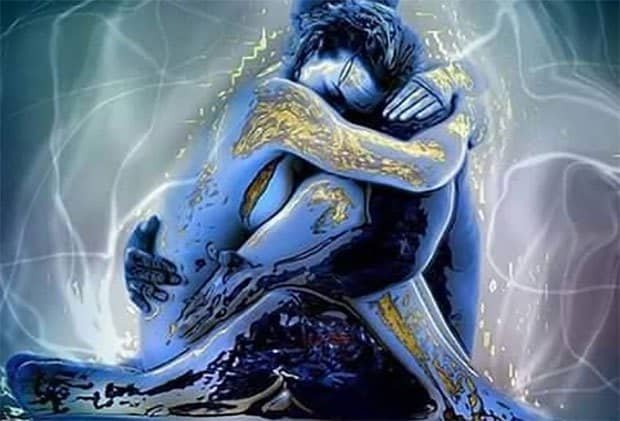 What Sadguru has Opinion on Rnanubandha
In Many of cases, what i have found people keep on falling on many sexual and physical intimate relationships with so many people and even they never feel or realised them what they are doing and later when karma plays its role in the form of sufferings in their close relations i.e marriage and children they try to repent or having strong guilt in their subconscious mind. question is why it is so.
"According to the Rnanubandha theory explained in Karma and Memory,  Sadguru ji has clearly said
" sexual relationships have maximum impact in our life in terms of the amount of memory or subconscious impression they leave in our mind as compared with any other kind of touch, or any substance you come in touch with it. In understanding Rnanubandhan  in true sense, it is actually the physical memory attached with the soul we carry from. This memory can be acquired due to blood relationships or any sexual relationships. 
according to sadguru ji, When it comes to sexual relationships, a woman's body has much more memory and tolerance power to experience those pain and level of sufferings connected with that and it can lead to guilt or feeling of difference. 
When it comes to genetic material, a man's body has much more memory. Generally, over eighteen to twenty-one years of age, a woman's body carries less physical memory than a man's body. The main reason why nature has done this is because a woman has to bear a child from a man who is not genetically connected with her. For her to carry the child to term, it is very important that her genetic memory is less. "
(adsbygoogle = window.adsbygoogle || []).push({});
(adsbygoogle = window.adsbygoogle || []).push({});

Admin