The Journey of Past Birth Life: Soul Past Life Experience and his journey to Past Memories
Case Analysis :
Past Birth Astrology And Past Life Regression Part 2: Real Life Research Insight of Past life explained Astrologically via Methods of Jamini and Parashara Principals
Introduction
In the Previous Part, we have learned how native has gone through the process of past life regression and try to understand his life situation, in this version we will try to decode his past life Astrologically via Principals of Jamini, Nadi and Parashara.
Here is the beginning: 
As Reported by the native,
Past life Journey of Native Started in 1806 during regression session in a place near Dongri, place in Rajasthan, Presently Near Alwar (a Village) where native was a Prince named Rajveer in a Kingdom of Royal people as what appeared and seen in the journey of past life regression therapy.
Native explained me everything from his starting point to end point in bit by bit information even with age by age experience too.Everything from beginning to end was a great session with the therapist and native and it was a relieving help to understand and decode the mystery of his past birth.Because of this unique experience was going through with the native, I was asking a number of questions, relevant with his horoscope and it was really amazing and unique experience for me to understand His Natal and Divisional chart. Everything explained by him was exactly matching with the horoscope that what native described me in conversation.
" So, here is the process i am going to explain you via native Chart and probably will leave you in shock and in state of new horizon and learning experience "
Astrological Analysis of Native Chart: Life Started in 1806 in Dongri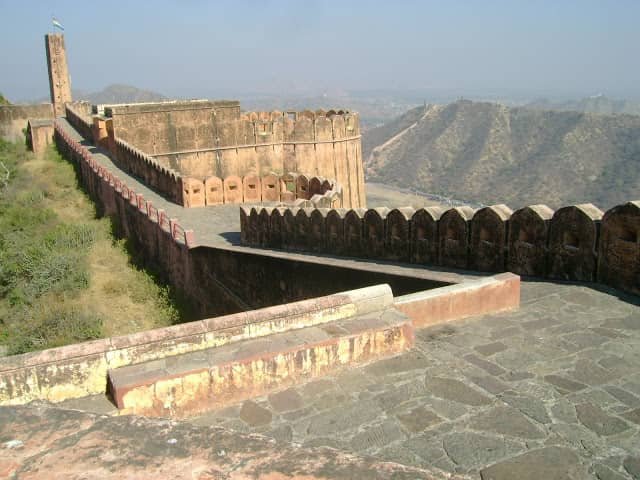 Dongri Fort As appeared in his regression process, currently this places is situated near Jaipur
" Native told me he was a son (Prince) of king in 1806 AD in a place near Dongri (Rajasthan), named Rajveer Singh and he lived his past life in a King style, purely luxurious, everything was there in his kingdom, he enjoyed his past life much than in a current life. He was a great donor and helping nature to people around him but he did some killings in his past birth because of his anger and uncontrolled emotions."
His brother in past life was also same as appearing in current life.he was very dearest to him and his brother helped him a lot in the whole pursuit of his working in his courtship from managing his Work.
In an Immediate past birth, it appeared that Native was a doing hard worshipping of Lord Shiva and used to pray daily to Lord with his single leg every morning during that time. But in His luxurious lifestyle in his past birth, native was a bit brutal and angry in his dealing with his co-workers, servants and toward his army people and people around him etc.
Look at Mars Debilitation placement in 10th house (Following same routines in current birth too), 2nd from 9th house aspecting Both Venus and Mars (1st house and 5th from 9th house).
Further he told me, when he was Doing Hard Worshiping of Lord Shiva near a solitude place in a jungle with his single leg, it was appeared that, he saw suddenly an one lady came to him from backside and Pushed him very hard to front, because of this moment he lost his balance and fell down on his knee.Everything left him in a state of anger and Grudge (Mars Debilitation- aspecting Lagana) and it was the day when native was completing this ritual for some final ceremonial process and was trying hard from a long time to finish it within required time frame after leaving his palace.
Look at Mars and Moon in Scorpio sign (Hidden places of worshipping) in D60 chart aspected by Saturn from 6th house (clearly telling Brutality toward women or lack of emotional balance or sudden turbulence in emotional nature gave him sudden anger in the place of secret place of worshipping – Scorpio ).
That lady destroyed the whole spiritual ceremony by disturbing him from his worshipping, when native saw everything gone in vein, native was not able to control his anger, native Brutally beaten that girl into a state of suffering and death, it was not actually a state of death but leads her into a state of unconsciousness, this is what appeared in his Journey of past.
He told me further that lady appeared in his past life regression journey, when he left into state of death was seen as same lady in this birth as in the form of his Current spouse (1st wife), appeared in year 2008 exactly in Mars Mahadasha (Dasha of UL) in Antardasha period of Venus (lord of 8th in Lagana with 9th lord – Karmic linkage from past birth ), clearly telling a deep rooted karmic debt of past or a  link of some sort of suffering or happening from the past birth and exactly she appeared in dasha of 8th and 9th house lord. This again confirmed me 8th house and 9th house lords dashas are correct indicators of deep root from past birth and Link of accumulated Karmas (Prarabdha and Sanchit).
For in Depth Link, Checkout native 6th lord dasha of Jupiter in Natal chart in Sagittarius Sign in 4th house in D60 chart (Clearly indicating Native was Spiritually well enlightened in his past birth and was a daily worshiper of Lord Shiva in a temple near his palace).
When I was Counter analyzing regression journey with the natal chart of native, I was in bit outrageous state. further moving ahead on his journey, as what native seen and described me how he got annoyed with his Saarthi and Brutally beaten him used to every day – (Sarthi is  one who used to ride his horse cart) but point of shock as what appeared in regression that, Saarthi was also happened to be the father of that lady too in his immediate past he saw.
After when he came to know about his daughter beaten by the Prince, Saarthi reported and revolted against the native for the brutal action done toward his Daughter.further native told me later that he saw in his journey regarding father that lady. After when he reported, he didn't saw anything else, neither any consequences nor any thing else, he simply over thrown all of his anger and grudge toward father of that lady(Saarthi).
After that incident and it was point of strange fact too that father of that lady who was once his " Saarthi" and father of that lady in his past birth was also Father of Native Spouse in current birth too.
In Both the cases, it was clearly showing Pending karmas always come back till it never clear off or exhaust by the native.
In Native Current birth, father of her spouse was the main person behind the court case against native family to torture and harass them and it was Spouse Father who was taking a case like some old revenge was involved in it with the family members of the native.
Check out UL lord (Mangal – Family of Spouse ) is in Debilitation in 9th house (father and family of the Spouse) from UL and 10th house from Native Lagana.Again confirming me prarabhda plays its role in this birth too in same manner too.
Mean while what he saw in his past journey was also very impressing, Native explained me further that there was a general in his army in past birth, always disobeys his orders and always tried to put restrictions on him whenever he wanted to do something freely. From the childhood days he used to torture him and always try to apply arm power on native, so that Native won't go anywhere in his young age, as it was the order given by the native father to that general-  never leave him alone and keep an eye on him always like a guard, wherever native goes, but native always took this in some other direction with the motive of grudge.
Check out Sun in 11th (elder brother – in govt authority and police) from UL and 12th (Bhadkesha Lord) house from the lagana. It was a strange fact to knows, in same life that same person created mess in native life too because of his government powers against him.This again shows Some sort of Karmic Linkage connected with that general from past birth too with the native, that's why in this birth that general also taking revenge via his government powers. In past birth native used to torture the general very contently when he grew up later and always shown his powers toward him, here Prarabdha again played its role via Spouse brother role.
Native further told me, that General who was appeared in his journey is currently his Brother in law, Serving as Job in the Police department in senior rank and also Personal security officer/Secretary of Some Minister. One of the main guy who was always in hurry to harass native with any cost and shown all of his Powers just to realize his mistakes done in past birth in a coincidence.
Native told me further, this was the guy who actually was taking revenge for no reason in this current life, he used all his police powers for mentally harassing his whole family by throwing police force in his home, filled fake F.I.R case against his family without any proof and evidence, Made case of fugitive against native with the help of that saarthi (perosn who runs Chariot)  (Now Father of native Spouse and that General) in Current birth, presented fake witnesses against him so that native will never able to come back in his home.
From all, it was quite evident to say that there are strong connections in native past life with current birth Spouse family. All the person Native reported me in his Past life regression journey were family members of his Spouse in current life.
Native further told me in past birth Regression therapy, his 11th wife was the same lady in this life as his Girlfriend (Now Current Wife), both were deeply in love with each other and loved like a single soul. It's like a Soul mate sort of relation, same in this current birth native girlfriend still with his side and gave all his honesty, loyalty and love. Still, she is giving and trying her best to connect and support native
Check out UL2 (8th from 1st UL (Scorpio Sign) is Gemini Sign, UL2 lord Mercury is with Venus in Native Lagana aspecting 7th house – again showing love from Poorva Life (9th lord in 1st house), indicating strong desire from both the couple to say connected in this birth too.This made me more in Deeply love with the past Life astrology.
Native further told me, in past Birth in his king's style life – he was having Many Patraani's too and who was in deep love with him, approximately they were 10 in numbers.
This again falls true, whensoever and wherever native made visits in different- different countries during his merchant navy Service, native met many female members (Moon in 7th, 10th lord in 7th house, Exchange of both 7th and 10th lord – Many relationship),who were in deeply love with the native and always took care of him with true love and devotion.
In Native Natal chart Mercury and Venus are conjugated in lagana -Aspecting 7th house Moon, Indicating multiplicity in relationships). Also 7th lord Mars in Debilitation in 10th house in a sign of Cancer (watery Sign) indicating many relationships during his ocean journeys (Jara Yoga). This again proves past birth connectivity and having many relationships with female members and native following this trend in this birth too.
Now, Let me Explain further how everything can be seen astrologically.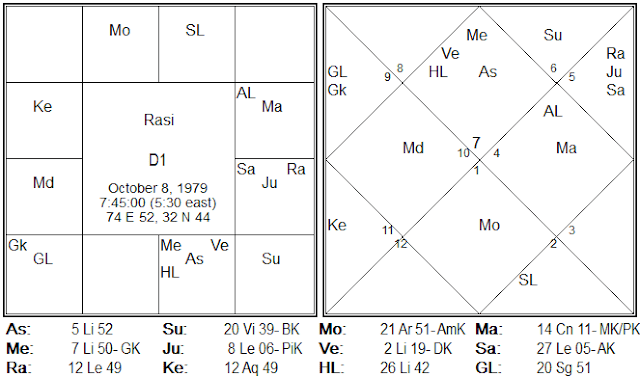 Native Lagana is Libra (Confirming me – a person of having kingly style life standards and lover of justice, truth and balance in current life with a taste of beauty and style).
As I have already explained earlier native is having Malavya Yoga – He must be living lavishly with high standards in life, hence it is proved native brought the same thing in his current birth too, all the habits, qualities and attributes of past birth.
In my last article on " Past Birth Karma" i have already explained 9th house should be seen for all the Sanchit Karmas (Past life) and should be taken as Seed house for past birth, means we can take it as reference for Past Birth Lagana reason being D60 Lagana changes within fraction of minutes and unless and until we are  not confirmed with accurate birth times we can't make it final varga for past life assessment.
Now for the better understanding of past birth, Treat 9th house as Past birth Lagana, in native case Gemini Lagana should be treated as past birth, Lagana.
In Native case if we take Gemini as Lagana, Gemini will be rising and its lord Mercury is with Venus, falling in 5th (Punya of past) from it also happens to be Laganesh in Libra forming Malvaya yoga (Luxurious and kingly style life), Adhi Yoga (A king and chief of army)& Raja Laxmi Yoga (A fortunate and higher yoga of Achievements).
In native case both Mercury and Venus are falling in 5th from 9th house, Means Lagana will act as " Purva Punya Karama "for 9th house indicating Past birth good deeds, Simply the fruits of your past birth good karmas as both 9th Lord and Laganesh are forming Raja Yogas in 1st house, clearly telling me native will enjoy king like status and will be belong from kingly background in current life too because of past birth good actions and deeds.
Now this is quite much true to say, 9th lord in Lagana – A self made man who will be known for his kingly-ship, here both the planets are 5th (Punya or fruits of Punya) from 9th house of past birth telling native will be treated as an ideal in his past birth or may be a famous person known for his great kingship, nature, and big heart.Anything 5th from any Bhava indicates Purva Punya of Bhava it is placed from, or the fruits you will get because of your Punyas or good deeds you have done in past or your willingness to do good for others benefits means native will continue enjoys his luxurious life style in this birth too, whenever Mercury and Venus Dasha period will be operative in his life.
Moving further, Native having Ketu in 5th bhava, 9th from 9th house (what native actually did by which native is getting Punya to this birth or simply can be said Bhagaya or root connected with the past), 9th to 9th indicates Luck of that previous bhava.
5th house is actually the Purva punaya Bhava from the Lagana which indicates what you did in the past birth being placed from 9th house and also its a bhava of bhakti or pooja or the devotion you did in past birth or also indicates your strong faith in the deity.9th to any bhava is the Bhagaya connected with the Bhava, Here Ketu in 5th house is placed 9th from 9th house, indicating the bhagaya of 9th house (Gemini – the past birth Lagana).
Here, indicating native might be very much spiritual indeed and should be a devotee of that that Avtaar that has no form i.e Sada Shiva or Narayana (Ketu – Aquarius) which is quite much true in native case as he devoted Para Brahma avatar of Shiva in past reason being dispositer lord of 5th house is Saturn placed in 11th house in Leo with Jupiter and Rahu, where Jupiter is 6th lord too again confirming prarabdha connected with bhakti of native in past as presence of Rahu also shows some sort of disturbance occurred in bhakti too.
5th lord is in the Sign of Leo (Sign of Shiva) with Jupiter- A form which has greater meaning).
Now Question is if the native was so much devotee in his past birth, a great donor and helping king than why he faced so much suffering in this current birth.
Now, here comes the next picture, 4th to any bhava indicates happiness connected with that bhava, 4th from Gemini is Virgo sign where Sun is placed in 12th house from lagana and dispositer sign of Atmakarka Saturn.
4th from 9th house is " the Storage of Sanchit/Past Birth Karama ". Native belonged from a Royal Family and worshipper of Family deity belong to Sun ( lord Shiva), as native reported me he is also a strong devotee of Lord Shiva in this birth too and still doing hard worshipping of Lord Shiva.
Note: Nadi Method to check previous life: 
If we See from Nadi angle, we need to regress (moving backward to previous placement to see the immediate past life of  the native ( Jeeva), Jupiter progression (Forward) shows  about Jeeva current life growth and regression shows about how jeeva has gone through his previous life ) the Placement of Jupiter ( in 10th house) (which is currently placed in 11th house) which will go back in the native 10th house over Mangal in an exalation state, and Venus and Mercury will be falling in 4th house from the Exalted Jupiter and Moon will be in exchange with Mars also be with Jupiter that clearly states that the Native in his previous birth belonged to the royal kingdom or some sort of prince status or princely kingdom
From Jamini Angle, From Lagana Sun is Bhadhakesha Lord, being lord of the 11th house for Chara Lagna, (Indicating Previous birth deity) is placed in 12th house from the Lagana, bhadhakesha in the 12th house (Means a place where native used to do worshipping) is considered to be a good placement for bhadhaka among all placements of bhadhaka in natal chart for removal of all troubles, also indicates that the native was devotee of Lord Shiva ( Sun – Shiva).
Atamakarka lord (5th lord Saturn) is placed in 11th house in Bhadhaka House with 3rd and 6th lord Jupiter (who is the 10th lord from 9th house, indicating what Karama you have done in past birth) with 5th lord Rahu clearly indicating the disturbance happening or even happen in Bhakti at the place of worshipping in past.
12th from Bhadkesha lord Sun having Jupiter(6th Lord), Saturn(5th Lord) and Rahu(5th Lord) means something bad happened in the place of native worshipping in past which is resulting suffering in current birth and anger to worshipping deity," Lord Shiva ", Moreover 3 planets placed in the bhadhaka house, Placement of Saturn and Rahu also happened to be in 12th house from the Bhadkesha lord Sun further shows, Mismanagement (Saturn) or some sort of disastrous  (Rahu) happened in the place of worshiping, with Jupiter (event is Something related to Devotion, in the sign of (leo -Bhakti). Further, Jupiter being 6th lord is also placed in the 6th from the 6th house (Punishment of the praradbha), 11th is also 6th from 6th which means Punishment of the diety – as a result of karma you have done in past, clearly telling me what action native did in his past birth.
If we see the root cause, Jupiter also happens to be the lord of the 3rd house which is also further placed in 11th house, falling in 9th to the 3rd further confirms about the past birth Karma phala (Action).
This shows native had done something bad in the place of worship by beating that lady and as a result, a lady came in his family in the form of his spouse (Shows Rinna of past life) just to take revenge and realizing suffering to native, that what all native had faced after marriage and all these sufferings are counted as a result of Native Praradbha Karam.
All the sufferings that native gave to lady came to him as a matter of his Bad Deeds because of his uncontrolled anger, Clearly shows whole matter was connected with the Place of Worshipping in past birth and with the involvement of the 3rd lord (Arms and courage and power) and 6th lord Jupiter (Suffering, debit and Praradbha karma) confirms the actions in past. 
Hence it is proved that Past birth does come in the same way, maybe later but it will come back to you to realize what you have done as a result of your prarabhdha karma.
All three planets are also placed in the 11th house, also indicating desires from the past, also in house of Bhadhakasthan (Karka of Root Desire – Rahu is there in Leo – indicating root reason of past birth – Disturbance in Bhakti (Sign of 5th Leo)) with 6th lord Jupiter and Saturn,Signifies whenever Rahu, Saturn, and Jupiter Dasha period will be operative Native may face lots of unknown hurdles in its life because of his past birth bad deeds or you can say praradbha karma.
This actually started after Rahu Mahadasha period in the year 2009 when native started facing sudden problems in his life in the same anatar Dasha period. Native lost everything because of his past deeds or actions done to him unintentionally.
It was not the native dire intention to hurt that lady but it happened because of his controlled anger that further shows, unhappiness and anger of Lord Shiva (Rudra) in the form of miseries in this birth, Lord Shiva is considered as the Serpent God and Rahu is the ruler of the serpents and Bhadha, that further shows Rahu Dasha period would be the main root dasha for triggering of this life sufferings in his current life. Placement and the Dasha period of the Rahu is clearly telling about the Root Reason of past birth desires.
When I further enquired native about that lady regarding his brutal action in his last birth after the regression therapy, native reported me that he was doing a Great Sadhana of Lord Shiva in the jungle, in an isolated place in a dense jungle, he left everything just for the love of Lord Shiva with his Single leg and he was very happy as sadhana was about to complete or end soon, when Suddenly he felt someone pushed him forward and he lost all his control and his penance got broke.
It was a major break in his Sadhana which influenced native anger, as a result, native brutally beat that lady to a state of death and now native is facing the suffering and miseries on account of same in his current birth.
Further Native told me he was very courageous as well as brave and Violent in his nature as well, having straight forward approach in his life for everything.
It is quiet easy to understand in this life too, Mars is in his debilitation point in the 10th house in the sign of cancer, having exchange with the moon, mars is giving result of  the sign aries as well (shows native courage and valor) , also falling in 2nd house (Speech) from the 9th house. Further Rahu, Saturn and Jupiter also falling in the 3rd house from the 9th house (indicating brave and courageous) in his past life and it's also one of another reason for rebirth because of his killing and brutality toward others.
Native Also Reported me from the beginning of His past birth it was his dire desire to go to a place near water and had a great love for water and passion for ocean travel, as a result of strong past desire native travelled across the world via Ships and air medium  via his merchant Navy profession ( water travel is seen from sign cancer and moon and air travel seen from the airy Signs and Rahu).
This has been confirmed by the placement of the Moon in 7th house in Aries sign and 7th lord Mars is also placed in the 10th house in water sign clearly giving great passion toward water and oceans. Both Moon and Mars are in 4/10 relationships, and also be in Exchange yoga with each other, with 7th and 10th exchange, falling in 11th house from the 9th house (past birth desire) indicating gain via travelling in the ocean in this birth as a result of the past desire.
Native further told me that he was having 11 queens in his past life and again it was true as further confirmed while discussing with native. wherever native gone to any countries he was having relationships with women's and all the women, have always shown so much love toward him, which actually appeared like a relationship of the spouse. This can be confirmed from(Mercury + Venus combination in the 1st house aspecting 7th house – a strong desire from past birth) and moreover, 7th lord is involved with 10th lord also shows Jara Yoga, having multiple relationships in current life as well.
Conclusion: 
So, from all this case study, it is quite evident to say that Past life and incarnation process has bigger role playing in this current birth Miseries and sufferings. I am Hoping,  now people can able to understand how to use Past life astrological principals with current birth sufferings which I have explained above via native Horoscope and Past life regression process of native. In Future, I will further do more case studies on past life astrological principals for user profound understanding of past life.
References, Sources, and links:
[1]. Past Lives & Future Lives | History of Past-Life-Understanding & Therapy | Source – truthbliss.com.
[2]. Regression | Source -http://www.liferesearchacademy.com/regression/regression.html.
[3]. Reincarnation: Who were you in past life? By Pallavi Tyagi | Source – http://m.speakingtree.in/spiritual-blogs/seekers/mysticism/reincarnation-who-were-you-in-past-life/53562.
[4]. All about Hinduism by sri swami sivananda and Yoga Sutra Patanajali | Source http://www.dlshq.org/download/hinduismbk.html.
[5]. Wikipedia and other Web resources.
[6]. Jamini Sutras by Sanjay Rath.
[7]. Saptarishis Research Group Discussion facts.
[8]. Based on the facts of Yogi Swami Sivananda ji.
[9]. Based on the facts of Avdhoot Baba Shivanand ji | Source – http://shivyog.com/pps.
[10]. Bhagwad Geeta, Samkhya Yoga, Chapter -2, verse -22 | Source – http://www.sacred-texts.com/hin/sbg/sbg07.html.
[11]. Insights in Nadis : By A.V Sundram Sir | Theory of Karama, Page 28 to 42.
[12]. Samyama Samyama is defined in the Yoga Sutras of Patanjali verses 3.1 through 3.6 as follows where the Sanskrit in Devanagari and IAST were sourced from Little and the English from Iyengar (1993: pp. 178–183). | Link – http://www.revolvy.com/main/index.php?s=Samyama.
[13]. Karma and reincarnation | Source –
http://www.hinduismtoday.com/modules/smartsection/item.php?itemid=431
[14]. Past life Regression – Link – http://www.revolvy.com/main/index.php?s=Past%20life%20regression&uid=1575
Admin