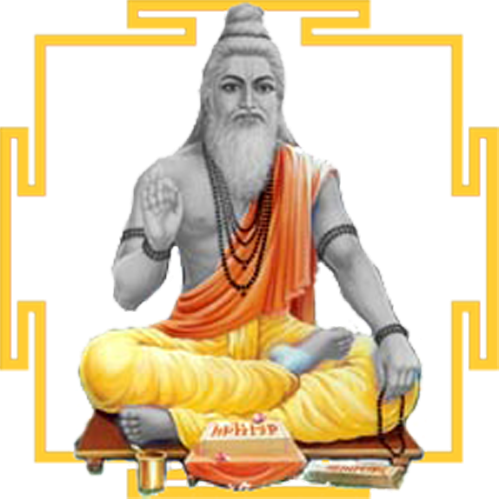 || Brihaspati (Guru) Navagraha Mantra ||
Devaanaam Cha Risheenaam Cha Gurum Kaanchana Sannibham
Buddhibhootam Trilokesham Tam Namaami Brihaspateem
|| Vedic Mantras of Guru ||
Om Brihaspate Ati Yadaryo Arhaad Dyumdwibhaati Kratumajjaneshu Yaddeedayachhvas Ritprajaat Tadasmaasu Dravinam Dhehi Chitram
Meaning: I bow down to Brihaspathi who is the teacher of Gods and sages, who is resplendent and lustrous like burnished gold and who is endowed with a lot of wisdom and who is the lord of the three worlds.
Brihaspati or Guru (Jupiter) Origination Brahmaa's one of the 10 Maanas Putra was Angiraa. Angiraa was married to Shraddha – one of the 9 daughters of Kardam Rishi and had three sons – Utathya, Brihaspati and Samvart. Where Shukra (Venus) is a Braahman and follows Bhrigu's (another Maanas Putra of Brahmaa) lineage, Brihaspati (Jupiter) is also a Braahman and follows Angiraa's lineage.
He has a strange story of his birth. Angira's wife Shraddha, who was another creation of Brahma, was unfaithful to her husband during her pregnancy and as a result, she gave birth to a stillborn child. However, she repented for her mistake and was able to regain the favour of Angiraa. Angiraa then gave life to the child, who was then named Brihaspati.
Brihaspati had two wives – Shubh and Taaraa. His first wife Shubh gave birth to 7 daughters – Bhaanumatee, Raakaa, Archishmatee, Mahaamatee, Mahishmatee, Sineevaalee, and Havishmatee; his second wife Taaraa gave birth to 7 sons and one daughter.
He had two sons from his brother Utathya's wife Mamataa also – Kach and Bharadwaaj. When he had Mamataa, Mamataa was already pregnant. As he tried to impregnate her, her child in her womb protested, but Brihaspati cursed him for his objection that he should be born with utter darkness. That child was Deerghtamaa who was born blind just because of Brihaspati's Shaap. Brihaspati's own child was Bharadwaaj who was immediately born. Both Brihaspati and Mamataa did not take care of the child so they abandoned him there only. Maruts found him, named him as Bharadwaaj, and brought him up. He was later adopted by King Dushyant.
Brihaspati attained his position as the preceptor of the Devtaa by performing penances on the banks of Prabhaas Teerth. Lord Shiv granted him this position, as well as his position as one of the Nava Grahas (nine planets).
In the Bhagavad Geetea, Shree Krishn teaches that among the priests, He is Brihaspati, that shows that He addresses Brihaspati as the highest, and proves that Brihaspati is like Bhagavaan Himself.
The representative of Guru (Jupiter) was a very jovial and intelligent man. After Budh's Pandit sat down after delivering his speech, he got up and started – "O Highness, One main reason of Guru's greatness over Budh is that Budh is two-faced – a true politician. He gives auspicious results when he conjoins with benefic planets; but when he joins malefic planets, he himself becomes malefic. Thus he is not reliable. He is like him in whose company he is. Guru is far more superior in this respect. He is the greatest benefic planet among all the nine planets; and acts as a malefic only under unusual circumstances. He is the Guru of Devtaa, Indra and other celestials respects him, obey him, and follow his counsel. Those who worship Jupiter regularly and sincerely can achieve their all kinds of desires. His wisdom is extraordinarily profound.
He is fond of sweets and he wears yellow clothes and yellow flowers. He is well-versed all all Ved and expert in all forms of human knowledge. He possesses all virtues, is modest, forgiving and happy. His mind and senses are disciplined. His metal is gold and gem is topaz. He is the Lord of fat in the body, North-east direction, Thursday, and of the constellations (Dhanu (Sagittarius) and Meen (Pisces). He is the Guru of immortals, the Lord of speech and is worthy of worship.
He is the son of Angiraa (Brahmaa's one of 10 brain children.How Angiraa was born? He has a strange story of his birth. Once Brahmaa Jee grew passionate for some Apsaraa and lost his seed. He put it into fire and from that fire these 10 children were born. Angiraa was born directly from live coals that is why he is called Angiraa (Angaaraa). It was this Angiraa's curse to Punjikaasthalee Apsaraa that mighty Hanumaan was born to her.
Angiraa's wife's name was Shraddhaa (one of the nine daughters of Kardam Rishi) and they had 8 sons including Brihaspati. Some call Brihaspati the son of Fire because he was born form Agni Dev (Fire god) and is incarnation of Fire. Brihaspati did severe Tap for Shiv Jee and got the position of the Guru (teacher) of celestials and a planet from him. Since then he got busy in advancing the plans of Devtaas.
Bṛhaspati (Sanskrit: बृहस्पति, often written as Brihaspati) is a Vedic era sage and spiritual master of the demigods' councils also called as Guru and in (Sanskrit, it means lord of prayer or devotion") ,or also called as the Deva-guru (Guru of the Gods).
Planet Jupiter or Guru is a considered as the most beneficial planet in hindu jyotish and considered to be the most auspicious, helpful, generous and beneficent of the planets. Worship of Jupiter results in progeny, good education, valour, longevity of life and recovery from physical illness. In the Zodiac. He is the Lord of Dhanus and Meena. Guru stays for one year in each Rasi, taking 12 years to complete the cycle.
Who is Brihaspati or Guru Graha
Brhaspati (often written as Brihaspati or Bruhaspati) also known as Brahmanaspati and Deva-guru (guru of the gods), is the name of a Vedic deity. He is considered the personification of piety and religion, and the chief 'offerer of prayers and sacrifices to the gods' (Sanskrit: Purohita), with whom he intercedes on behalf of humankind.
In Jyotish (Hindu astrology), Brihaspati is the name for the planet Jupiter, which is one of the Nava Graha (cosmic influencers) or planets. It is also known as Guru, Kuraa and Devaguru. Brihaspati is considered to be the greatest benefic of any of the planets. He rules over the signs Dhanus (Sagittarius) and Meen (Pisces), he is exalted in Kark (Cancer) and is fallen in Makar Capricorn) signs. The Sun, Moon and Mars are considered friendly to Brihaspati, Mercury is hostile and Saturn is neutral.Brihaspati is the Lord of three Nakshatras or lunar mansions: Punarvasu, Visakha and Poorv-Bhaadrapad. Yellow coloured items, like yellow cloth, Moong Daal, Channa Daal, jaggery etc, are considered associated with Brihaspati: his color is yellow, metal is gold and gemstone is yellow topaz. The season associated with him is winter (snow), direction is north-east and element is ether or space.
Guru in Vedic astrology is considered to be of the element ether (space) or Aakaash Tattwa (Aakaash = Space/Sky/Aether; Tattwa = Essence/Category/Truth). This indicates vastness, growth and expansion in a person's horoscope and life. Brihaspati also represents the balance of past Karm, religion, philosophy, knowledge and issues relating to offspring. He is concerned with education, teaching and the dispensation of knowledge. Humans with Jupiter dominating in their horoscope could grow fat as life progresses and their empire and prosperity increases; and diabetes is an ailment directly related to Jupiter. According to traditional Hindu astrology, worship or propitiation of Brihaspati or Guru (Jupiter) results in cure from ailments affecting the stomach and helps ward off sins.
Brihaspati is a Kaarak or indicator of fortune, wealth, fame, luck, devotion and faith, spirituality, charity, morality, meditation, Mantra, children, Magistrates, ministers, lawyers, leaders in government and religion. He represents wisdom, benevolence and philosophy. His most favored position in a chart is 1st House, but he does well both in the Kendra and Angles and the auspicious Trikon Houses. As a benefic planet, he reaches full maturity at the earliest of the Nine Grahas – at the age of 16.
Worship of Brihaspati results in a cure for ailments affecting the stomach and helps one to ward off his sins, helps him in gaining strength, valor and longevity etc. He grants the boon of fatherhood to the childless, and good education. He should be worshipped on Thursdays. The following story goes whenever he is worshipped —
To Be Continued ….