Citrine bracelet for Health and Abundance
CBHA0001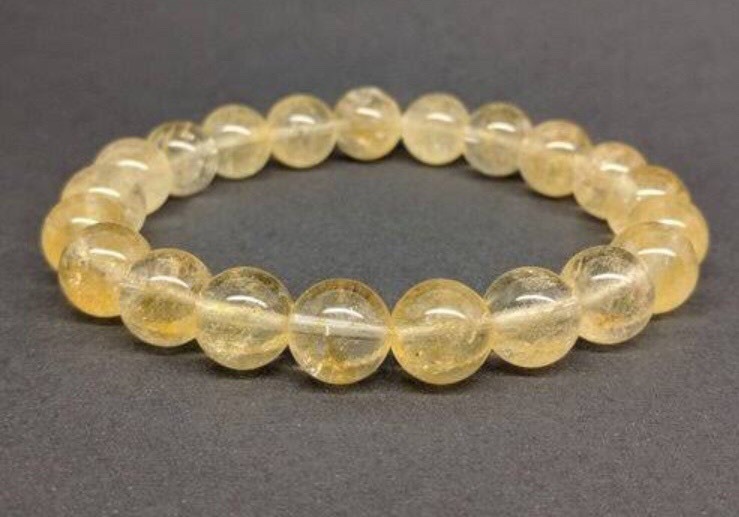 Citrine stone clears the negative aura and promotes the overall well-being on the individual. This is also a substitute for yellow sapphire stone. Citrine is an inexpensive gem requiring a low maintenance. You get citrine stone is different shapes and sizes and it is sturdy and hence can last for so long. Citrine birthstone is recommended for Virgo natives.Citrine is a crystal so beneficial and full of positive features and vibrations that every person even slightly interested in minerals and stones should have in their collection. Not only will you be satisfied with its gentle look and tender color, but it will assist you in reaching your goals, and achieving abundance in your life. It is said that citrine brings happiness and optimistic feelings.
Benefits of Citrine
Citrine is thought to balance digestion and some other eating disorders, as well as help with allergies and diabetes. It purifies the spleen, liver, and pancreas. It is believed that along with carnelian it might help with kidney and urinary problems, blood circulation and detoxification. It is a powerful stone for strengthening the immune system and generally the whole metabolism.

On the emotional level, it heals emotional wounds, promotes good will and nice moods. It prevents nightmares and sleep disturbances. On the spiritual level, citrine will teach us that the best way to insure success is to do things for other people as well. The Universe will recognize your responsibility in dealing with financial matters and resources and, naturally, more and more energy in form of money will flow towards you.

Citrine is a powerful cleansing tool. It carries within the power of the Sun, and as such, it is very creative. It will disperse and ground all negative energies and cleanse all your chakras. It purifies your astral and mental body. If you have problems turning your thoughts into words and emotional expression put on a piece of nice citrine jewelry. This stone will reduce your anger and diminish your fear of responsibility.

Citrine shoves out the negativity from your mind. It possesses the inherent spiritual characteristics which induces positive energy and reduces depression in the life of wearer. It leads to psychic growth with enhanced clarity and self confidence.

• It is the gemstone to bring about success and prosperity. Due to this, it is being named as 'Success Stone'. It is a manifestation of wealth and good luck.

• This Merchant's Stone keeps the cash boxes ringing for the businessmen. Along with acquisition of wealth, it also helps to maintain it. If kept in wallet, it controls the spending as well.

• With increased earnings, it infuses the quality of generosity to share the wealth and wisdom that it showers upon you.

• It is an excellent healing stone for curing ailments of heart, liver, endocrine, fibromyalgia, sleep disorders, thyroid, urinary system, immunity, and kidney. It detoxifies the body and improves digestion.

• In actual, Citrine does not absorb any negative vibes but it squanders them away. This way, it stimulates positivity all around and instigates fresh hopes. It purges out the negative energies from our surroundings and also relationships.

• It promotes happiness in all things and brings about happily married life. It also blesses with parenthood and it is largely worn by pregnant women for their protection.

• Being a solar plexus and third eye chakra stone which magnify personal power and intent, it also boosts up the stamina of the wearer.

• For professionals working in fields like merchant banking, marketing, sports, fitness, casinos, and media, this gemstone spills magic. It enlightens the inner thought process while igniting the creativity in writers and artists.

UPC:Vedicsiddhanta Bracelets
Gender:Unisex
Age group:Any Age
Color:Lemon Yellow/Orange