Option M: Advance Match-Making and Relationship Compatibility Analysis Report ( Multiple Queries | Voice Mode )
ADMMPRCAR0003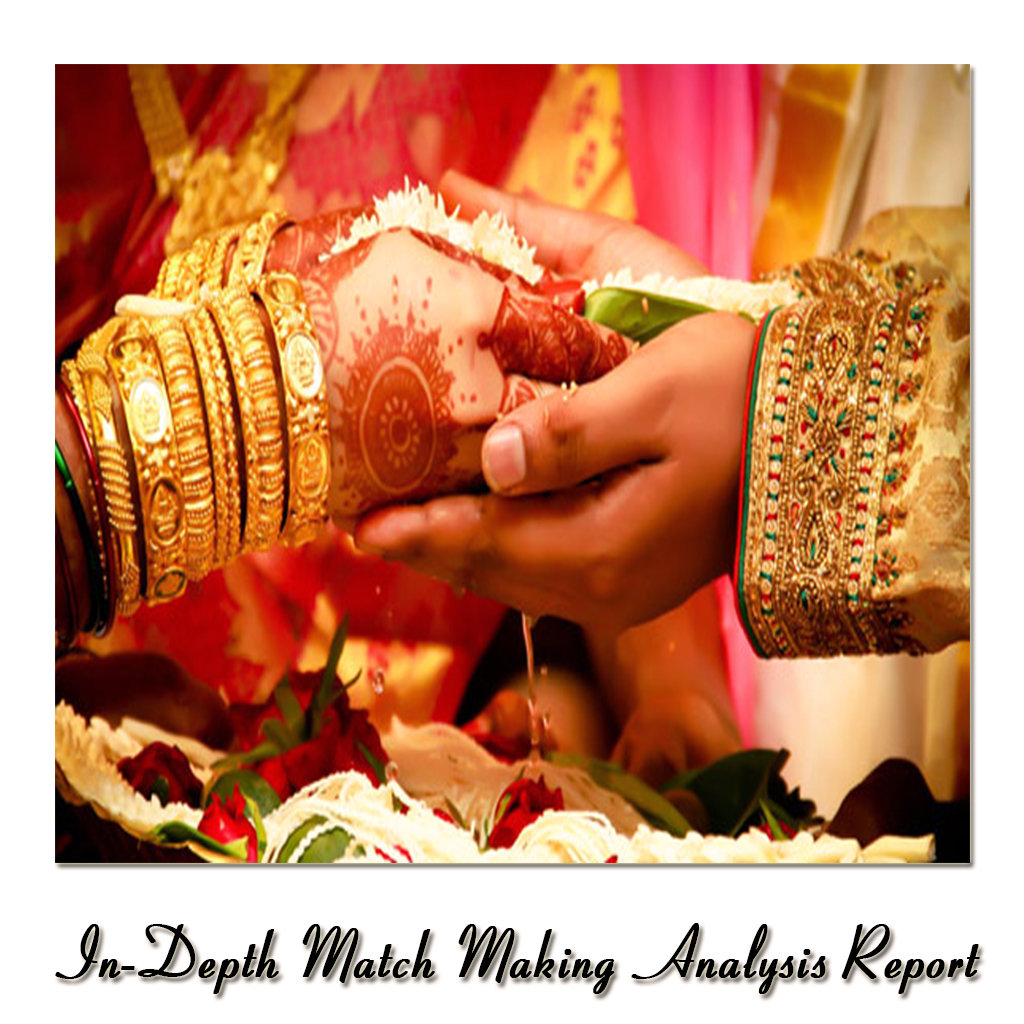 Option M: Advance Match-Making and Relationship Compatibility Analysis Report ( Multiple Queries | Voice Mode )
Marriage is a blissful and divine l relationship for which everyone wait for long. But when we have decide for the one person which make a difference in our whole life we want a perfect guidance. Neither man nor woman is perfect or complete without the other. Thus, no marriage or family, no ward or stake is likely to reach its full potential until husbands and wives, mothers and fathers, men and women work together in unity of purpose, respecting and relying upon each other's strengths.Consult an astrologer for these in-depth knowledge through your horoscope. In detailed Relationship issue, Post/ pre adversity for delay in marriage, Remedies and solutions


If you are seeking in depth guidance regarding your Pre-Marital affair maturity factors, on-going Marriage Proposals, or you want to know deep understanding on proposed charts, for getting deep insight on matchmaking issues facing in Pre-Marital relationship issues or you facing Un-identified obstacles, delays, difficulties and conflicts in your love affairs, or you not able to get married in right time, you need to choose - " In-Depth Match-Making and Relationship Analysis Report " in the payment section. Where you can discuss multiple Sub-queries regarding your ongoing relationships life problems and relationship issues @3500.
The Relationship Match-Making and Analysis Report covers all aspects of the Love Compatibility and match making points between potential love couples i.e

It will help you to understand Mental Compatibility between two couples i.e. thinking patterns, emotional and intellectual level matches.

Physical or Sexual compatibility, i.e. if the sexual nature and taste of both the partners are differs or creates obstacles in relationship compatibility

It will help you to Understand Delays, obstacles, Unknown Divine issues or curses in occuring in relationships.

Understanding material benefits and financial luck between two partners.

Longevity factors in couple.

Longevity of life of each partner, birth charts Malefic yogas, i,e Manglik, Weakness of Venus or weak Navamsa chart or Unknown Marital and Divine Curses as seen in D60 chart.

Understanding romantic attraction between couples.

Effect on the family status, happiness and prosperity if the two individuals get married.

Understanding Progeny prospects.

Understanding Relationship harmony and peace i.e to know any chances of major ego clashes, competition and conflicts within the relationship.
This Service is available only in Voice mode.Below are following services or sections which are to be included in the Brief Case study analysis report:

1).Service Price for In-Depth Case study Reading will Rs- 3,100/ and case study will be given within 10 days.

2)This Report is majorly focused on analysis of Single area of life i.e Relationship Issues(Pre), Compatibility factors, Understanding unknown delays and obstacles occuring in getting marriage etc and user can ask Multiple Sub-Queries related to that area of life.Multiple Questions on other areas of life won't be analysed in this report as purpose of this session exclusively meant for resolving issues concerning to Premarital or relationships compatibility factors occurring in life.
3).Case Study is purely based on Natal and Prashna chart and later we will discuss concerned Natal and divisional chart for the root cause analysis.
5).Before booking this report, users are requested to check in Appointment section. for available time and date slots in a month.
6).No Remedies will be given in session as purpose of case study will be based on corrective, preventive and suggestive measures connected with planetary discipline.
Wishing you a Good Jyotish reading session.
The Price is only for hard work, time and energy spent on delivering that suggestive and Spiritual Guidance.Our only Motive is to provide in detailed and hidden insights of seeker life via our analysis.