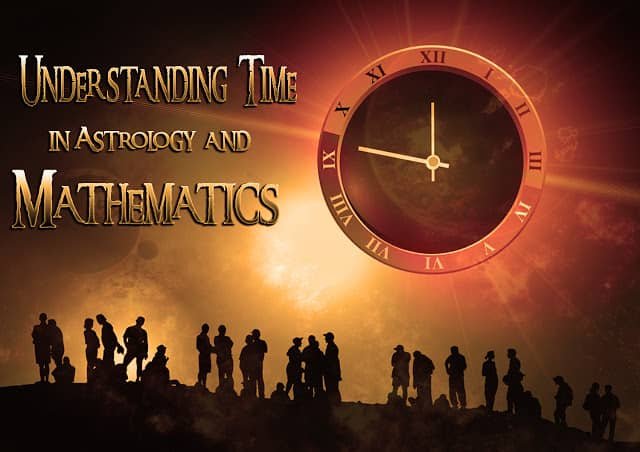 Power of Kaal-Chakra System – How results are Manifested by 9 planets
As per surya Siddhanta Verse number 10
Lord Surya preaching to Demon Maya on time :
" Lokanaamankrat Kaala Kaloanaya klanaataatmaka |
Sa Dedha sathool sookshama tatvaa anmooratshramurta uchayate || "
Meaning – Time is based on two schemes, one is used for creation and destruction purpose for planetary structure of human beings and it is endless, eternal and cyclic in nature and and other is purely mathematical also cyclic in nature and preciously exist in both material and non material form.
The eternal cycle of Life and Death; Birth and Re-birth; Formation and Dissolution is called the Kaal-chakra or the 'Wheel of Time' which is keep rotating and keep changing in a never ending cycle of cosmos.
Jains believe that time is infinite, without any beginning or end.
Time is divided into infinite equal time cycles (Kalchakras). Every time cycle is further sub-divided in two equal halves. The first half is the progressive cycle or ascending order, called Utsarpini. The other half is the regressive cycle or the descending order, called Avasarpini. Astrologically, one of the oldest Calendars followed in Hinduism, is the Saptarishi calendar which begins from 6676 BCE (earlier referred to as BC). This version was in use in northern India from at least the 4th century BCE, as witnessed by the statements of Greek and Roman writers.
Another Indian calendar is known as the Vikram Era, or the Vikram Samvat, which began in 57 BCE. This calendar derives its name from the original king Vikramaditya of Ujjain and the date is supposed to mark the victory of the king over the Shakas, who had invaded Ujjain. Another calender's which is the Official Indian calendar now is known as the Saka Calendar and starts in 78 CE.

(Source : wiki)
Time in Vedic Cosmology
"As Explained by John Major Jenkins in Galactic-Alignment, In Vedic mythology, a fabled dawn time existed in the distant past, when human beings had direct contact with the divine intelligence emanating from Brahma – " the seat of creative power and intelligence in the cosmos. This archaic Golden Age (the Satya Yuga) lasted some 4800 years(Divine years). After the Golden Age ended, humanity entered a denser era, that of the Silver Age, lasting only 3600 years. In this age, humanity's connection with the source was dimmed, and sacrifices and spiritual practices became necessary to preserve it.
The Bronze Age followed, and humanity forgot its divine nature.
Empty dogmas arose, along with indulgence in materialism. Next we entered the Kali Yuga—in which we remain today—where the human spirit suffers under gross materialism, ignorance, warfare, stupidity, arrogance, and everything contrary to our divine spiritual potential.
As the teachings tell, Kali, the creator-destroyer Goddess, will appear at the end of Kali Yuga to sweep away the wasted detritus of spirit-dead humanity, making way for a new cycle of light and peace. Notice that the Manu text takes us from a pinnacle of light to the ultimate end-point of the process—the darkness of Kali Yuga.
And notice that the four ages, when the overlap period is added, amounts to only half of the 24,000-year period of the Vedic Yuga cycle."
According to the principles of Indian time measurement, the smallest unit of measurement of Time is the involuntary time taken to drop one's eyelid or the Blink of an Eye. It is remarkable that the ancients chose such a mode of measurement because this time is Constant for all living individuals hence does not depend on any Variables.
This unit is known as a 'Nimish'
Three Units (03) of Nimish combine to form a 'Kshan' Five Units (05) of Kshan combine to form a 'Kashtha'
Thirty Units (30) of Kashtha combine to form a 'Kaal'
Thirty Units (30) of Kaal combine to form a 'Muhurat'
Thirty Units (30) of Muhurat then combine to form a 24 hour period known as the 'Divas-ratri'
Calculation of Time as Per Surya Siddhanta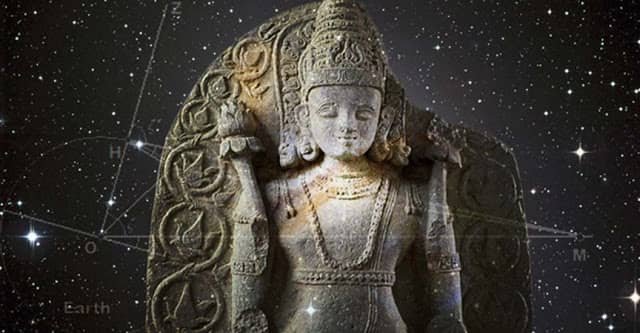 1 paramanu – 60,750th of a second
6 Praan – 1 Pal ( or Vinadi or 24 seconds)
60 vinadi – 1 nadi (24 minutes)
60 pal – 1 Ghati ( or Nadi )
1 Ghati – 24 Minute
60 Ghati – 1 Day ( 1 solar Day )
21,600 Pran – 1 Day ( 86,400 Seconds)
1 Truti – 29.6296 microseconds
100 Truti (Atoms) – 1 Tatpar
1 tatpar – 2.96296 milliseconds
30 Tatpar – 1 Nimesh
1 nimesh – 88.889 milliseconds
45 nimesha –1 prana ( 4 seconds)
18 Nimesh – 1 Kashtha ( bit)
1 kashţha – 1.6 seconds
30 Kashatha – 1 Kala (minute)
1 kala – 48 seconds
30 Kala – 1 Ghatika (Half Hour) 
2 Ghatika – 1 Muhurta ( Hour) 
1 muhurta – 48 minutes
30 Muhurta – 1 day
In terms of Modern Astrological System
60 Second – 1 Minute
60 Minute – 1 degree
30 Degree – 1 Rashi
12 Rashi – Zodiac
This 24 hour period is also divided into an overlapping division called the 'Praher' or'Paher'. Each 12 hour period has 4 Prahers each, thereby dividing one rotation of Earth into 8 equal parts.
Fifteen Units (15) of Divas-Ratri form a fortnight or a 'Paksh'. The bright waxing Moon fortnight is called the Shukla Paksh and the dark waning Moon fortnight is known as the Krishna Paksh.
In one of the higher planets called Pitralok, one fortnight of humans corresponds to one day and a similar time period counts as their night. Therefore, the Bright fortnight forms the Day of the Pitras and the Dark one forms the Night.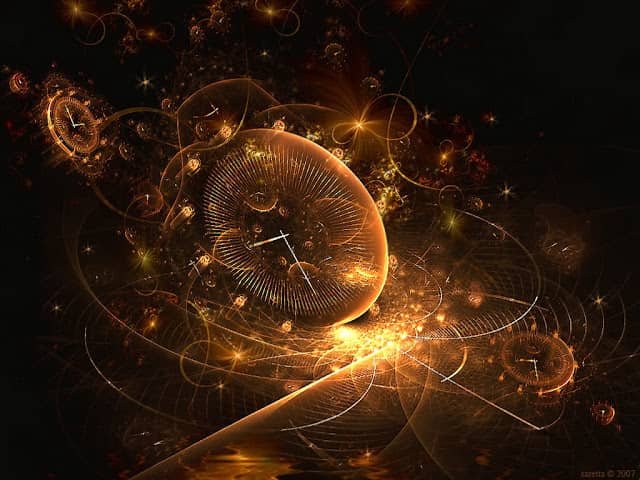 Two Units (2) of Pakshs combine to form a month or a 'Masa'Six Units (6) of Maas jointly are referred to as an 'Ayan'
The six months when Sun is in the Northern Hemisphere are called the Uttarayan and the corresponding six in the lower hemisphere form the Dakshinayan. This bright northern jurney of Sun forms One day of the Devas and the six human month Southern journey forms their Night. Thus, for the demigods, One human year is equivalent to One Day-Night period.
This Way Time is divided in Hinduism and Jainism and every moment, second, minutes and days and hours are controlled and divided by the motion of Sun and Moon.
In Terms of Yuga ( Period Of Evolution of Life cycle or Kaal (Duration)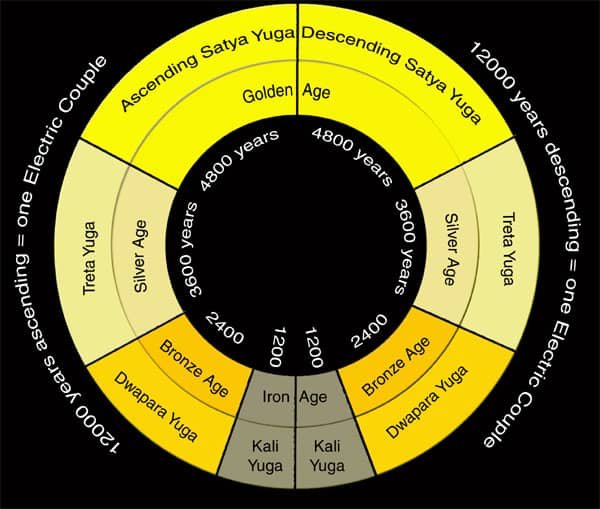 Krita-yuga – 1,728,000 years 4
Treta-yuga – 1,296,000 years 3
Dvapara-yuga – 864,000 years 2
Kali-yuga – 432,000 years 1
1 chatur yuga (mahayuga) – 4,320,000 human years
1 Mahayuga – 4,320,000 Solar Years
1 manvantara – 71 cycles of chatur yuga
1 maha kalpa – 100 years of Brahma (311,040,000,000,000 human years)
In Terms of Solar Cycle (Aayana)
The angle Between the planes of Ecliptic and Equator is inclined at 23 ' 28 to the celestial equator and it is the annual path of the Sun around earth as seen apparently and above it there is belt of zodiac about 9 degrees north and 9 degrees South of the ecliptic where the moon and other planets have their motion.On 21st of March Sun is at Zero which is also the first point of Moveable Sun.when the Sun Starts moving Northward from Winter Solstice on 21st of December Sun is considered as Uttrayan and it remains in Uttrayan up-to 21st of June and Moves to dakshinayan from 21st June to 21st December.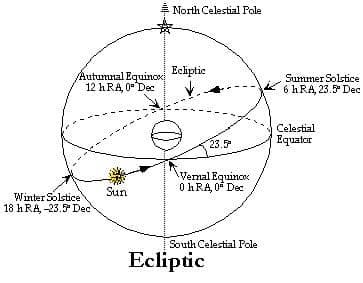 When it is moving from North to South it is called Entering Libra when Sun is on Autumnal Equinox on 23rd September. Sidereal Location of Stars is fixed from Zero Degree of Fixed aries in Ashwani Nakashtra with the reference point at the end of Revti Nakashtra. The angular Distance between the first point of the fixed Aries and of the Movable aries is called Ayanamsa. In Chitra Pakasha System Zero point of Aries is 180-degree opp to Chitra Nakashtra.
Time in Vedic Astrology
The same way other planets do have a deep impact in this Kalachakra if we try to understand astrologically.
In Astrology, Order of Results, Timing of Events depend on Sequences of Dasha systems, Transits, their movements over nakshatras in particular degrees and their Priorities and most important order of protocols they follow in any chart (Chart is also made based on Kaal-chakra concept, circular in manner divided into 12 equal parts having 30 degree each- total count 360 degree – same way earth rotates around Sun, Moon Around earth and other planets rotates around sun).
Protocol Head is Nakashtra and their lords which are moving around the Bhramand (The Universe or Aakash tatva – Ultimately God – signified by Jupiter ). Nakashtra is the Micro level unit of our Vedic system, so what I believe is most of the results are governed by the power of Nakshatras.
There is an Ancient story behind this, Nakshatras are the 27 daughters of Daksh Prajapati (1st Son of Lord Bhrama) who are married to Lord Moon and also part of Nakashtra Loka. Each Nakashtra has its own nature as per the qualities they possess. By default all Nakashtras are feminine in nature which means, there is a power of Shakti – The Godmothers or Goddess energy in the creation of all the universe and the things which belongs to this whole universe (Universe acts as a Womb where everything is summarized).
So, the ultimate creator of this whole universe is Maa Shakti (Goddess Durga or Women energy and every man is the micro unit of The Shakti. So, feminism is present in every human being belong to this whole universe (either men, animals or plants or any herbs).
This is Basic reason why in Hinduism, Goddess Maa Shakti has Special place and in my own belief to everyone Should Worship Maa Shakti as the ultimate mother of the whole universe in order to understand the creation and creativity behind this cosmos, All Tridevs are Bound to follow the order of Maa Shakti for running this Universe in a peaceful manner. The whole Universe is a reflection of the Shiva-Shakti energy, in quantum science signified by two particles present before cosmos creation, that had created the Kaal-chakra System and all the planets are role player in this Kaal chakra system, every movement of planets, stars and signs are part of Space and time which signifies important event in individual life( A Time & Space Formulation in modern terms ) to circulate the karma system or process of rebirth.
All planets are karka of Kaal means time, all are in a rotatory manner moving around Sun – the creator, that's why called King of Solar system, Spiritually signified by Narayana and the energy of Maa Adi Shakti.
Time is controlled by the Transiting planets over nakshatras and stars and life progressed based on Moon Movement in those different nakshatras and stars, As moon progressed life grows so same ways Vimsotri dashas signifies major and important events which Show how our state of mind changes significantly in those 29 days in a month and shows important events which have deep impact on our psychological and biological Mind and body setup. So Moon is acting as queen and doing work of Nourishment and rulers of Dashas. Both Sun and Moon movement signifies How Kaal chakra is proceeding in everyone life.
Rest of planets transits signifies how life changes with the gradual growth as time changes so as transit changes.
Astrologically, there are many Dasha systems present in our scriptures & from where can understand the power of Kaal chakra system and how the whole system is managed by Micro timing, in modern terms Rotation, Speed, Momentum & Gravity are part of Kaal Chakra system which is controlling the whole cosmos.
Astrologically timing of events, transits of Astronomical bodies which leads to some events are part of Kaal-Chakra, who only Maharishi Bhrigu was able to master it that time (Might be in Treta Yuga) or able to understand it fully.
Maharishi Bhrigu (Sanskrit: Bhṛgu) was one of the seven great sages, the Saptarshis, one of the many Prajapatis (the facilitators of Creation) created by Brahma (The God of Creation), the first compiler of predictive astrology, and also the author of " Bhrigu Samhita ", the astrological (Jyotish) classic. Bhrigu is considered as a Manasa Putra (mind-born-son) of Brahma. The adjectival form of the name, Bhargava, is used to refer to the descendants and the school of Bhrigu.
In Original Work of "The Bhrigu Samhita ", contain details of millions of people, with horoscopes drawn for the time of consultation. Sage Bhrigu compiled this information in his great treatise on astrology after the curse of Maha Laxmi to Brahmins, which are originally written on palm leaves (Called Leaf Astrology or Nadi Astrology) mostly famous in North of India and Some part of South of India.
Because of sage Divine Intuition and Meditative power, Sage Created the system of Kaal Chakra (A system to see Past, Present and Future) & where he created millions of Chart before their birth.
Kaal-Chakra has some rules and some protocols they follow as per our Karma System we have (4 types of karma is included in this kaal chakra – Sanchit , Prarbadha , Kiryamani and prarabdha ) which is analyzed below in simplest form.
Priorities or timing of Fruits depends on these Protocols:
Degrees (Has Highest Priority)  
Transits lord (2nd Priority) 
Nakashtra Lord ( 3rd Priority)
PD lord  ( 4th Priority)
AD lord  ( 5th Priority)
MD lord ( Last Priority)
Maha Dasha MD:
It gives the result at a very later stage probably at the ending of the Dasha. Reason being its effects barely seen from Soul factors (It gives deep impact to the native life when any dasha end or near to its end , either it will realize you good MD period, which will lead it to many happy moments and phases or it can realize you most terrific Bad MD period which can transform the whole life of Native into some Disastrous change in life ).
So, always See MD result from the position of the Sun in Natal Chart (Sun is natural Karka of Soul ). i.e If MD lord is 5th from the Sun in Natal Chart and if having beneficial relation with the sign , than it means native whole focus will be in learning Something regarding skills for the whole MD period which can give a sense of Satisfaction to the native soul , it includes some sort of those learning which can give rise to name and fame in those areas of skills and if the native is married, native will focus much on their kids happiness and upbringing of their kids well.
So overall we can assume MD lord will give positive transformation to the native should w.r.t to skills, learning, creativity, kids and some sort of technicalities. If Native has Beneficial planets in 6th, 8th and 12th house from the Natal Sun position, native will do good in their AD periods too.
If there are Malefic planets from same positions than we can say there will be much negative transformation or bad suffering will be seen in their AD periods and it will impact much on the soul level as well as in Native Status in society too.
If there is Mercury in 12th from Natal Sun and If same Mercury MD is also running, then native will be much focused on the mercury-related things i.e Speech, knowledge, Skills, Communication and all the things which involve improvements and enhancements regarding areas of Mercury.
If Same MD lord Mercury is in 5th house and 12th from Sun(sun in 6th house) than native will be Much focused on native kids health, technical educations, Creativity level and improvement in all the areas of work, health and Services matters etc.
The result of MD lord and impact on native is very very slow, so its result should be seen at the end of the MD dasha lord, so we should leave it do aside till MD period is not over or finished.
Antar Dasha (AD) :
This is the most imp Lord and planet in any natal or in any Divisional chart because of its impact on native overall health, including mental as well as physical will be very much Deep somewhere , its level of Impacting on our Mind or on our thought processing level will be much seen, till its operative period under any MD period.
Reason AD lord periods are short usually have 1 , 2 or 3-year total time slot we can say its results are also sudden or it can give transformations in a very shorter level, so its result should be seen from the Natal Moon. Moon usually transits in a very short angular distance from the earth in different-different nakshatras.
So Nakashtra plays a major role in Deciding results of AD lord as well its strength should be check from the natal moon. That's Why Vimsotri Dasha is calculated from the Birth nakashtra actually when Moon was at that Birth tithi. I have always preferred to see the AD result from the Nakashtra lord of the AD lord, as nakshatra has a deep-rooted link with most of our daily activities.
Nakashtra will tell you when you actually born (During The Moon placement in birth time )and the moment of the Moon in any kaksha.
So, AD lord result Should be seen from the Natal Moon Positions, as it can bring much impact on our Mana(Mind) , Condition's, Environment and also on our thoughts processing level.
That's the only reason we usually time the marriage of native by the perfect AD lord which has somewhere link with our 7th house/Lord of D1 and D9 chart when actually we are ready from our state of mind, it simply speaks about your Mind- your willingness and your ideology.
The reason is very simple marriage is an event which is going to bring you a change or helps you to bring transform you in some condition or in some environment, either it will give you mental satisfaction or complete feeling of rejection.
Fruits and results are the indicators of our mental condition or our environment we get by our physical plane.
I.e if 7th lord is 8th from the Natal Moon, which means suffering via our partners is much seen, if same 7th lord have some link with our D9 – 7th lord or 7th house than we can say our close relation partners ( Gf/Bf) or marriage partner are the sources of those sufferings or after marriage in those areas (where 7th lord is placed, if in 4th house then sudden problem arising in the home environment after marriage) , we got sudden transformation in our thinking level. Malefic bring bad transformation to our thoughts, Benefic give positive transformation to our thoughts.
That's why any AD change gives Sudden Job change, sudden promotions, sudden rise or Sudden change in our environment or we could see sudden Travels or Sudden Shocks. IF AD lord is badly placed from the natal Moon.
In all the cases it is impacting our Mana or our thought processing level, or in the environments or conditions, we are getting.
So, We should Always Check AD lord from Moon in any Natal chart and see the results, it will tell you how you react to the situation or whether you are comfortable or feeling badly in the environment or situation which are given to you in that particular AD period.
There is another observation which I have seen more the AD period is shorter more you can experience Surprising moment till its operative period.
More the period is Longer More you will get stable Moments or more the suffering will be if AD lord is badly placed from Moon.
AD Period has Deep Rooted Impact on Mind and Mana and thinking power, So, It is very much deeply interlinked with Current Transit from the Natal Lagna and Moon Lagna.
Current AD Lord transit is Most important seen because it decides the level of Fruit you will get in current life and how much you can get.
Pratyantar Dasha (PD) :
PD is most Stronger than AD Lord Reason being its actually your Result or your Indicator of Sanchit and Prarabdh Karma which you are gone face or observe in physical as well as in sub-conscious level , that's Why its results depend on the placements and Strength from the natal Lagna chart only (the Physical Plane) for e.g if Someone has Mars in 8th house than we can assume during its PD period we will get most of the results around the 8th house environment created by our Karma.
PD lord Position form AD lord is most imp in any natal Chart. If Beneficial Planets are PD lord and are 8th from the AD lord than we can assume Pd are not impacting the AD to our Mana or thoughts.
PD is More about Physical results we get or we create by our karma.
If Someone is running Malefic PD dasha period 8th from AD then we can assume there will be much suffering in that AD period and if Same PD lord is 8th from Lagna than it is a quite clear Suffering to the health of the native in that PD period will be seen.
Level or Percentage of the Suffering decides by the current Transit of that PD lord from the Natal lagna. If that PD lord is Currently transiting in 11th house from Natal Lagna chart than we can assess native will get gain after suffering, it won't affect much, suffering will be there but the level of Suffering will be less experience int that PD period.
Nakashtra Lord:
Nakashtra lord of the AD or PD is stronger than AD and PD lord, the reason being AD and PD lords planet in any natal chart are the temporary owner of the houses they placed as per our Sanchit karma. it's like if someone is living in Some friend house he is more comfortable doing its work but if we see it from the deeper level he is temporarily living in that house, not in the actual house he belongs to.
So, they are just guest, their activity will be less as per the guest rules not as per the ownership rules. The owner is someone else who is guiding force behind that particular house. That Guiding force is Nakashtra lord who actually built the house and the house actually belong to that Nakashtra lord.
it's like we are living in that house which is built by our parents or grandfather and we are claiming its own. but in reality authoritative person will be either our Parents or grandparents who are capable and who have built the house where we are living, so they can give orders or in reality, they can do work for the house well being.
Everyone will listen to the orders from the house ruler not from the house liver.
So, always give higher priority to the Nakshatras lord of AD and PD.
Degrees :
Result always Depends on the Exact degree where planets placed and in the particular Pada they belong to( total nakashtra degree is 13.20: Artha (3.2), dharma(3.2) , Kama(3.2) and Moksha(3.2).for e.g if some planet is at 15 degrees in Aries in 5th house then it means , planet is in next nakashtra of Aries = 15 degree-13.20 degre=> 1.8 Ahead from 13.20 which means in bharni nakastra , which is further in Artha Pada ( first quarter if bharni- 3.20)
Planets Degrees are like Our Designation we get in our house or in our Office environment. i,e Jupiter is more comfortable in 5 degrees, which means Jupiter will get the position of Project Manager( Includes some limitations and in exact period it will give result of its 5 degrees when either Ju AD or Ju Pd comes with perfect Ju transit) and its in the nakshatra of Pushya so, His Delivery Manager will be Saturn( the Driving or Guiding force) behind the success of Jupiter.
With thanks and Regards,
Rocky Jamwal