Murphy's law is a popular adage that states that "things will go wrong in any given situation, if you give them a chance," or more commonly, "whatever can go wrong, will go wrong." A number of variants on the rule have been formulated, as have several corollaries.
A time will come when Mankind will decay like what Murphy law  has explained, sooner or later that is destined to come might be after 1000  or 10,000 years later or much sooner, that I don't know, but it will come with much havoc advancement, Everything that grows always falls or fades that's the natural law.So, same is about technology and extreme futurism, it also has drawback may be we cant see right now but it will come with human degradation.
This advancement of Mankind might be waiting for its degradation and destruction period, as it has been seen in Every 1000 years of duration there has been a period of a complete change in the era and the underlying situation is hard to explain.This, we had already seen from the Year 900 AD to 21st century till now,  how India got decay in his moral and spiritual values and senses.
More can be yet to come in the year 3000, we don't know about it, as Kaal (Time )  is that mysterious system of higher divine only sages of higher senses can able to understand its root.
It has been said by the Krishna itself, I will be there on the earth until 10,000 years of Kaliyug to maintain, uphold Dharma and Spirituality for kind and devotees.
There have been many More Such predictions and futuristic quotes have been explained in Vedic scriptures (i.e Puranas and Upanishads) for kaliyug.

Now, first let us understand what is Kaliyuga?



As Per Wikipedia, Kali Yuga (Devanāgarī: कलियुग [kəli juɡə], lit. "age of Kali", or "age of vice") is the last of the four stages (or ages or yugas) the world goes through as part of a 'cycle of yugas' (i.e. Mahayuga) described in the Sanskrit scriptures. The other ages are called Satya Yuga, Treta Yuga, and Dvapara Yuga.Kali Yuga is associated with the demon Kali (not to be confused with the goddess Kālī). The "Kali" of Kali Yuga means "strife", "discord", "quarrel" or "contention".
Departure of Krishna 
According to Puranic sources, Krishna's departure marks the end of Dvapara Yuga and the start of Kali Yuga, which is dated to 17/18 February 3102 BCE.When Krishna was leaving the Mortal world, Host of Siddhas, Pitrs, Gandharvas, Vidya Dharas,  Great Nagas, Charamas, Yakshas, Rakshasas, Kinnaras, Apsaras and Dwijas arrived there to witen the divine departure. Krishna Saw Bramha and other gods and later he shuts his eyes and lost himself in Deep Samadhi and observbed his atman into Brahman.
The Sky Rained Flowers, it erupted with drumrolls of the gods. When Krishna left the world, Dharma, Compassion, Glory and prosperity followed him out of it and then kali yuga entered it wholly.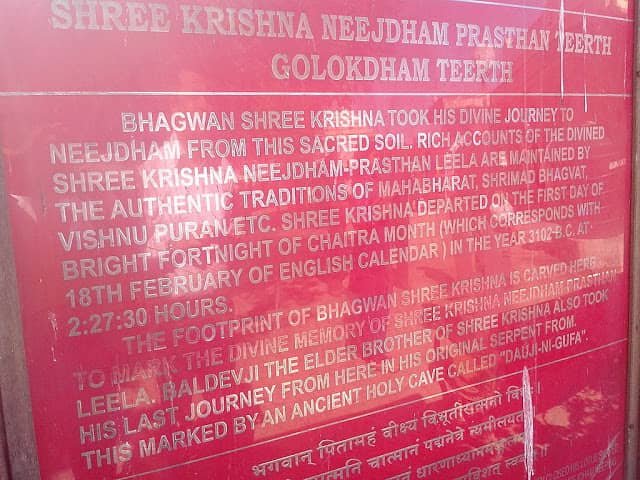 Meanwhile Soon after Krishna left the earth, the sea swelled in huge tides and drowned that peerless and magical city – Dwarka.only the Mansion in which Krishna had lived remained above water.
Begining of Kaliyuga
View of Surya Siddhanta on Kaliyuga
According to the Surya Siddhanta, Kali Yuga began at midnight (00:00) on 18 February 3102 BCE.This is also considered the date on which Lord Krishna left the earth to return to Vaikuntha. This information is placed at the temple of Bhalka, the place of this incident.
 (Source: Wikipedia, Surya Siddhanta )
View of Aryabhatta on Kaliyuga
According to the astronomer and mathematician Aryabhatta, as mentioned in Wikipedia, the Kali Yuga started in 3102 BCE. He finished his book "Aryabhattiya" in 499 CE, in which he gives the exact year of the beginning of Kali Yuga. He writes that he wrote the book in the "year 3600 of the Kali Age" at the age of 23. As it was the 3600th year of the Kali Age when he was 23 years old, and given that Aryabhatta was born in 476 CE, the beginning of the Kali Yuga would come to (3600 – (476 + 23) + 1 (As only one year elapses between 1 BCE and 1 CE) = ) 3102 BCE.
(Source: Wikipedia, Aryabhattaiya )
View of KD Abhyankar on Kaliyuga

According to KD Abhyankar, the starting point of Kaliyuga is an extremely rare planetary alignment, which is depicted in the Mohenjo-Daro seals. Going by this alignment the year 3102 BCE is slightly off. The actual date for this alignment is February 7 of 3104 BCE. There is also sufficient proof to believe that Vrdhha Garga knew of precession at least by 500 BCE. Garga had calculated the rate of precession to within 30% of what the modern scholars estimate.


(http://adsabs.harvard.edu/full/1993BASI…21..475A, 
Astronomical significance to two Mohenjodaro seals )
View of Gaudiya Vashinavs guru's on Kaliyuga

Most interpreters of Vedic scriptures, as Bhaktisiddhanta Sarasvati Goswami and his recent disciple Bhaktivedanta Swami Prabhupada believe that Earth is currently in Kali Yuga and lasts 432,000 years. 
View of Sri-Yukteswara on Kaliyuga

Other authors, such as Swami Sri Yukteswar and Paramhansa Yogananda, believe that it is now an ascending Dvapara Yuga, indicating levels of cycles within each major Yuga period as each being a development, the smaller cycles within cycles eventually leading to full development of the qualities of the ages. The Kali Yuga is thought by some authors to last 6480 years although other durations have been proposed.


View of Sadh-Guru on Kaliyuga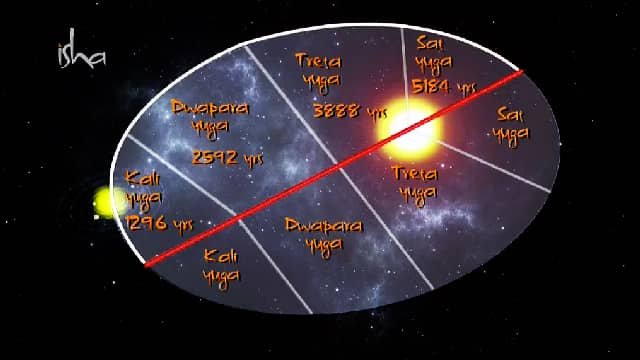 (Pic Source: Sadguru,Kali Yuga – When Did it End and What Lies Ahead?)
"As per Sadguru, Mahabharata War ended on 3140 BCE, and in 3102 BCE


(Sadguru,Kali Yuga – When Did it End and What Lies Ahead?)
 Srimad Bhagavatam View on Kaliyuga
SB 12.2.31
yadā devarṣayaḥ sapta
maghāsu vicaranti hi
tadā pravṛttas tu kalir
dvādaśābda-śatātmakaḥ
Synonyms: 
yadā — when; deva-ṛṣayaḥ sapta — the seven sages among the demigods; maghāsu — in the lunar mansion Maghā; vicaranti — are traveling; hi — indeed; tadā — then; pravṛttaḥ — begins; tu — and; kaliḥ — the Age of Kali; dvādaśa — twelve; abda-śata — centuries [These twelve hundred years of the demigods equal 432,000 earth years]; ātmakaḥ — consisting of.
Translation: 
When the constellation of the seven sages is passing through the lunar mansion Maghā, the Age of Kali begins. It comprises twelve hundred years of the demigods
Explanation :
Srimad-Bhagavatam (12.2.31) records Kali-yuga as having begun when the constellation of the seven sages (saptarsi) passed through the lunar mansion of Magha. Hindu astrologers have calculated this to have been 2:27 a.m. on February 18, 3102 BC. This took place some 36 years after Lord Krsna spoke Bhagavad-gita to Arjuna.
View of scholar Bibhu Dev Misra
As per Bibhu Dev Misra, Aryabhatta had calculated the start date of the Kali Yuga on the basis of the information in the Sanskrit astronomical treatise, the Surya Siddhanta, according to which the five "geocentric planets" (i.e. the planets visible to the naked eye) – Mercury, Venus, Mars, Jupiter, and Saturn – were aligned to 0° of Aries (near the star Zeta Piscium) at the beginning of the Kali Yuga. He, thus, arrived at the date of 17/18 February, 3102 BC as the starting point of the Kali Yuga. However, modern simulations carried out by Richard Thompson show that on 17/18 February, 3102 BC, the five geocentric planets occupied an arc of roughly 42° in the sky and were scattered over three zodiacal signs – Aries, Pisces, and Aquarius. This cannot be considered as a conjunction by any means. Far more spectacular 'alignment' of planets has occurred in the preceding and succeeding centuries. In other words, the conjunction of geocentric planets at 0° of Aries that was supposedly targeted by Aryabhatta did not take place in 3102 BC.
As per the Author, The original Yuga Cycle doctrine appears to have been very simple: A Yuga Cycle duration of 12,000 years, with each Yuga lasting for 3,000 years. This cycle is encoded in the "Saptarsi Calendar" which has been used in India for thousands of years. It was used extensively during the Maurya period in the 4th century BC and is still in use in some parts of India. The term "Saptarsi" refers to the "Seven Rishis" or the "Seven Sages" representing the seven stars of the Great Bear constellation (Ursa Major). They are regarded as the enlightened rishis who appear at the beginning of every Yuga to spread the laws of civilization. The Saptarsi Calendar used in India had a cycle of 2,700 years; it is said that the Great Bear constellation stays for 100 years in each of the 27 "Nakshatras" (lunar asterisms) which adds up to a cycle of 2,700 years.The 2,700 year cycle was also referred to as a "Saptarsi Era" or a "Saptarsi Yuga".
Saptarsi Calendar began from 3076 BC and Dr. Subhash Kak points out, "the new count that goes back to 3076 BC was started later to make it as close to the start of the Kali era as possible". In 3076 BC, the Great Bear was in the "Magha" nakshatra (lunar asterism) as mentioned by Varahamihira in Brihat-Samhita (Brs. 13-3). But Subhash Kak points out that, "By the time of the Greeks, the nakshatras were listed starting with Asvin (Surya Siddhanta 8.9). As Magha is the tenth nakshatra in a count beginning with Asvin, one needs to add 900 years to find the epoch for the beginning of the cycle. This takes one to 3976 BC. One more complete Saptarsi Cycle of 2,700 years before that brings us to 6676 BC." Since the Dwapara Yuga immediately precedes the Kali Yuga, we are once again led to the conclusion that the Saptarsi Calendar with a start date of 6676 BC was counting time from the Dwapara Yuga.


Vittam eva kalau nṝṇāḿ janmācāra-guṇodayaḥdharma-nyāya-vyavasthāyāḿ Kāraṇaḿ balam eva
The path of the Vedas will be completely forgotten in human society, and so-called religion will be mostly atheistic.
The kings will mostly be thieves, the occupations of men will be stealing, lying and needless violence, and all the social classes will be reduced to the lowest level of śūdras.
Cows will be like goats, spiritual hermitages will be no different from mundane houses, and family ties will extend no further than the immediate bonds of marriage.
Most plants and herbs will be tiny, and all trees will appear like dwarf śamī trees.
Clouds will be full of lightning, homes will be devoid of piety, and all human beings will have become like asses. At that time, the Supreme Personality of Godhead will appear on the earth.
And, when this era will come to end, we'll surely find these shocking things happening.Towards the end of Kaliyuga, the maximum lifespan for humans would be reduced to 12 years of age and their body will shrink up to 4 inches.It is mentioned in Brahma Purana that Kaliyuga would last for only 10 thousand years; during which it would witness the downfall of the human race. Half of the world will be plagued with illness and the other half would be engaged in combat. To end this, Vishnu will take the Kalki avatar.
Every water resource would begin to dry up mysteriously and there'll be complete disregard and no devotion left towards, parents, family, children, and guru.Paper money will be the cause of destruction among humans and people involved in the solicitation of funds will not hesitate to kill.
5 thousand years into Kaliyuga and the holy river Ganges will change its course and would start flowing backward and return to Vaikunth Dham, her holy abode. 10 years into Kaliyua, every God, and Goddess present on earth would leave for heavenly abode, to never return. This would mark the immediate end of religious faith among humans.
Just before the impending annihilation, the earth would stop procreating, in terms of flowers, fruits, and foods. No amount of technology or prayers would make the soil fertile again, bees would stop collecting nectar, silkworm would stop producing silk, and cows would stop milking.
*.The last 5 years of Kaliyuga, Earth will bear torrential rains that would immerse all the dead and every inch of land.
*.The last day of Kaliyuga would see the longest night, after which 12 Suns would arise and would continue to shine for years until every drop of water is soaked.
In the Atharva-veda Purura-bodini Upanisad it is said: "In the seventh manvantara, in the beginning of the Kali-yuga, the Supreme Personality of Godhead will, accompanied by His own associates, descend in a golden form to the earth. He will teach the chanting of His own holy names."
Text 8:
"I will decend in a golden form and teach the chanting of my own holy names"In the Garuda Purana it is also said:
It was already  predicted in advance of the advent of 14th century religious reformer Sri Krishna Chaitanya. Even the Manvantara, the Yuga, the millennium, practically the year, the actual month and the astronomical conjunction on the day of his birth were accurately predicted thousands of years earlier in Bramha Puraanas. Even the names of his parents, his physical features, his particular childhood and adult names, the place of birth, the secret nature of his identity, and an accurate description of his religious teachings. Other such verses include the prediction of his associates, the name of his village, and the resulting world-wide effect of his teachings. The physical proof is there that the Atharva Veda and Puranic texts predate the year of Chaitanya Mahaprabhu's birth in 1486 in Navadvipa on the Ganges in India.
As, Sri Caitanya is an actual avatar of God ie: Krishna, who incarnates once every thousand divya-yuga cycles, this special age we live in called "Kali-yuga" has also been described as the "Dhanya-Kali-Yuga" by His transcendental associates, in verses such as this:
In Kali-yuga, the partial manifestation of Krishna, Sri Narayana, brings the Mahamantra.Another incarnation of Krishna is lord Buddha who is an another avatar in the Kali age, and when godlessness prevails at the very end, Lord Kalki will appears, delivers the Earth from degradation, and re-introduces the Satya Golden Age ( the New Yuga cycle will come after a great churning of the yugas).
However, once in every day of Brahma, Sri Gauranga is the Yuga-Avatar. He distributes with great fortune (dhanya) the Krishna-Nama sankirtan movement imbibed with Krishna-prema, Radha-dasyam and the highest destination of Goloka-Vrindavan-Navadwipa.
It has been said by some Gaudiya Acaryas that this Golden Age of Sri Caitanya lasts for 10,000 years, others have said 103,500 years, while other "Gaura-Yugas" last for the entire 427,000 remaining years of Kali.
prthivite ache yadi nagaradi grama

sarvatra pracara hoibe more nama
Source and Reference :