Mundane Astrology( Medini Jyotish)
Another Alignment is forming in uttraphalguni Nakashtra.South eastern States of India and Upper hills of Himalayian Ranges in North-Eastern states of India need special attention regarding weather uncertainties.There could be stronger possibilities of earthquake like activities before 26th of November as mostly what we have observed in Agni Mandala Nakashtras earthquakes usually, (repetitions within 1 month), if it is not in November, Next Nodes transit in Leo/Aquarius axis with Jupiter around feb 2016 could be an epic point for another seismic activities.
Sky-watchers across much of the world will have the chance to see the moon glowing with an eerie red pallor during a pre-Halloween total lunar eclipse next week.The "blood moon" total lunar eclipse will rise during the full moon of Oct. 8 just before sunrise in North America, but red might not be the only color people see during the total eclipse. Weather permitting, it's possible that some sharp-eyed observers might be able to see some blue in the moon's glow. The event will be the second of four consecutive total lunar eclipses in 2014 and 2015, according to NASA officials.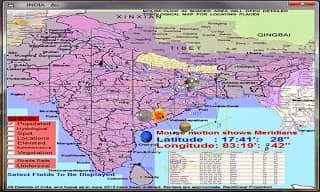 This was Scenario for Andhra-pardesh (Visakhapatnam) area which was exactly happened after blood lunar eclipse on 8th of October 2014 created low pressure area around Indian ocean.After doing all Calculation we can see in an Image of Indian map, there were cluster of 4 planets ( Sun(24) , Venus(Hasta -21) , Mercury(4) and Rahu (25 ) in chitra nakshtra in Virgo sign ( near Visakhapatnam). Rahu , Sun and Mercury were closely conjugated in Virgo Sign in chitra , clearly indicated there will be huge Cyclonic storm from Indian ocean and there can be disaster-tours event happen in Visakhapatnam or all the areas which are Near coastal around about 83 Longitudinal degree including orissa too.Sooner when Venus will move forward to Sun in Chitra nakashtra, there will be Heavy rain we can expect may be day after tomorrow, chances are more in 13th and 14th of October when Venus will be ingress in Chitra nakashtra in 23 Degree in Virgo conjugate with Sun and Mercury.
Flood fury and Catastrophic event of heavy rain in jammu and Kashmir 2014
Environmentalists say last year's devastating flash floods in Uttarakhand, in which at least 5,000 were killed, and the unprecedented deluge in Jammu and Kashmir this year, both have the same cause – urbanization, reduced forest cover and erratic monsoon.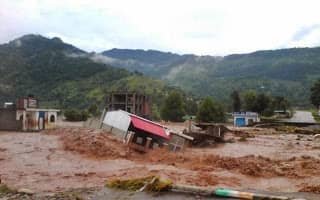 The meteorological department says it had issued warnings about very heavy rainfall in Jammu and Kashmir practically every day since September 2. But while a few families did move to higher regions, the state government seems to have failed to anticipate the extent of the crisis and effectively convince those who stayed back. Now point is very simple within short span of meteorological department predictions within a days of 2 , nobody can safe guard their family and move into safer places. The situations in Uttarakhand and Jammu and Kashmir are uncannily similar, experts say. In both cases the trigger was incessant rain, set off by the merging of the western disturbance and the monsoon.
How Earthquake Triggered in Nepal ; Astro-Scientific Research Journal on nepal Earthquake.
It was the day of 25th of April 2015 when dreams of millions of people shattered in dusts, millions of people lost their homes, loved ones, those who were sleeping deep in the seat of lord Buddha in kathumandu day before never thought, there won't be same night again come in next day and day will become a nightmare of crying's and deaths of their loved ones.
It was a history saddest days for people of Nepal when mother earth took a slight bend and the land of Lord Shiva shivered with 100's of shocks and the day became a land of deaths and unspoken memories.As per the latest official news at least 9,000 people were killed and more than 23,000 people got injured and nearly 3 million people got homeless almost destroyed 600,000 homes in Himalayan country in the history most massive earthquake of 7.9 that struck outside Kathmandu on 25th April 2015 approximately around 11:25:00 to 11:56:00 AM, near Pokhara (Kathmandu, Nepal). As per latest wiki reports, Its epicenter was around east of the district of Lamjung, and its hypocentre was at a depth of approximately 8.2 km (5.1 mi) and it is considered as one of worst natural disaster to strike over Nepal since the 1934 Nepal–Bihar earthquake.
Who will lead J&K in coming election – A astrological Analysis as per Mundane science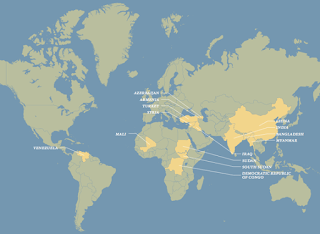 When Mars Will be in Capricorn Sign after 27th of November 2014 (Geographical Sign of J&k is Capricorn , sign ruled by great struggle and hardship ) , Jammu and Kashmir Political system will undergo a major change with alliances of two different parties and zones which was never happened ever or till now with High military action almost in whole region. Battle ground war zone will warm up with the ingress of mars in J&K Lagana , Anti nationals activities will increase till 5th of Jan 2015. Major Alliances will break and Split up and reformation will be there in underground zones secretly. In Lagana of J&K Mars will be there at that time being Aspected by Rahu from 9th House , Military actions in state will increase to counter attack all conspiratorial activities in State ( there will be huge increase in Secret political activities or traps and rise in terrorist activities and we will see secret political conspiracies after 27th November 2014 in order track down the rising leader in J&K ).
#mc_embed_signup{background:#fff; clear:left; font:14px Helvetica,Arial,sans-serif; width:100%;}
/* Add your own MailChimp form style overrides in your site stylesheet or in this style block.
We recommend moving this block and the preceding CSS link to the HEAD of your HTML file. */
Subscribe to our mailing list