Direct Payment For International Users  (Pay Through Paypal)
It is a free money-transfer service. It allows any of us with a Visa, MasterCard, Discover, American Express card, or bank account to transfer funds to a 100% secure server. You can transfer to our Paypal account by direct purchase. Other than Indian users can pay directly via Paypal. me account.
Paypal id is: krishndhaam@gmail.com
Google Pay Number: +91-7006278941
Paytm Number : +91-7006278941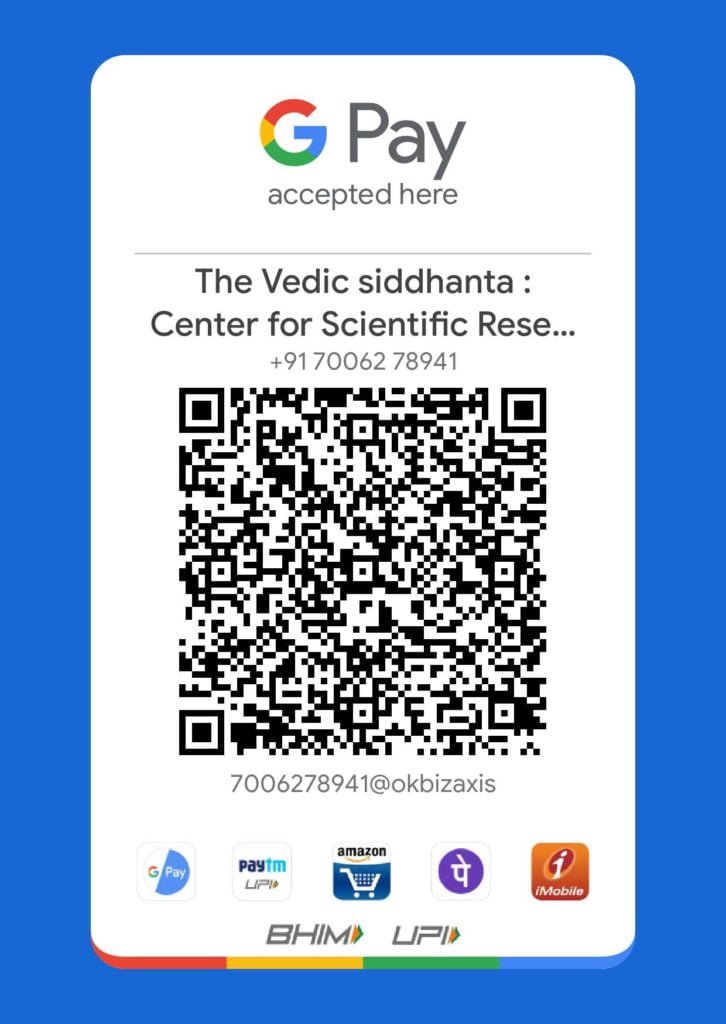 For Donations to our Education project:
For Donations or to support our Research work on decoding Vedic scriptures users can use donate us any amount via the below-mentioned link :
INTERNET BANKING OR CASH/CHEQUE DEPOSIT
To India Office,

The Vedic Siddhanta: Center for scientific research on Vedic science

Bank Details:
Account Number: 917010068190413
IFSC Code: UTIB0002491
Branch: PHALORA NAGBANI
Favor of: Rakesh Singh Jamwal
Payable at: Jammu
Bank:  AXIS BANKAddress: GROUND FLOOR KAHSRA NO 598 GAJANSOO ROAD PHALORA NAGBANI JAMMU 180002
State: JAMMU & KASHMIR
District: JAMMU (Click here for all the branches of "AXIS BANK" in "JAMMU" District)
Branch: PHALORA NAGBANI
Contact: 236617IFSC Code: UTIB0002491 (used for RTGS, IMPS and NEFTtransactions)Branch Code: Last six characters of IFSC Code represent Branch code.MICR Code: 180211013
Important Note :
Before Placement of any order regarding Jyotish Services or any other services please drop a mail @ krishndhaam@gmail.com or call us at +91-7006278941  for further Appointment details enquirers.
Shipping Details:
When you make any purchase from Vedic Siddhanta your personal information will be completely secure with us as all the information is based on the account-based system.

All the Purchases in Vedic Siddhanta E-Store regarding Jyotish, Books, or Magazines services are based on E-goods and are directly deliverable via email that need not any shipping charges or any hidden costs.

We use the personal information you supply us, including your membership registration data, to enable us to provide you with personalized predictions. In addition, this information is used in a demographic manner to enhance our services, personalize your experience and provide you with special offers and services that we think you will find valuable.