Brain Behind Unfolding Secrets of Cosmos
Above mentioned Quotes Said by One of Famous Personality in the history of Science.
None another "Albert Einstein "
"It is not enough that you should understand about applied science in order that your work may increase man's blessings. Concern for the man himself and his fate must always form the chief interest of all technical endeavors; concern for the great unsolved problems of the organization of labor and the distribution of goods in order that the creations of our mind shall be a blessing and not a curse to mankind. Never forget this in the midst of your diagrams and equations."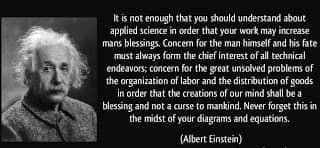 Albert Einstein was born at Ulm, in Württemberg, Germany, on March 14, 1879. Six weeks later the family moved to Munich, where he later on began his schooling at the Luitpold Gymnasium. Later, they moved to Italy and Albert continued his education at Aarau, Switzerland and in 1896 he entered the Swiss Federal Polytechnic School in Zurich to be trained as a teacher in physics and mathematics.

In 1901, the year he gained his diploma, he acquired Swiss citizenship and, as he was unable to find a teaching post, he accepted a position as technical assistant in the Swiss Patent Office. In 1905 he obtained his doctor's degree.Einstein always appeared to have a clear view of the problems of physics and the determination to solve them. He had a strategy of his own and was able to visualize the main stages on the way to his goal. He regarded his major achievements as mere stepping-stones for the next advance.
Will Narendra Modi Be Next Prime Minister of India ?
My Analysis & Research Insight on Narendra Modi for Next PM 2014
Date of Birth : 17 september 1950
Place of birth Mehsana , Gujraat
Narendra Modi is born with Scorpio lagna and 9th lord Moon is also in Lagna with Mars.Lagna Degree is about 5 Degree quite indicating Young, talented, youthful and dynamic personality. In Lagan, Mars (Lagna Lord) and Moon (9th Lord) Forming Ruchuka-Mahaprush yoga clearly indicates naturally born leader who is daring, bold with enterprising quality and willing to cross any hurdles, can overcome any battle with his strong will and intellectual power. All these qualities Making him Naturally born leader and giving him conquering capabilities those similar to look alike Sikander (Alexandra the Great).
Ruchaka yoga is considered as an one of the five Royal Yogas in Vedic Astrology and falls in category of the Panch MahaPurusha Yogas.
With this Ruchka mahaprusha yoga, Neech-bhagna Yoga also forming in lagana too giving extra Strength back to Moon as well but placement of weak mars in D9 chart, some how nullifying the excellent result of Mars.
Usually with these types of combination native may have to face Great fall after great rise or in those vice-versa conditions.Currently Modi ji is having moon Mahadasha, Nakshtra lord is Saturn Placed in the 10th house with Venus forming a
Vosi Yoga creating
naturally acquired Name & fame in its social or work life without any more efforts, natives usually born in this yoga act like a natural Human resource manager or apt in social management , a great social personality, a reformer and most important making him great level of charitable human being.
Saturn is also (
AK
) Atmakarka too which also means a person born with natural quality for helping down trodden people and great rise after lots of struggle in life.
Aatmakarka in 10th house in D1 Making him Natural Karam Yogi Born for Fulfilling its duty toward Social reform and raising the bar of mankind. , that's why modi ji always ready to help those people who are in great trouble to raise their bar and very popular in weak society masses and also giving qualities of natural Management and expert dealing in social masses.