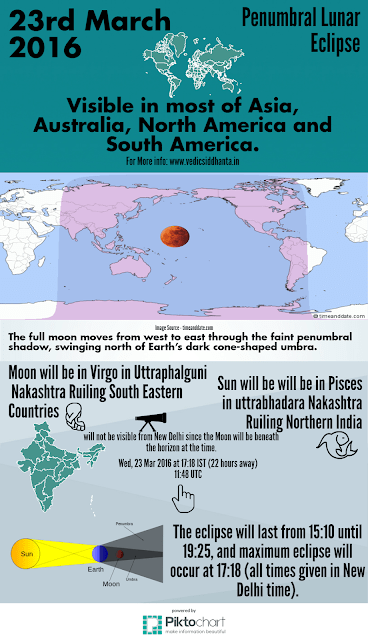 According to Vedic principals, 23rd march minor lunar eclipse will fall in uttraphalguni nakshatra in Virgo sign when the sun will be in exactly opposite in uttrabhadra nakshatra in Pisces sign. During this lunar eclipse, Mercury will be closely conjoined with Sun within 2 degrees of orbital difference.According to Koorma Chakara, this eclipse will fall in Sign of India and Mostly it affects Northern and South-eastern states of India and Asia, Australia, North and South America will be most affected by it.
According to Indian Political chart, this Eclipse will fall in 5th-11th house axis, Northern and South Eastern states of India need to take care.
Wednesday eclipse is falling in Fire circle nakshatra and the symptom will be observed within a week.
Mars and Saturn will be in 3rd from Moon, Rahu and Jupiter will be in 12th from Moon and South Node will be closely conjugated with Venus.
Usually, it has been seen whenever Moon and Mercury fall in opposition during eclipse we have observed a dramatic shift in weather situation i,e sudden rainfall, cyclonic activities and rainstorms etc to those countries falling under eclipsed areas.
Tomorrow Eclipse will be falling in the category of minor eclipse but it is falling within a gap of 15 days from last solar eclipse occurred on 9th of March 2016.
The mundane point of view it has greater meaning since from Vedic periods. Whenever two eclipses have been observed within the span of 15 or 30 days usually Mass tragedies, unusual and sudden mundane activities have been observed within a month or could be either day before or after it where the eclipse will be visible.This can be true as soon after this eclipse we are going to see retrogression of 3 three planets (Mars, Saturn, and Jupiter) in month of April 2016 in Square (Kendra) relation to each other.
We can observe Dramatic shifts in weather, increase in earthquake activities, Minor warning for tsunami's, sudden tragedies, increase in Anti-national activities and level of vehicle-based accidents or plane hijack's or air crashes could be observed.It is not a dead sure principal that events are likely to occur but we have been observing since past mundane events soon after retrogression of planets with eclipses. It's simply because of change in apparent motion of planets wrt to Earth closeness with elemental conflicts of signs and planets those are falling in square and trine relation to each other.
In April 2016 Mars and Saturn will be retrograde in Watery signs and Sun will be having a relation of 6/8 signs to each other. North Node and Jupiter will In fiery signs trine to Aries – something like sudden, irrational and outbursts like situation can be observed.
According to Brihat Samhita;
When Mercury cuts the Moon and then departs therefrom, there will be trouble for the country of Magadha (Bihar). The city of Mathura(UP) and People living on the banks of the river Vena. In other places, there will be peace and plenty.
Let's see what is written in the destiny of the world. we can only pray and hope for the best of world peace and integrity. Stars works on universal principals.we are nothing against the working principals of nature and neither we can change anything in material world.its the time and nature who decides and balance it for establishing harmony in the world.