Dear Readers,
We are Extremely Glad to inform that we have released 4th issue of the Research Journal based e-Magazine – The Divine Codes.
" The Divine Codes " –
4th Digital Edition on transcendental Subjects.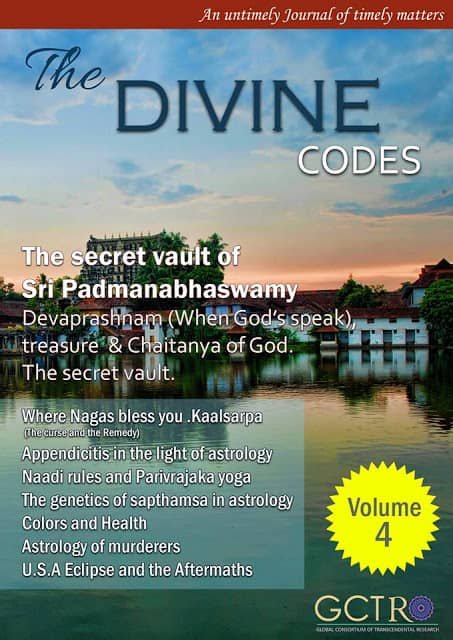 Presented by


GLOBAL CONSORTIUM OF TRANSCENDENTAL RESEARCH

This organization was shaped, with plain but sincere desire for everyone to live in wholeness, purity and highest level of consciousness. Our sole idea is wholesome and purest conscious living for everybody. GCTR is a body; which comprises of people who are researching in the field of divine and art forms. This includes Astrology, Palmistry, Spirituality, Travelogues, Yoga, Ayurveda, Vedic Numerology, Sthapatya, and other Art forms etc.
It is private body, but memberships are open. Anybody who has niche in such areas is most welcome in our family. There is no entry fee for the same. The only requirement is that you should have a sound knowledge of the subject.
" THE DIVINE CODES " magazine is a publication of our body and our members can contribute their articles and research for the same. It will be published regularly and it will remain free forever. Each article from its contributing members will also carry a photo and bio of the respective author.
The authors will also get exposure through three websites, social media, and publishing archives.We welcome you to a voyage for love and peace.
Readers are requested to have a glance at our 4th Volume
Check out first look of Articles Published so far

NEW ISSUE READY FOR DOWNLOAD
THE DIVINE CODES- ISSUE 4- Free Magazine with scholarly articles on Vedic Jyotish, Nadi Jyotish, Sariraka Sastram (Palmistry), Sthapathya (Oriental Architecture), Art related topics (Includes photos, paintings, art installations), Yoga, Ayurveda and Spirituality. ( Released Today)

>


Articles at Glympse for volume 4th | December 2017 | The Divine Codes
• The secret Vault of Lord Padmanabhswami- By Editor
• Naadi rules & Parivrajaka yoga- By Dr.K.Guru Rajesh
• Appendicitis in the light of astrology- Sri Jatinder Sandhu
• The modern genetics in relation to sapthamsa & Dwadasamsa in Hindu astrology- Sri Jayadev Challa
• Colors Health and Chakra Balancing- Editor
• Combinations of Murderers in Vedic Astrology-Sri Jatinder Sandhu
• As Above so Below- By Sri Jayadev Challa
• Naagdosha- The curse and the Remedies- Editor
• Your questions our answers- Free Jyotish consultation
• New Book Release- Sarfarosh-Dr.K.Guru Rajesh
* Note : This magazine is free for everybody and can also be read in following formats.
The issue is available on the following pages. You can download the same from the available links.
DOWNLOAD FREELY FROM: