Dear Readers,
We are Extremely Glad to inform that we have released 4th issue of the Research Journal based e-Magazine – The Divine Codes.
" The Divine Codes " –
4th Digital Edition on transcendental Subjects.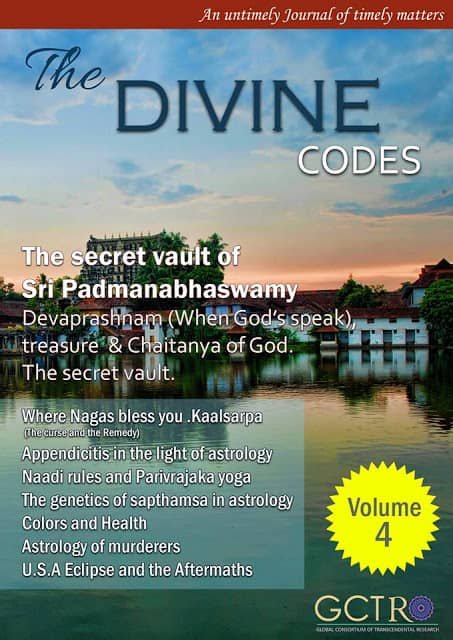 Readers are requested to have a glance at our 4th Volume
Check out first look of Articles Published so far

NEW ISSUE READY FOR DOWNLOAD
THE DIVINE CODES- ISSUE 4- Free Magazine with scholarly articles on Vedic Jyotish, Nadi Jyotish, Sariraka Sastram (Palmistry), Sthapathya (Oriental Architecture), Art related topics (Includes photos, paintings, art installations), Yoga, Ayurveda and Spirituality. ( Released Today)

>


Articles at Glympse for volume 4th | December 2017 | The Divine Codes
• The secret Vault of Lord Padmanabhswami- By Editor
• Naadi rules & Parivrajaka yoga- By Dr.K.Guru Rajesh
• Appendicitis in the light of astrology- Sri Jatinder Sandhu
• The modern genetics in relation to sapthamsa & Dwadasamsa in Hindu astrology- Sri Jayadev Challa
• Colors Health and Chakra Balancing- Editor
• Combinations of Murderers in Vedic Astrology-Sri Jatinder Sandhu
• As Above so Below- By Sri Jayadev Challa
• Naagdosha- The curse and the Remedies- Editor
• Your questions our answers- Free Jyotish consultation
• New Book Release- Sarfarosh-Dr.K.Guru Rajesh
* Note : This magazine is free for everybody and can also be read in following formats.
The issue is available on the following pages. You can download the same from the available links.
DOWNLOAD FREELY FROM:

Admin