Case Study: How to analyse Antardasha, Mahadasha and Pratyantar Dasha results of planets if they are placed in 6th, 8th and 12th from Antardasha lord.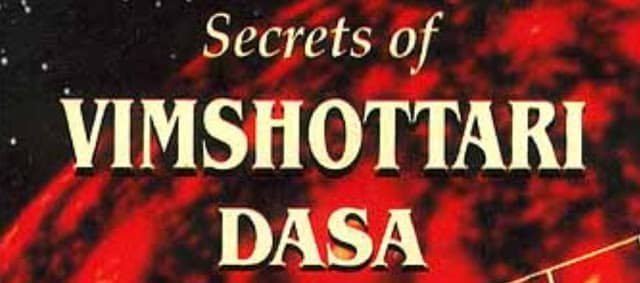 Vimshottari Dasha Tip No 2:
Frictional Relationship of Planets with AD Dasha lord.
Period of Antardasha Lord always is a major influential factor in bringing many up's and down in our lives in a shorter duration of life. Reason being AD lord has a direct relationship with the Mind for influencing thoughts, influencing Environment required for physical understanding. Antar Dasha has a leading role in mental makeup and thought provocation.
What we think what we used to apply in our environment. If Planets are not well placed from AD Lord in Natal and other Divisional charts, the result can differ in many major areas of life but that also depends on certain others factors too, like whether planet placed is malefic or benefic in nature, or is it Exalted or debilitated or is it placed in friendly sign or inimical sign or not.
Now, the question is how?
First rule is AD Lord should be well placed from his own Karka – The Moon, Second factor would be he should be well placed from the Maha-Dasha lord, 3rd factor is He should be well placed from the karka of Maha-Dasha Lord, The Sun and last and most important factor is he should be well placed from the Both Lagna and Lagnesh in D1 and other Divisional charts.
3 Reference points (Sun, Moon and Lagna) and the cycle of 3 has a major role in understanding our life events.
The basic rule is, either it is AD Lord, MD or PD lord it shouldn't be placed in trik Bhavas (6th, 8th and 12th) from the Lagna, if it is maleficial in nature wrt to the lagna or if it is functional malefic in nature wrt to the lagna.
Why Lagna?
Because it is the first-most symbol of the Body, health and intelligence. How we apply our intelligence and how placement has gone reacts to the body that primarily depends on the placement of the AD Lord in the natal chart. Lagna is a physical plane, everything happening w.r.t to our body is seen from Lagna.
If AD lord is in trik bhavas to the Lagna it shows Our mind is not synced w.r.t to the body and intelligence correctly in an ordered manner, if it is placed in Upachya Sthan from the Lagna, our mind is querying to the lagna that we want certain improvement in that area, so it shows a continuous area of life where we need to keep working on it. Placement of Ad lord In Kendra to the Lagna shows Narayana Blessing is with us for sustaining our Mundane needs and desires are fulfilled. Placement of AD Lord in trines shows Laxmi Blessing is with us for improvement of certain areas of life via This birth learned Skills
(1st)
, Guru blessings
(9th)
and Past birth punya Karmas
(5th)
. Here one can rise by own efforts, Trikonas shows one's efforts, learning's, and learned skills
(Anubhava).
Planetary placement in the Divisional chart shows the status of our Subconscious plane and how we can change our kiryamani karma in future life actions. So placement of the AD lord in Divisional charts has much says on a micro level.
But There are certainly other factors too we need to see from the Natal chart, those can directly create frictions with respect to the AD lord and result will be like wastage and expenditure of energy on useless matters and issues regarding those houses during those AD Lord Dasha periods.
Now the question is what are frictional relationships ??

In Jamini and Prashari
system we called frictional relations as Aragala's and in Nadi system, we called them as a basic Thumb rule for understanding planetary results of any planet in Nadi but I used to call them as Frictional planets. Means planets those can waste our efforts and initiatives even if AD lord is well placed in the natal chart still those frictional planets can waste our energy and efforts uselessly with no results in hands.
According to Sage parashara, Argala is a kind of influence that a planet expresses on another planet in a beneficial or malefic way as a result of 3rd party influencing factor.
If a planet or House puts Argala on other Planet, it means that it can act like as creating an intervention in the matters of others by the direct or indirect mean. This intervention or influencing factor can be beneficial or malefic depending upon the nature of the Argala creating a planet. The beneficial planet gives positive argala and malefic planets gives negative argala.
If an Argala creating planet is Paapagraha (malefic in nature), an intervention will be in a negative way while in a case of Shubha-graha, an intervention will be in a positive way. The positive intervention will help in getting resources in an indirect way, providing good environment, the capability of the planet to add something to that particular house and Negative intervention will do the same.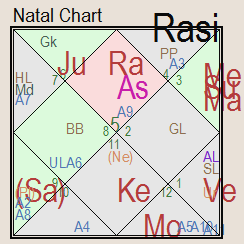 Shubha Argala is formed if natural Shubha planets are placed in the second, fourth, fifth and eleventh house from the Argala house.
Here Jupiter, Mercury, Sun and Mars giving Shubh Argala to the Lagna. Lagna is what good health, Name, Fame and resources. So Jupiter gone help in Getting good food, resources in financial terms, and support from family, Elderly and people are in teachers or guru. Mars, Sun and Mars will help in getting gain from friends and social circle to the Lagna.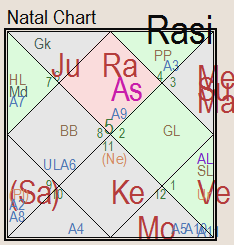 Malefic intervention or Virodh-argala
shows the obstruction of argala on that house or planet.
If it is placed in the 12th, 10th, 3rd and 9th houses from a house
or planet that cause virodh-argala and obstruct the argala on it from the 2nd, 4th, 11th and 5th houses from it (
respectively
).
Here, in an above-mentioned chart, There is total absence of Virodh-argala on Lagna that means Native will do positive via Shubh argalas (Via Positive influence).
Take another example, let say there is a Shubha Argala on the 7th house, it means it will help in getting smoothness in married life if beneficial planets are planets in 8th house (2nd house from the 7th), 8th house beneficial planets without any nodal influence will help marriage in much smoother way, might be couple try save their mutual findings in a better way for better life, their sex life would be much better and balanced, via their mutual savings might they can better feed their married life for better growth But while in the opposite case i.e if malefic planets are placed in 10th house, there will be a papargala (malefic or negative intervention) in 7th house, Means downfall in marriage life or downfall in career of the native due to Marriage issues or after the marriage or due to the negative circumstances in career and marriage life gone suffer.
So we need to understand the concept deeply, whether it is properly working or not. I will explain this concept in deep in another post. My current motive was to explain basic factor here is to understand nature of frictions of planets wrt to the AD lord.
So, Coming to the original topic, here are the Rules to check those frictional planets from AD Lord.
Rule Number 1:
Check Whether AD lord is placed in trines or Kendras from the Moon sign or Moon Lagna or not, for any fruitful results in AD period. If there is malefic planet AD is going on and if it is placed in 6th, 8th and 12th from the Moon sign, possibility is that result won't be much satisfactory or not according to the state of mind or might be not according to the expectations or not according to what native has decided it earlier, so native might not be getting it accordingly. But exceptions are still there with basic fundamentals are still required for finding strength of the planet for any results. So, one has to decide it carefully
before drawing any final conclusions while considering many others aspects too before approaching to any final results.If the AD lord is Beneficially disposed wrt to the Moon lagna and badly placed in Natal chart then results might not be much beneficial. Even in Malefic case when the AD lord planet is Exalted or it is placed in friendly sign from the Moon lagna or the malefic planet is functional beneficial in nature wrt to natal chart it will gives good results. So, one should have to consider many other aspects too.
Generally, it has been seen that whenever AD lord is placed in 6th, 8th or 12th house from the moon (Generally in case of malefic's, if it is functionally malefic to the lagna) resources would be less available or environment won't be much supportive to the native.I n another hand, Person might face issues in finances, as we have seen Moon for liquidity, cash flow and total financial status or financial opportunities during those periods.
He might feel uncomfortable in those environments or in the work opportunities he may not be fully interested or not willing to do his work with his full efforts or with full passionate desire. This has been seen much true in the case if the AD Lord is functionally malefic in nature wrt to the lagna. Functionally Beneficial planets those are placed in 6th, 8th and 12th from the Moon somehow give moderate results. Whereas Venus, Jupiter and Mercury's AD always has many capabilities to give good results during those periods when they are placed in 6th, 8th or 12th from the Moon sign.
In Case of Functionally malefic especially Mars, Saturn and Nodes, they usually gives much stress-full life, stiff finances, and sometimes major health issues too or certain blockages in finances.
But it can be minimised too at much extent if any of these above mentioned planets are placed in Exaltation, friendly signs from 6th, 8th or 12th from the Moon sign.
Thumb rule is, Simply never expect results according to your expected state of mind makeup or what you are expecting from long, for friendly comfortable environment, whenever any planet is placed in 6th, 8th or 12th from the Moon sign or the AD dasha lord.But if same Malefic or Beneficial AD lord is well placed in either of 5th, 9th and 1st house from Moon, results would be totally different and scenario would be comfortable or totally opposite.
Usually, I have seen whenever AD Lord is not well placed from the Moon sign, Mind and thoughts usually feels like restless, loss of energy, no decision making, Loss of fruitful or creative ideas or blocked thoughts and would be having feeling of an uncomfortable situation in whatever environment one is going through. If AD Lord is not well placed from 6th, 8th and 12th houses in inimical Signs or nakshatras from Moon, as native usually get environment those are very rigid in nature or possibility will be result not according to will and wish or based on own choices of decisions.
If AD lord is well placed in trine from Moon i.e from Kendra or trine to the Moon lagna, native will always feel like creative, energetic and dynamic in actions and thoughts and always have positive moods and vibrations to accomplish any task.
Moon simply represents environment and resources you are getting from external factors, it can be stiff or it can be comfortable that totally depends on how your AD lord is well placed from Both Natal and Moon chart. Though Natal chart shows your Physical conditions and environments you may get because of your efforts and actions but Moon lagna shows how well you can mentally respond to those situations and conditions if those are not comfortable to thoughts situation would be stiff and tough.
If the AD lord is well placed from the Moon chart, positive Ideas will keep picking up like you are feeling like a scientist who can invent any thought into fruitful actions during that dasha period.Mostly I have seen In trine relationship Native, mostly expects Beneficial events from both material and spiritual Point of view based on the lordship of the planet in Natal chart. The mind will always experience gain in the House representing in the natal chart.
Rule Number 2:
Check whether any Functionally malefic planet is placed in 2nd, 12th and 8th from AD lord or not. If there is Planet placed in 2nd, 12th and 8th from the AD lord, then that house has much capability of giving malefic results to the AD lord planet like wasting efforts, unknown obstacles and can mostly creates hurdles and obstacles in fulfilling any task easily.
It's like creating unwanted problems from that planet w.r.t to the house. Issues pertaining to those houses will always be in limelight in that AD Period. This is simply like in a parliament 1 member is keep arguing or keep opposing your viewpoints or keep creating unwanted problems to you, it can be unwanted or can be open challenges that totally dependent on nature of that planet w.r.t to AD lord planet. Mostly i have seen person often feels like his efforts or actions are wasting and going in vain and he always feels like unnecessary obstacles are troubling him and facing hurdles in accomplishing any task he undertakes. Usually, his positive energy always spent on or focus on those matters where those malefic planets are in placed in.
If Same AD Lord is stuck in between malefic planets in 12th and 2nd house from each other, whole energy of mind will be spent on matters of 12th and 2nd house from that AD Lord.This usually creates a situation of Bandhan yoga where AD lord always feels helpless to accomplish any task. If 12th house from the AD lord planet has Functionally malefic planet w.r.t AD lord the whole dasha period will be like painful or duration won't be easy to survive.
12th from AD Lord means where you are always focusing or spending your energy whole heartily in one direction, it can be an expenditure of energy in malefic way or can be in a beneficial way that totally depends on a planet is beneficial or malefic placed in the 2nd and 12th house from AD Lord.
If there is malefic planet placed in 12th house from AD lord, your mental energy will always be going in direction of expenditures or distraction, issue and matter pertaining to that house will always be key for that AD period. for e,g If Rahu is placed in 12th from Sun AD period, and if same Rahu is placed in 5th house in the natal chart.
It Simply means that Rahu won't let the sun to breathe easily, it keep giving issues related to 5th house i.e health troubles to children's, Home environment would be mess because of love affairs, Native may always feel restless or cheated in relationship and Education can give problems to native and there can be many issues regarding 5th house which native can experience during that Sun AD period.
we have to only see the deep link with AD Lord. 2nd house from AD Lord is like feed or food to the AD Lord, if it is beneficial Dasha will be in a comfortable state like a bed of roses. If it is malefic AD Lord will be like in a helpless position during that Dasha period like walking in a cactus road. So, always see which planet is going to act like frictional toward AD lord planet.12th, 2nd and 8th house from AD are like Frictional planets.
In Jamini System we use these terms as Shubh Argala, Paap Argala and virodh argala to that house.
In General 8th from the AD, lord planet means suffering on account of that house during that Dasha period if it is case of functional malefic.
Take an Example Chart,
Here Native MD lord is Moon placed in 9th house in exaltation with AD Lord Sun and Mercury and 3 malefic planets are placed in 12th from It in 8th house. Sun AD started from February onward and native started facing lots of issue wrt to health, Loss in Fathers business
(9th Lord in 8th)
, Loss in luck
(Bhadkesha as well as 9th Lord in 8th house with 6th and 8th lord Saturn with 4th lord Ketu, shows lots of family issues and troubles and also Vastu dosha too also seen form the chart)
. Family issues are clearly seen from the
(4th Lord in 8th)
chart as 4th Lord Ketu is with 7th and 6th lord Saturn and also under the influence of Nodes too.
The problem in higher education (Saturn placed in 8th house, falling in 12th from the 9th house of higher education and aspects 5th house, showing delays and obstacles in completing education) also seen from the chart, Native is facing breaks and hurdles in Bachelor degree.
Here good point is that the Native is getting support from the 10th house as Venus placed in own sign but due to 12th from the Moon, MD and AD having 3 malefic planets are placed in 8th house, Native not able to fully concentrate on his studies, fathers business and own career establishment, As whole of his energy is focused on 12th house from it.
Here Solution lies in the strengthening (Where Sun is exalted) of the 9th house Karka – Both Sun and Jupiter. Here the 9th house is getting aspect from Jupiter via 5th house, So Native need to go under the shelter of Guru blessings and he need to get Mantra Deeksha from the Learned guru, as Jupiter is falling in trine from the 9th house, Jupiter will provide strength to the 9th house.
Another thing is, as Lagnesh is Exalted in 9th house, he needs to visit Rameshwaram Temple with his father to fully activate his 9th house properties. As Venus is placed in Kendra sthan(Vishnu Sthan) in Taurus , is acting as feeder or Sustainer for the 9th house, being fallen in 2nd from it, So, Native father and his mother Need to visit Laxmi-Narayana ( Tirupati Balaji) Temple in south of India to get fully strengthen his Career, luck and father (Printing and Designing, Represented by Venus) Business in track.
For Resolving Family Matters, Bhadkesha lord is placed in Fixed sign in d9 and also afflicted in 8th house with nodes and Saturn in D1, Native need to Fix his South (Mars – Direction) corner of the house via Vastu Remedies.
Case Study 2,
Here Native MD Lord Jupiter is placed in the 12th house with 1st and 10th lord Mercury and Marnakarka Sun(lord of 12th in 12th house) and Antardasha lord Moon is placed in the 5th house having a relation of 6/8 with each other that shows somehow mind is not perfectly sync with the body and somehow Moon AD can be much troublesome in some matters and would be difficult in many Matters related to the 12th houses (i.e Health, Sleeplessness, Father health's, Career Break), as 12th lord Dispositer Sun is also weakly placed in 12th clearly showing house is weak.
During her Moon AD under Jupiter MD period Native faced lots of traumatic events Wrt to his career, own health issues, and majorly faced Father health issues, as Sun is placed in Marnakarka sthan from the Lagna and also placed in 8th from the Dasha lord and Moon too.
Native lost his father in Sun/Moon AD period Around Jan-Feb 2017 and she is still under the distressed situation because the moon has lost his moral and mental strength for regaining the inner emotional and motivational strength, as there are none of beneficial planets placed on either side from the moon.
Moreover,
Aspect of Mars somehow also exaggerating the current mental state into fierce form due to anger and frustration she is facing because of unknown troubles she is facing and many a time it would be a tough call for her to manage her emotional aggression. During this tenure, She also left her Job in Moon AD period after her father death, as 10th lord Mercury is also placed in 8th from the AD lord Moon with the Bhadkesha lord Jupiter too placed in 12th house and 12th house is totally under the influence of
Paap Kratiri yoga, Rahu and Saturn both are placed in either side.
Even she also faced tuberculosis issue in her neck after Feb 2017 too. During this period, she faced both the financial as well an emotional issues and both were in peak during this whole of Moon Antar Dasha period.
During the PD period of Mercury and Ketu In December-January 2016-17 native again started facing issues wrt to her mother health reason being 4th, Lagnesh and 7th, 10th Lord all are placed in 8th from the AD lord Moon,and moreover Moon is afflicted by nodes and mars too.Even D12 chart also shows affliction on Both sun and moon.
Moreover, Moon is Ak
as well as deeply afflicted by the nodes and Mars aspecting it from the 2nd house too. So moon Dasha period seems to be very tough for her emotional as well as other family issues to manage such problems from every side. As there are no beneficial planets are placed in 12th and 2nd from it. Here, Solution lies in only strengthening and propitiating the strongest Planet placed from the Natal chart with the strengthening of the Karka, The Moon for her better Mental state and mother health.
For her blocked career growth, she needs to start worshipping Goddess Laxmi daily or need to visit any Shakti Peeth to get stronger the Venus. Luckily Native has a deep infatuation for the Mata Vaishno Devi from the beginning of her age, So suggested for same.
For Improvement of her own health, Mental stability and mother health Native advised to visit Somnath temple to do Shiva Rudra Abhishek to strengthen the weak and afflicted Moon.This way she will start getting blessings from Lord Shiva.