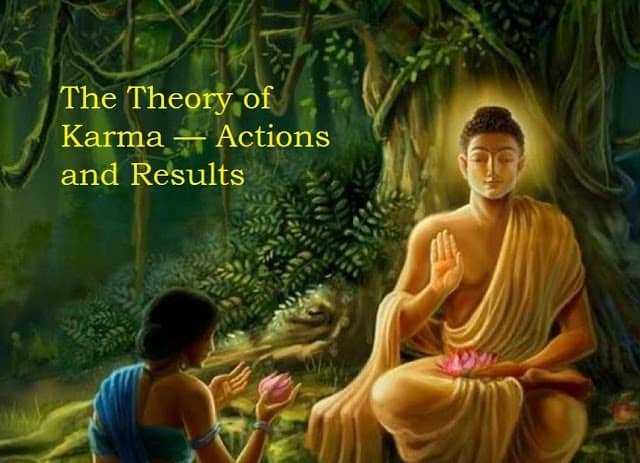 The Karma Theory in vedic astrology part 1:  Astrology and karma theory, understanding Karma Astrologically
Definition of Karma and Its relation with astrology: What is Karma?
Introduction
karma theory in astrology
In Astrological language, we refer Saturn & Mars in the top category for karaka of physical karmas, Means those karmas we actually do or perform in the material world with our fully conscious mind based on Some of our action plans and logic involvement. All these Karmas are based on physical means and motives.
Then there is another level of Karmas to always resides and keep growing in the hidden corner of our mind, those are fall into the category of Mental or sub-conscious level karmas.
Mental Karmas or sub-conscious level karmas are those karmas we actually Manipulate in our hidden corner of the brain or those always lives in Mana (one of Sense).
These Karmas keep flourishing in the dreamy world or in an imaginary world and always keep busy in building stories that have no link with the practical or real world based on our unfinished desires, logic's we left for future and those hidden Mean & Motives which we were never able to fructify.
Here both Mercury(Brain) and Moon(Mind) are key manipulators for building those imaginary Mana Based Karmas and Role of imbalanced Vishudhi chakra energy is key here for yielding into something imaginary if we see in Deep prospects. Reason being Visudhi chakra role is to Purify not only on the physical level but also on the level of the psyche and mind. All those unpleasant experiences that we have suppressed in our life, continue to reside in the subconscious mind until they are faced and resolved with higher wisdom of native. If this Chakra is not fully developed or in imbalanced state certain difficulties regarding mind may be experienced by the native. Blockage of the Vishuddhi Chakra produces feelings of anxiety, lack of freedom, restriction, thyroid and throat problems in general.
Frankly Speaking in Astrological language Both Moon and Mercury are only responsible for Mana based Good & Evil Karmas we produce in our hidden corner. Moon- is categorized for Mana based actions influenced by our deep hidden desires and thinking process
Those always reside in mind. Those hidden desires take in the form of manipulative actions which get a spark in our day to day life as a result of our 5 senses speculation for the manifestation of hidden desires. These are those desires which keep taking birth in our mind via fraction of thoughts, either try to fulfil it or get frustrated with it.
All those future thoughts which are keep taking birth in our Sub-conscious plane are called Sub-Conscious based karmas, means those karmas which are somewhere hidden in mind and are trying hard to take a form of physical level or in the physical world for the manifestation of desires based on some action plan.

As per Karama Theory of Bhagwat Geeta, " Mana is the main culprit as well as boon too and categorized in top level overall 5 senses for accountability in evil and Good Karmas".
The subpart of Mana Based karma is Mercury (Your Brain who processes those thoughts into some logic's and yielding into some planning and actions) – Responsible for thoughtful Action oriented Karma based on some logic's, calculations and mathematical equation ignited from Vishudhi Chakra. Mana is controlling all these senses and Brain is working under the Mana mainly.if Mercury is afflicted in a chart it will give birth of evil logical approach in actions and if it is beneficially placed in any Dharma Kona (1, 5 and 9th house) or getting aspect from Sun and Jupiter, it will uplift the dharma and those actions into fruitful manner for the cause of society. Eventually, Mercury or Brain will rule over all those 5 senses and will be an indicator for Higher Intelligence of Gyaani as refer in Bhagwad Geeta, Person will follow the life of Gyan Yoga.
The Karmas which are done in Conscious and sub-Conscious plane take a form of Actions or results based on desires. The results or 'fruits' of actions are combinedly called Karma-Phala (fruit of Karma).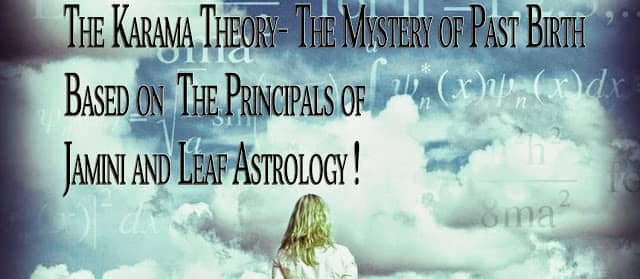 Astrological Interpretation of Karma and Astrology
In Astrological Language, Navamsa Chart or Dharm-Amsa (D9) is seen for fructification of Karmas (both Subconscious and Conscious karmas). The Dharma-amsa gives clue and intensity level of karma to check fructification of any Raaj or Raja Yoga's.
This is the main reason why we see fructification of Marriage from D9 as Dharma connected with marriage bonding, the dharma of Marriage is legal Kids and Following our religious and social duties and to uplift it mutually which are necessary to grow for self and Kula( Family) too. Dharma gives wisdom and shows the path to move in most righteous manner.
The affliction of any planet in D9 chart indicates, in what area, where you are doing Adharma or what you are not following which is not according to dharma or by the righteous principle of the Almighty.
Kids are the fruits of Marriage and if Venus is afflicted (By Nodes/Mars/Saturn) in D9 chart for both Male and females, that means Something illegitimate happening in a relationship or in the area of Venus i.e Marriage or w.r.t Women. Either native is doing something wrong with women's or he or she is illegally involving in illegitimate sexual activities other than marriage bonding. I have known to someone having Venus in 2nd house in D9 chart aspected by Mars and Rahu, native used to make illegitimate relationships with Women's for the gratification of senses which in results will sure be gone destroy the properties of Venus in D1 chart.
In D1 chart Venus is lord of 5th house and placed in 12th house. I was pretty sure about, it will delay the happiness via Marriage (Happiness via Marriage are Kids (11th from 7th house – 5th house ). Here in this case native lost the 1st baby before birth and still not able to complete his Master Degree and having not so good relationship with her spouse.
So, the affliction of any planet in D9 chart will give you clue how Adharma is happening around you Which in results can give crisis in marriage, bad relationship with Women, an issue with wife and reduction of Results in the house where Venus is having lordship in D1.
In Spiritual reality, Marriage is an about fruit of our Sanchit and Prarabdh Karmas we had performed in earlier births and based on those karmas either we used to enjoy those relations or realizes or suffers on account of those relations based on actions or bad deeds of past.
If you had done good Karmas in past birth, Marriage will be most fruitful and same result can be check in the D9 chart too.In d9 chart Venus (In Male charts) and Jupiter and Mars (In Female charts) will be free from any nodal affliction.If you have done anything bad wrt to any men or women in past birth, in current birth chart 6th House and 6th Lord in D1 will mostly try to obstruct the marriage relationship maturity and any afflicted to nodes will always try to disturb the marriage in current life.
Whenever it makes any relationship or influences the 7th house, 7th Lord, UL(Uppada Lagana) or A7 (Darapada) in d1 chart and other marriage supporting houses natives either will face delays in the marriages or if somehow native falls in relation of love or close bonding, relationship will be like a path of cactus or level of suffering in that relationship will be intense or severe.
In many of the cases what I have seen that if AK is deeply afflicted by nodes or some way connected with Suffering houses or has some relation with either Venus or UL or A7 arudha, relationships and marriage will be difficult to handle and it can fall very soon or the level of suffering would be very intense and unbearable for that soul.
Only Purpose is to realize the soul lesson of pasts karmas in the same way one has given the sufferings to the others.
Karma's role is to always realize or filtering the soul suffering from deeper growth in current life.
Some souls can fall on account of those suffering but some souls transform them into a new beginning of the spiritual path.
This can be check in the D9 chart too with the strength of Ak(Atmakarka). If Ak is deeply conjugated with Nodes/Malefic planets or it is debilitated placed in trik Bhavas from Lagana of D9, it clearly indicates level of soul suffering will be intense and one has to suffer badly in this life on account of past deeds and possibility is too that either native might fall back or rise above spiritually, as Ak is weakly placed and debilitated too.
Debilitation of Ak always is a case of the fallen soul where one may rise materially but for spiritually it could be a challenge for him to lift his soul from Tamasik Parvarti.
The choice is clearly in the hands of native what he wants to achieve from that suffering, rise from that or fall in that. This clearly suggests one has to pay back its karma in any form, either in this birth or in next birth, if somehow native could able to carry forward it to the next birth with the blessings and intervention of the Seers/Saints/Guru and divine souls.
If we see deeper, In Broader level Good Karmas are mainly categorized in Sanchit Karama, even though bad is also categorized in it too but the level of result is quite different.
The result of Sanchit karma can become out at any time in your life when dashas and slow-moving transits (Saturn, Jupiter's and nodes) would be in support to the chart.
Maybe it can come in pre-marriage life or maybe after post marriage events.It is purely dependent on the transits of the Karmic planets (Saturn, Nodes, and Jupiter) on those houses/Lord having relation with past deeds.
So, carefully watch your karmas with open eyes and deep wisdom.
Both the Good and Bad vimsotri Dashas in Natal Chart keep telling you about your combined Sanchit (Sum total of all good and bad karmas) and Prarabdha Karmas (Suffering you have given to others) when it is combined with the Moola dasha, that shows the results of past deeds. What level of suffering we are getting in current life is clearly seen from the result of moola dasha, and why we are getting sufferings in current life is clearly seen from the combined results of moola dasha. Both the dashas works in hand on hand way. One shows reasons for sufferings and others shows in that period we might get sufferings out of our past actions or deeds.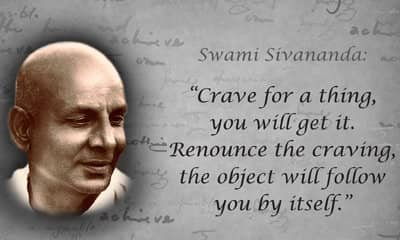 Below mentioned Quotes of Swami Sivananda Saraswati Ji clearly speaks about the results of past actions or deed what we discussed in above astrological interpretations:
According to the definition of Yogi Swami Sivananda Saraswati,
" life is an infinite chain of results of actions (Karma) in the past works on the principle of "Law of Cause and Effect" same is defined in physics and actual reality too. what you do base on we have to see its consequences and effects on our surroundings. Simply "As you sow, so you reap".
The way the results of Karma are delivered is known as "Law of Karma (Ruled by the Lord Saturn whose duty is either to punish or give and teach lessons of life).
"Law of Karama simply says What you will do, what you will get at any moment at any time".
"According to Swami Sivananda Saraswati, Karma in our Sanatana dharma is considered to be a spiritually originated law that governs all life functioning. In the Law of Karma even though an individual is considered to be the sole doer and enjoy-er of his Karmas and their 'fruits' ".The supreme being (The Divine Power – Lord Jupiter represents the divine blessings from the god who showers blessing when we deserves as our Sanchit karmas allows) plays a major role as the dispenser of the 'fruits' of Karma".
(Reference, Yogi Swami Sivananda Saraswati)
The best way to understand the law of Karma astrologically and regarding its connected fruit or result should be from " Transit of Jupiter and Saturn transits in D1 chart " those are categorized in Non-Fixed karma (Adridha Karmas), means which can be come out any moment when both transits are in your favour or not.
Transit of Jupiter gives opportunities and Saturn shows when that karma has to fulfil. Both the transits work in mutual relations to shows results and fruits of karmas and actions connected in past deeds.
Conclusion:
In Spiritual Reality God's has somehow direct involvement in this process, astrology is only a tool to understand the karmic influence on us, only when the level of karma is intense to minimize. Although there is no such way to avoid karmas in any way but yes because of the Bhakti/Tapa/Nama Jaap and immense devotion toward almighty it can be neutralized or minimize to some extent but the period of karmic suffering one has to go through. In General, the natural laws of causation are sufficient to explain the effects of Karma.