A NADI RESEARCH TO PREDICT THE YEAR OF BRAHMOPADESHAM
By Ramadas Rao
What is Brahmopadesham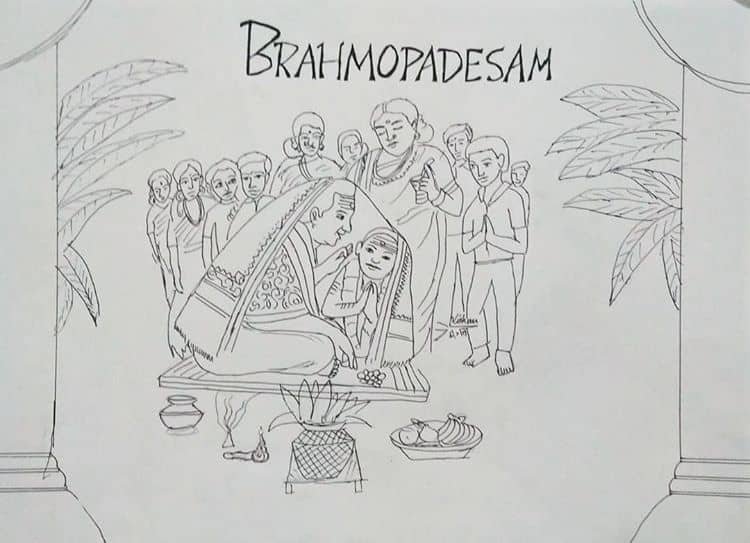 Upanayana, also called "sacred thread ceremony", is commonly known for being a Hindu Sanskar, rite-of-passage ritual, where the concept of Brahman is introduced to a young boy. The youngster is taught during the ceremony the secret of life through Brahmopadesam (revealing the nature of Brahman, the Ultimate Reality) also called the Gayatri manthra.

The hallmark of having gone through the Upanayana ceremony is the wearing of the Yajñopavita (Sacred Thread) on the body. Yajñopavita has three threads (actually only one thread, folded three times and tied together) each consisting of three strands.

These threads represent:-
Goddess Gayatri (Goddess of mind)
Goddess Saraswati (Goddess of word)
Goddess Savitri (Goddess of deed)
Upanayana makes the person receiving it a Dwija, a twice-born! The initiation is done by the Upadesam of the Gayathri manthra. The manthra is a universal prayer that can be used by men of all climes and creeds, for, it calls upon the Glorious Power that pervades the Sun and the three words to arouse, awaken and strengthen the Intelligence, so that it may lead to intense Sadhana and Sadhana may lead to success.
The main ceremonies during the Brahmopadesham are
Nandhi Ceremony: It is performed generally just 10 days before the Upanayana to obtain the blessings of the family ancestors. Nandi in Sanskrit means the beginning, so with Nandi begins the actual rituals for the functions.
Uthakashanth: Uthakashanthi is conducted for the purification of the mind and body and the protection of the child. All names of the deities are chanted in the form of mantras and invoked in water and then poured over the child
Aajyabhaagaantha homam: It is a prayer to the God of Fire, Agni for the child's long life, intellect, courage etc.
Yagnopaveethadhaaranam: This is the core of the Brahmopadesham. The boy is anointed with the sacred thread. The thread has three strands symbolising the Goddesses Gayathri, Saraswathi and Savithri, combined with a knot symbolising God Brahma.
Kumaarabhojanam: The boy's mother feeds him before Brahmacharya with five different sweets made by her.
Brahmopadesham: The Gayathri mantra is chanted in the boy's ear by his father, his first Guru.
Soorya Dharshan: The boy to be taken outside and shown the soorya, the sun god. This assumption here is that he will be protected by the sun god. The palms are clasped in such a way that it makes a peep hole to the sun god.
Biksha-Charanam: The Brahmachari, who is now ready to recite the scriptures, and begins to do so, is offered food and shelter by the mother, householders and other ladies.
Bhrigu and Nandi Nadi leaves are thousand, thousands of years old and we know that our complete past, present and future are written there and with the help of right-hand thumb impression only predictions were made and even now in Kumbhakonam the Nadi readers are doing this as their career. But using traditional or Jaimini methods, it is difficult to predict some important matters like the exact happening of our Shodasha Karmas especially Brahmopadesham, Marriage , childbirth etc.
But Shri R.G.Rao has gone very deep into such palm leaves, discussed with many ancient Nadi Astrologers and decoded the methods of prediction using Nadi leaves.As I am an ardent student of Shri R.G.Rao, from last many years,I was doing some researches on Nadi Astrology and suddenly by the Blessings of our Nadi Guru,my lineage Guru ( Kashyapa Maharshi ),Acharya Shri Madhva,my Kula Devatha and Ishta Devata,I have found the method to predict when Brahmopadesham will take place.I was trying to find out from Vimshottari Dasa and Antar Dasas,Jaimini Rashi Dasa and Antar Dasas was trying to find out when such event will take place.Now by the Blessings of my Gurus and Devatas,I am going to delineate this secret Nadi method.
While making Nadi predictions, as per my studies,the planets' Karakattwas will be taken and the corresponding events will be checked from transits of low moving planets Shani,Guru,Rahu/Ketu.After the male child's birth,within 1st round of transit of Guru from natal Guru,the event will take place.1st round means after birth,from natal Guru,till the native reaches 12 years is called Guru's 1st round.As per shodasha Karma rules, Brahmopadesham should be conducted within 11 years of birth of the male native.
As we know Ketu is the planet of spirituality and Vedic knowledge also.In the natal chart,Guru,the Jeeva Karaka is the native.Ketu is also the Karaka of Sacred Holy Thread ( Yajnopaveet ).So Ketu's transit over natal Guru will make the native to take Brahmopadesham.Note natal Guru's longitude and transit Ketu's longitude.Ketu's longitude must be within 3-5 Degs.of natal Guru's longitude.
2nd rule is transit Guru must be in 10th house from native's natal Guru.The reason is that here transit Guru works like result giver ( Phala Karaka )and 10th house is Karma Sthana.So from native's Guru's 10th house must be occupied by transit Guru.
Example chart 1A :
This male native was born on 14/10/1979 and natal Guru is at Simha Rashi 9 Degrees 15 Minutes and the native's Brahmopadesham was conducted on 24/2/1989 at 9-50 AM.At that time transit Ketu in Transit chart 1B was in Simha Rashi 11 Degs.13' and transit Guru was in Vrishabha Rashi which is 10th from native's natal Guru.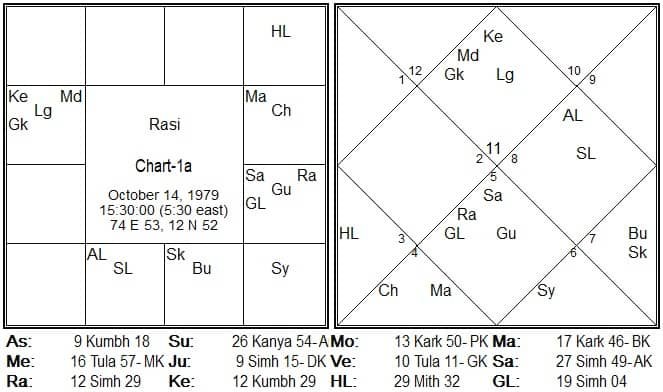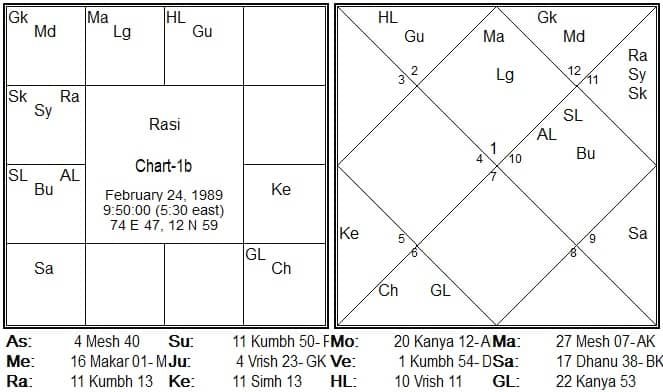 If we look into Vimshottari Dasa,it was Budha-Shukra-Guru running.Budha is 5th and 8th house lord placed in 9th house with Shukra who is 4th and 9th house Lord.Guru is the Lord of 2nd and 11th house placed in 7th with Rahu and Shani.By this we can not make out anything clear about the native's Brahmopadesham.Only Budha,the lord of 5th and 8th house placed in 9th house with 9th house lord Shukra tells us that there will be some auspicious event.But Nadi Astrology tells us what will be that event and when it will take correctly.
Example Chart 2A :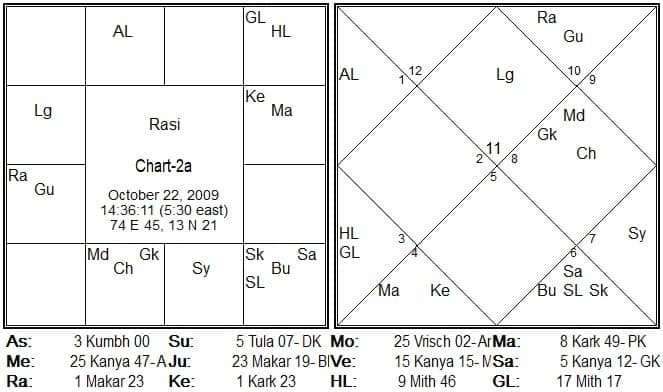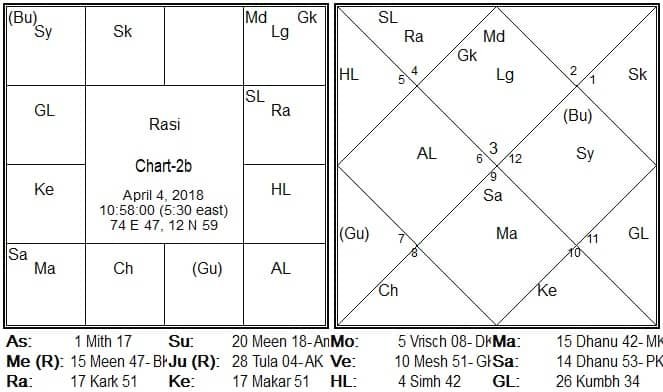 This male native was born on 22/10/2009 and the natal Guru was in Makara Rashi at 23Degs.19' and is with Rahu.The native's Brahmopadesham was conducted on 4/4/2018 at 10 : 58 AM.At that time transit Ketu in chart 2B was at Makara 17 Degs.51'.Here the difference in longitude was 5 Degs.28' only and transit Guru was in Tula Rashi which is 10th from native's natal Guru thus satisfying the 2nd rule also.
In this chart also,if we consider Vimshottari Dasa, it was Ketu-Chandra-Guru.Ketu is in 6th house with Kuja and Guru is in 12th house with Rahu.Here we can not even guess that the Brahmopadesham will take place at the date mentioned above.But Nadi Astrology helped us to predict the exact date of Brahmopadesham.
ना अहं कर्ता सर्वस्य हरि कर्ता ।
SHUBHAM BHAVETH