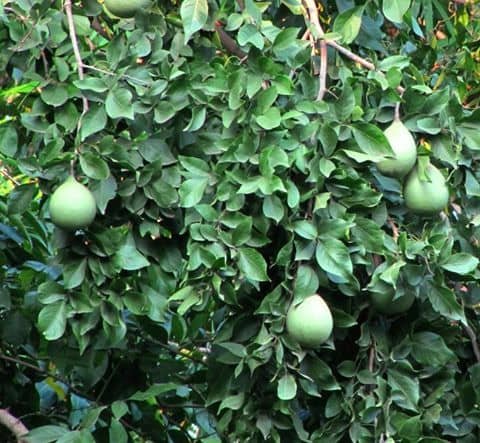 Biological classification of Bael
The scientific classification of bael is as below
Kingdom: Plantae (Angiosperms)
Order: Sapindales
Family: Rutaceae
Subfamily: Aurantioideae
Tribe: Aurantieae
Genus: Aegle
Species: A. marmelos
Binomial name: Aegle marmelos
Various names of Bael
English name:  Wood apple
Arabic:  Safarjale
Bengali:  Belpatthar ka paid
Hindi:  Bael
Marathi:  Belaache zaad
Tamil:  Vilvamaran
Sinhala:  Beli
Gujarati:  Billu
Kannada:  Belladi hannu
Konkani:  Gorakamili
Malyalam:  Koolam
Marathi:  Bel
Odia:  Baela
Urdu:  Bael
Indonesia:  Maja
Thai:  Matum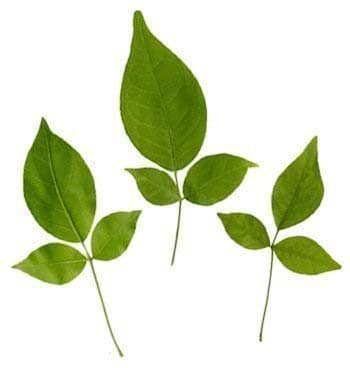 Bael or Aegle marmelos is a spiritual, religious and medicinal plant, native of India and Bangladesh and spread throughout South East Asia. The fruit takes about 10 to 11 months to ripen. Wood Apple is a sweet, aromatic and astringent in nature. Bel has many benefits and uses such as to cure tuberculosis, hepatitis, dysentery, constipation, peptic ulcer, piles and many more, useful in worm infestation and stomach related problems. Bael or Aegle marmelos is also known as Bengal quince, golden apple, Japanese bitter orange, stone apple, etc.  It is also known by various names such as Wood apple, Kaitha, Maredu Pandu, Vilam Palam, Belada Hannu, Koovalam, Kothu, Koth Bel, etc. It's one of the few Ayurvedic plants whose entire parts from root to leaves are used for different diseases. The fruit balances Kaph and Vata doshas, its roots improve digestion, leaves are good for pain, stem for heart and bel flowers for curing of diarrhoea.
The religious importance of Bael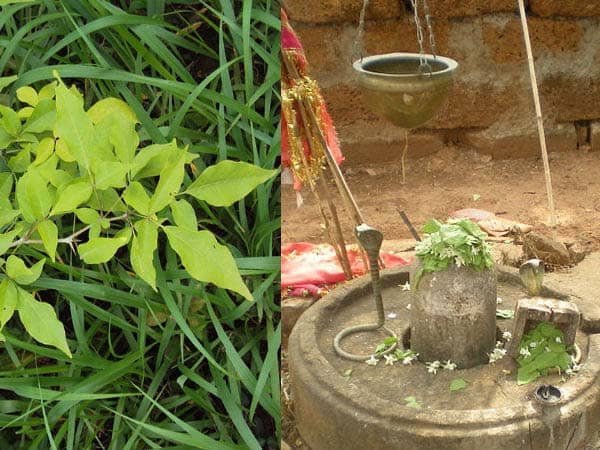 According to the Ayurvedic Research by V. NIGAM and V. S. NAMBIAR, Aegle marmelos or Bael is one such plant described in the ancient medical treatise in Sanskrit, Charak Samhita. It is popular medicinal plant in Ayurvedic and Siddha systems of medicine and folk medicines used to treat a wide variety of ailments. Aegle Marmelos commonly known as bael belongs to family Rutaceae. In Ayurveda Bael is termed tridosh har- remedy for three disturbances- bile, wind and phlegm. Aegle marmelos (Bilva) is considered as an embodiment of Lord Shiva himself and it is one of the sacred trees in Hinduism having spiritual powers.
Bilva tree is said to have manifested from Goddess Sri Maha Lakshmi and Sri Sooktham eulogize Goddess Lakshmi as…
"Aadithya varnae tapassodhi jaatho
Vanaspathi stava vrukshotha bilvaha
Tasya phalani tapasaanudantu
Mayaantha raayaashcha baahya alakshmeehi"
The translation of this stotra is given below.
"Oh Lakshmi, your complexion is like that of a morning Sun, a vanaspathi (trees bearing fruits without blossoming) called by name Bilva was brought forth by your devout austerity. Through your favour may the fruits of the tree drive away my misfortunes and poverty both internal (ignorance) and external. It is believed and said that one who does penance under the Bilva tree and meditate on Goddess Sri Maha Lakshmi will be bestowed with fulfilment of all desires"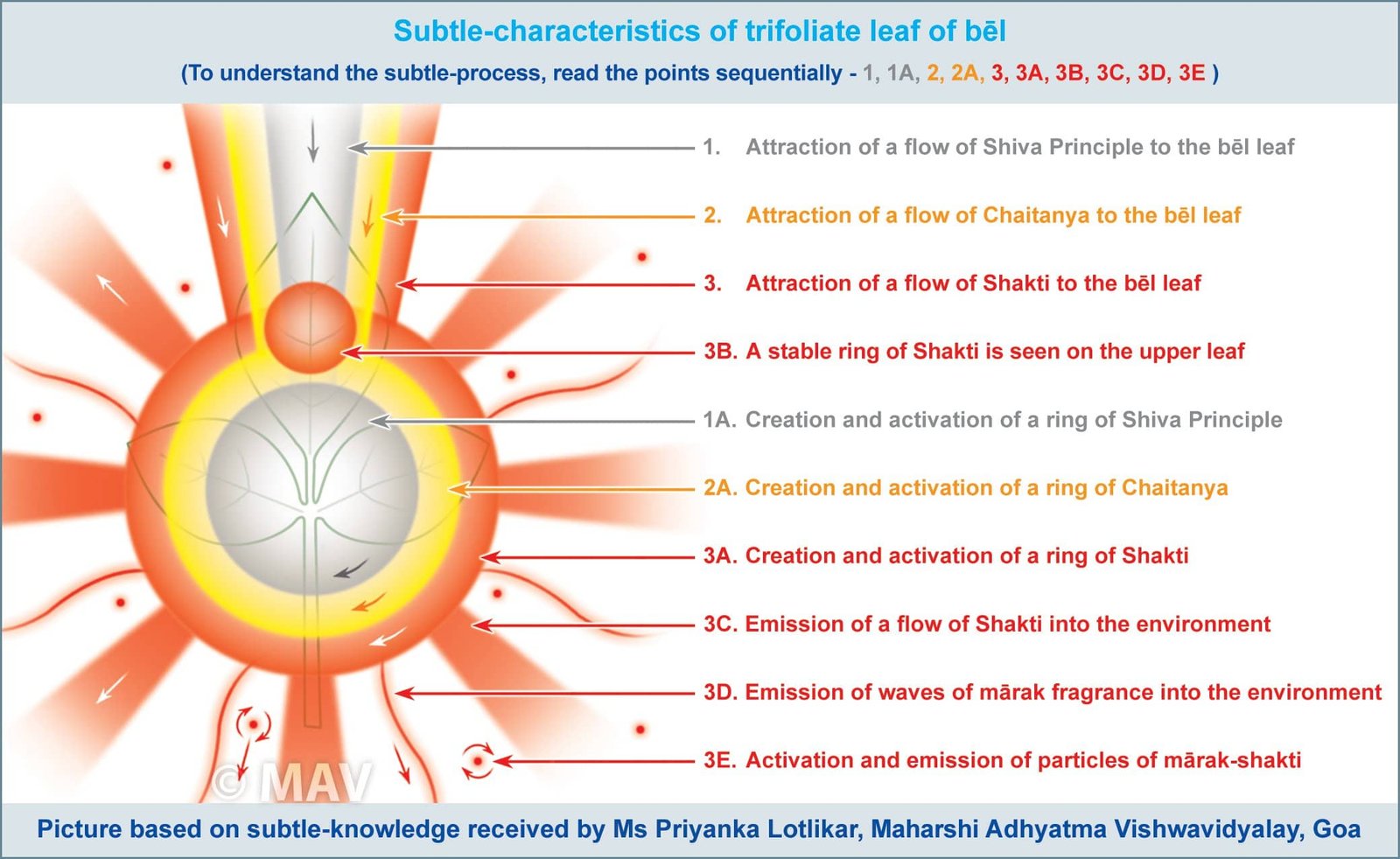 Leaves are offered in prayers to Shiva and Parvathi since ancient time. Bael having useful medicinal properties especially as a cooling agent, is a deciduous sacred tree, associated with Gods. This tree is popular in Shiva and Vishnu temples also popularly known as the temple garden plant and it can be grown in every house. Its leaves are trifoliate symbolizing the Thrimurthies- Brahma, Vishnu, Shiva with spear-shaped leaflets resembling trisoolam the weapon of Lord Shiva. The tree is also sacred to the Jains. The 23rd Tirthankara, Bhagwan Parasnathji attained enlightenment under a Bael tree. The leaflets are given to devotees as prasadam in Shiva temples and as Tulsi in Vishnu temples.
Bael has great religious significance. In Hindu tradition, the leaves and the fruit of the plant are offered to god during prayer, especially god Shiva. Its leaves are also used to worship Parvati and Viva Rupra. The fruit is used in religious ceremonies and rituals and its mentioned is also seen in Vedas and Mahabharata.
In a Research paper by  Neha Parmar, Suman Singh and Bhupesh Patel on " Historical and Ethno-Medical Review on Bilva Patra " ; References regarding Bilva are abundantly given from the Yajurveda, Atharvaveda, Brahmanas, Kalpasutras and Puranas which suggests its popularity. It is also mentioned in the Valmiki Ramayana and the Mahabharata. Historically it is referred to as one of the pious trees in the Baudhayana Dhamasutra, Taitiriya Brahamana termed the Bilva tree as a propitious tree. In ancient India, Bilva was considered as the most sacred of all fruits, and was used as the main food offering to the temple deities. In recent times coconut has superseded the Bilva as the principal fruit of religious offering as a symbol of self-surrender. Hindu iconography is replete with Bilva, too—its trifoliate leaves emerge on Shiva's crown and trident, and the points of three-pronged leaves also represent the holy trinity of Brahma, Vishnu and Shiva. Its amulets were made and worn for removing the evil effects. It was regarded as the symbol of fatness and fertility as it increases in size from the roots up to the branches and yield's fruits every year.Among the eight leaves of Bilva offered to Lord Shiva, it is believed to be Mokshasadhanam in Lingarchanchandrika. According to Maitra, Bilva tree is said to possess essence of celestial light. It is told to wear 'Bilva Mani' as an ornament for Dusvapnanashana (removing bad dreams), Rakshoghna (destroying evil), Rasayana (elixir of life), Prajasthapana (preserving progeny) and Vishaghna (antivenom) in Shankhyana Aranyaka.
Water made out of Bilva Patra is used for bath in bridal rituals. It is told to wear Bilva-danda in Upanayana Samskara too.Bilva was also used as a stick by the Babylonian slam 7000 years ago. (Alimas, et al., 1996). The tree is also sacred to the Jains, as the 23rd Tirthankara, Bhagwan Parasnathji is said to attained enlightenment under a Bilva tree.
In Agnipurana, inhaling the oil obtained from this plant is said to increase the poetic acumen of the inhaler and enables him to live a long life. Further, either the decoction of Bilva fruits, Mangifera indica, Dolicos lablab, Woodfordia fruiticosa, Zingiber ofcinale along with buttermilk and molasses is mentioned in treatment of gastroenteritis or the decoction of Bilva, Aconitum heterophyllum and Holerrhena antidysenterica should be given. Bilva is also said to cure fever associated with pain and cough.
Spiritual Importance of Bilwa patra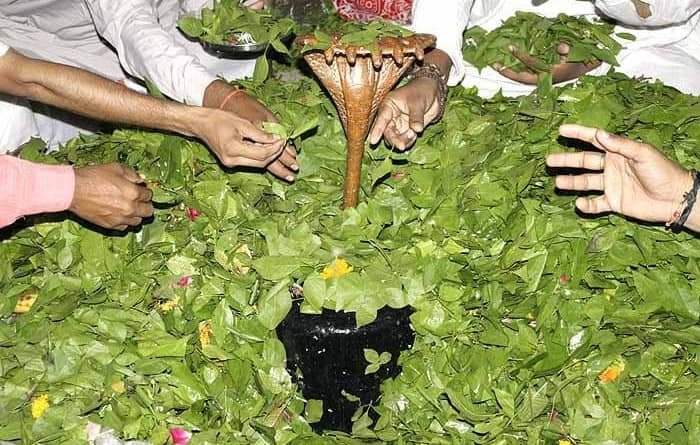 The Shiva Purana tells the story of the effect of worshipping Lord Shiva with the bel leaf
A hunter once had to go hunting on the day ofMaha Shivaratriwhen Lord Shiva is worshipped because his family was hungry. At the end of the day, the hunter was not able to find any prey. He climbed a tree by a lake, waiting for an unsuspecting animal to come for a drink. He did not realize that the tree he had climbed was a bilva tree. Buried at the foot of the tree was a Shivling, the representation of Lord Shiva for worship. During the night, he kept throwing the bilva leaves on the ground and they fell on the Shivling. This unknowing worship to Lord Shiva was enough to transform the hunter into a compassionate and understanding human being and frees him from his past bad karma.
As described in the Nagara Khanda of the Skanda Purana Bilva tree emerged from the sweat of Shiva's wife Parvati,
The splendid Daughter of the Mountain; the goddess [Parvati] became tired due to her sports. Drops of sweat appeared on her forehead and a drop fell on the ground. It became a great tree on the excellent mountain Mandara, Parvati said, "Since this tree pierced through the ground and rose up near me, let it be named Bilva. If anyone approaches this tree devoutly and collects the leaves, he shall certainly become a king of the earth. If anyone with perfect faith worships me with its leaves, he will realize whatever desire he may cherish. If a person, after seeing the leaves of Bilva, at least maintains faith in the rite of adoration, I shall undoubtedly be the bestowed of wealth on him. If anyone makes his mind to eat the tip of the leaves, thousands of his sins perish automatically. If a man places the tip of the leaf on his head, no torture of Yama will give him pain."
Bilva-Patrais the leaf of one of the sacred trees in the Hindu religion calledBael (बेल). Its holiness is comparable to Tulsi leaves. In fact, 
Bilva-Patra
 is to Shiva what 
Tulsi leaves
 are to Vishnu. 
Bael is known by Stone apple, Wood apple, Golden Apple or Bengal Quince in English. In Hindi, it is commonly known as Bael or Bel and a leaf of Bel is Bel-Patta. The scientific name is "Aegle Marmelos".
 Bilva-Patra
 is the Sanskrit name.  
According to Hindu mythology, it has emerged from the heart of Goddess Lakshmi. It is clear from sixth "Shloka" of "Bilvashtakam" as follows:- 
                              लक्ष्म्याः स्तनत उत्पन्नं महादेवस्य च प्रियम् 
                              बिल्ववृक्षं प्रयच्छामि   बिल्वपत्रं शिवार्पणं ।6।
Lakshmya stanat utpannam mahadevasya ch priyam
bilvavriksham prayachchhami bilvapatram shivarpanam.
Meaning:
I offer this bael tree which has emerged from the heart of Goddess Lakshmi and liked by Mahadev. So I offer Bilva-Patra to God Shiva. 
A leaf of Bilva-Patra is a compound leaf which contains three leaflets. This three leafleted Bilva-Patra is loved by Shiva which is offered to Him. Rarely it happens that more than three leaflets grow in the leaf which becomes a point of curiosity among the devotees. I have seen such leaves being sold at a higher price in the campus of Baba Baidyanathdham Temple complex. But these leaves should not be offered to Shiva as it is clear from first "Shloka" of 
"
Bilvashtakam
" as follows:-
त्रिदलं  त्रिगुणाकारं  त्रिनेत्रं  च  त्रयायुधम् 
त्रिजन्म पापसंहारम् बिल्वपत्रं शिवार्पणं ।1। 
Tridalam trigunakaram trinetram ch tryaudham
trijanma pap-sanharam bilvapatra Shivarpanam.
The three leafleted Bilva-patra that has three qualities of Sat, raj and tam, that represents three eyes of Shiva and three weapons, that destroys the sins of three births, I offer that Bilva-Patra to God Shiva.) 

 This "Shloka" is also spoken while offering Bilva-Patra to Shiva. In addition to three leaflets, it should be soft, without holes, without spots (दाग) and unbroken. The thicker part of the 'Belpatta' twig (डंठल) which is connected to the tree(called vajra) should be removed. While offering to Shiva or other gods, the 'Belpatra' should be put upside down i.e. smooth face touching the 'Linga' and tip away from the devotee. There is an eight "Shloka" "Bilvashtakam" which describes the importance of Bilva-Patra.
Before offering the leaves, they are touched or sprinkled with white sandalwood paste (चन्दन). Not only Shiva but all members of Shiva family (शिव परिवार) including Nandi the Guard is offered Bilva-Patra. Ganesh, Gouri (Shakti) and her Avatars like Durga & Kaali and Kartikeya all are offered Bilva-Patra. Since Shiva is like a devotee of Rama, So some people write "राम" with 
sandalwood paste (
चन्दन
) or Kunkum (कुंकुम) on the leaflets and offer it to Shiva. Hanuman is an avatar of Shiva and also called 'Rudra avatar', so 'Bilva-Patra' is also offered to Hanuman.  
 Some devotees think that three leaflets of Bilva-Patra represent three eyes of Shiva:- Two lower leaflets as two normal eyes and one upper leaflet as the third eye on the forehead. 
As in any temple in North India, the Pundit gives "Charanamrit" (Holy water with Tulsi leaves) to devotees, similarly, in Bhubaneswar, a Pundit at Shiva temple gives Holy water with a piece of Bilva-Patra.  
The number of Bilva-Patra offered to Shiva may vary from one to more than lakhs depending upon availability and affordability of the person. I have seen one lakh and twenty-five thousand (
सवा लाख
) Bilva-Patras being offered to Baba Basukinath by some devotees in the month of "Saavan" and "Aashaadh". 
 Though it is a practice that something offered to Gods are not offered again, but in the case of Bilva-Patra if it not available to someone and he sees some Bilva-Patras put over Shiva-lingam then he may take it, wash it and again offer it to Shiva. Shiva is so kind to his devotees that He even accepts the imaginary offerings equally. As in the first stanza of "Shiva Manas Pujan Stotram" many things including Bilva-Patra is offered in imagination:- 
Ratnaih kalpitam aasanam himjalaih snanam ch divyambaram
Nana ratna vibhooshitam    mrigmadamodankitam chandanam
jatichampakvilvapatra  rachitam  pushpam  ch  dhoopam tatha
Deepam dev  dayanidhe  pashupate   hritkalpitam  grihyataam.
Devotees plant this tree in their house campus for Bilva-Patra and the fruits. Bilva-tree on the campus helps to make one's name, fame and wealth grow. Not only this since the tree of Bael represents Shiva himself, after getting up from the bed in the morning people see and say 'namaskar' to the tree and speak this "Shloka",
Darshanam Bilva Vrikshasya Sparshnam Papnashnam
Aghor    Papsanharam     Bilvapatram     Shivarpanam.
The worship of Shiva-linga under a '
Bilva-Tree
' is very fruitful. Watering a 
'
Bilva-Tree
' with simple 
'Jalam'
 or '
Gangajalam
' gives the '
Punya
' of visiting all 
'Tirthas'
. Putting the water from near the root of this tree on the forehead destroys all "
Papam
".
Astrological Importance of Bilwa Patra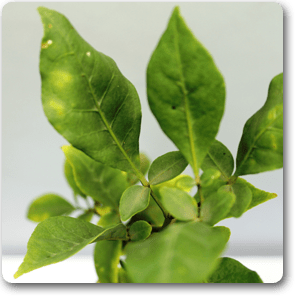 Those who are born in Visakha Nakashtra and Scorpio moon sign or having a birth in Visakha Lagana nakshatras they should either plant Bilwa Patra Tree in their garden and daily give water to this tree or those having health issues related to liver or stomach should take Bilva Juice daily to Nullify the negative impact of Jupiter in their Natal chart.
Even meditation under this tree can be blissful too for Visakha nakashtra people. Despite Planting they should Do Rudra abhishek with Bilwa Patra, fruits, Milk and rest of Panch amrits. It can heal the malefic effect of Jupiter with much greater speed if done with proper care and utter devotion.
Even those having Jupiter as Bhadhaka planet they should also plant or donate Bilwa planet to someone needy or near Shiva linga in lord shiva temple, that way it can nullify the negative impact of Bhadhaka.
If Jupiter is malefic it can lead to trouble of Liver functionalities, Elevation in enzymes, Uncontrolled Sexual appetite, gall bladder issues, Kidney enzymes troubles or sometimes increase in level of infections or Diabetic pattern, Can give increase in Bilirubin- Jaundice, Weakening of body due to extreme heat in the stomach and liver, can leads to gastric troubles or constipation etc too.
Reason being according to System of 5 limbs Nakashtras are known and seen for Health Matters of Mind and Body. Any affliction to Native birth nakashtras can lead to disturbed health of Mind and body. This is the only reason why affliction in Scorpion moon and Visakha Nakashtras lord via nodes are mostly prone to problems of Liver and Genetic organs issues during their Dasha padas.
Same way Visakha Nakashtra Diety connected with Indra – the god of transformation, Power and Agni the god of fire, could be another reason why Visakha people are so much extremist in everything in life from sexual appetite to power to hunger.
So, Increase in the Level of Tamsik and Rakashas gana in this nakshatra can lead to health trouble due to overindulgence in Sexuality, over hunger, increase in appetite, improper digestion, stomach issues, gas and mostly liver has been found afflicted.
So, best Remedy to cure Viskhna Nakashtra (Scorpion) moon sign is the planting of a bilwa tree and having bilwa fruit daily or worshipping of Lord Shiva with Bilwa Patra and fruit .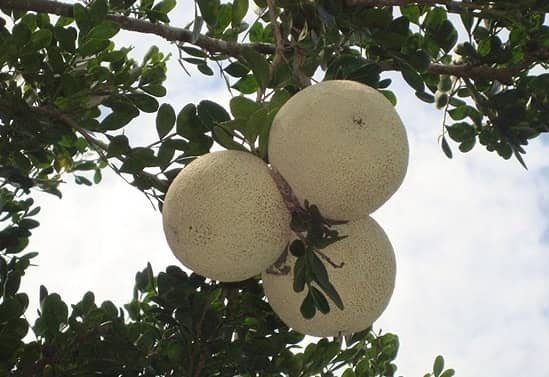 Medicinally Bilwa has many benefits :
1) Can cure diarrhoea, cholera, haemorrhoids, vitiligo.
2) Can Reduces gastric ulcer.
3) Antimicrobial property.
4) Can cure scurvy.
5) Can control cholesterol.
6) Can solve respiratory problems.
7) Anti-inflammatory.
8) Can be used to treat heart diseases.
9) Can prevent constipation.
10) Can control diabetes.
Nutritional Value of Bael Fruit
The various nutrients in a bael fruit per 100gm.
Nutrients Amount
Carbohydrate 31.8 gm
Fat 0.3 g
Proteins 1.8 gm.
Vitamins
Vitamin A 55 mg.
Vitamin B Rich in Vitamin B1 and B2
Vitamin C 60 mg.
Thiamine 0.13 mg.
Riboflavin 1.19 mg.
Niacin 1.1 mg.
Carotene 55 mg.
Minerals
Calcium 85 mg.
Potassium 600 mg.
Fiber 2.9 gm.
Water 61.5 g.
Energy 137 k.cal
Energy 137 k.cal
10 Health benefits of Bael
Bael for Tuberculosis: In Ayurveda, it is used for the treatment of tuberculosis.
Bael for Gynecological disorders: The regular consumption of Bael helps to prevent gynecological related issues.
Bael for Urinary diseases: Use of bel leads you to overcome the problems of urinary diseases.
Bael for Diabetes prevention: It has bitter pungent, full of antioxidants and helps to stimulate the pancreas to secrete insulin, which leads to lowering of blood sugar. The leaves can be used against diabetes.
Bael for Digestive disorders: It supports intestinal biological formulations and protects the digestive system from ulceration, reduces the frequency of Irritable Bowel Syndrome (IBS), intestinal spasm thus beneficial in treating of dirrrhea, dysentery, and other infections of Elementary canal.
Bael for Fever prevention: The leaf juice with honey is helpful in prevention of fever.
Bael for Epilepsy: Flowers are uses as epilepsy tonic.
Bael Nutritional facts: It is rich in alakloids, polysaccharides, antioxidants, beta carotene, vitamin C, Vitamin B, and many other bio-chemical substances. It also contains tannins, calcium, phosphorous, iron, protein and fiber. The 100 gram of Bael contains the following nutrients: Calorific value (137 Kcal), Moisture (61.5g), Protein (1.8g), Fat (.3g), Minerals (1.7g), Fiber (2.9g), Carb (31.8mg), Calcium (85mg), Phosphorous (50mg), Iron (.7mg), Beta carotene (55 UG), Thiamine (.13mg), Niacin (1.1mg), Vitamin C (8 mg), Potassium (600mg) and Copper (.21 mg).
Bael for Piles treatment: The extract of unripe bel fruit is helpful in curing of piles and hemorrhoids.
Bael fights ulcer: Due to its soothing effects on the digestive system, it leads to reduce the acidity level in the stomach thus useful in combating ulcers like gastric ulcers, gastrodudenal ulcers, etc.

Uses of Bael
Its juice is used to make drink and squashes, especially in summer season because of its sweet and pleasant nature.
Bael tender leaves are used as salads.
It cleans the atmosphere as it helps to purify the atmosphere by absorbing the harmful gases from the it.
It is used to increase appetite.
Its extract oil is used to cure respiratory problems.
It is used in the preparation of candy, squash, toffee, pulp powder, and other eatable products.
Medicinal benefits of Bael
Bel is known for its medicinal values because of the presence of many bio-chemical substance such as alkaloids, antioxidants, polysaccharides and essential oils.
The fleshy inner product of bael is curative, pesticidal, nutritive as well as therapeutic in nature, which is used for the treatment of many diseases and disorders.
Wood apple leaves are of therapeutic value and used in lowering of blood cholesterol.
It is anti-inflammatory in nature. Its extracts when applied on the exposed area, help to cure inflammation.
Bael's roots are antidiarrhoetic, antidote to snake venom and anti-inflammatory for healing.
Bel juice benefits
Bel juice is useful in curing of constipation because of its laxative properties.
Bel juice gives great comfort in heartburn, acidity, hyperacidity and indigestion.
If you are suffering from intestinal parasites, it is advisable to drink bael juice because of its antidote nature.
Aegle marmelos juice is good for heart and brain. Bel juice mixed with Ghee, is beneficial in prevention of heart disease. It is also used as heart tonic.
Chewing of raw leaves of Bel help to solve many gastric problems.
Bael juice is rich in vitamin C, and good for scurvy treatment.
Bel precaution
Though Bael is a beneficial Ayurvedic plant, but it has some side effects too. Before eating the fruit, one should take caution in the below given conditions.
Abdominal disorders:  Excess of bael consumption leads to abdominal disorders.
Constipation: If you are taking more quantity of the fruit, it may lead to constipation.
Pregnancy: One shouldn't take Bel during pregnancy.
Breastfeeding:  Avoid during breastfeeding.
Surgery: It shouldn't be used in surgery.
Diabetes: When taking for lowering of sugar in blood, one should observe sugar level carefully as it may down sugar too low.
Hypertension: One should avoid to take this fruit if having high blood pressure.
With thanks and Regards,
Rakesh Singh Jamwal
Source and Reference:
Skanda Puran, Chapter 250, Creation of bilwa Tree
Sacred Plants of India by By Nanditha Krishna
https://www.biodiversityofindia.org
Historical and Ethno-Medical Review on Bilva by Neha Parmar, Suman Singh, & Bhupesh Patel
Therapeutic  potential of  Aegle marimelos  leaves as an Antioxidant and anti-diabetic agent : A review by
V. NIGAM AND V. S. NAMBIAR
Wikipedia