The Story lies in the ancient tales from the era of the king Vikramaditya,  Once upon a time, the seven god of the week, were in meeting. Rahu and Ketu are also there. Rahu & Ketu put one question in front of them. The question was "who is the powerful god among us?" They could not decide on this matter. So, they went to Devraj Indra for his adjudication. God Devraj Indra thought if he gave decision in favour of any one god then other will be unsatisfied with me. He told them that respected gods, I am also like you so, how can I decide that who is great & I can't give an impartial judgment. So, better thing for all of you go to the planet earth. There is King Vikramaditya. He is very good justice on all over the earth. Hearing this entire thing at last all God went to King Vikramaditya.
When all gods came to King Vikramaditya then king gave big respect to them and begged for any king of service. They told him about their problem. It was very difficult task for Vikramaditya. But he was dutiful king so, he accepted this challenge gracefully. After thinking on this, He arranged seven thrones. These thrones were made from Gold, Bronze, Brass, Tin, Zinc, Mica, & iron respectively. The thrones were put by numbers. The Gold throne was put at number one & the iron throne was at the last. Then King Vikramaditya requested to seven gods for grace the throne of their own selection. God Surya (Sun) was in the gold chair while God Shani selected the iron chair.
When the seven gods had sat in the chair of their own selection, Vikramaditya said, "Now according to the order of your throne you may decide your own rank & none can thrust my judgment upon you." Hearing to this, God Shani (Saturn) stood up & said to King Vikramaditya, "You ranked me the lowest among these gods. You don't know my power. Sun can stay on a Zodiac (Rashi) for One to Two months, Marsh for half and one month, Jupiter for maximum thirteen months, Mercury and Venus for one month only. Rahu & Ketu for eighteen months. But only me who can reign a Zodiac from two and half years to seven and half years. This period is called as "sade sathi". Due to this sade saathi period powerful god also trembled. When I was angry on Rama then he got banishment instead of throne. Now be prepared because it's your turn." Saying all this God shani went back.
After a very short time, the "Sade Sathi" period was occupies by Shanidev on Zodiac of Vikramaditya. From here, king's sade sathi period began which was for seven & half year. Shani dev went to Vikramaditya's kingdom as a horse-seller & he had very attractive horses. People were also praise of those horses. When King Vikramaditya heard about the strange horses, he sent to Ashawapal to buy a best horse for him & when Ashawapal came with one attractive horse, then king was so pleased to see the horse that he could not stop himself for riding on this horse. But, when he was riding on horse, the horse disappeared in the air with a great speed. After a few second king was in deep and thick forest. He had very tired. Due to out of his kingdom, King Vikramaditya faced many problems. These entire problems were created by God Shani dev.
At the palace of Ujjaini, Queen Madenlekha was worried about King Vikramaditya. Queen Madenlekha was the devotee of Shani Dev. So, she requested to Shani dev to save her husband. Due to the Prayer of Queen Madenlekha, Shanidev promised that I will save your husband but he has to endure for his work (Karma).
King Vikramaditya was out of from his kingdom so, no body was introducing him. At last Vikramaditya reached a nearby city and in the city he met a respectable businessman. This businessman also not introduced Vikramaditya. King was looking like a beggar. With the sympathy, the businessmen took him to his home and arranged food for him. On that day businessman earned more profit due to the grace of Shani dev. But, he thought that this man (King) is lucky for him. Thinking this he kept him to his house for work.
The king was enduring his Sade Sathi period. He was living in the Businessman's home by changed name. After some days, there was a marriage of Businessman's daughter. In this marriage Vikramaditya was the responsible person. He went to the market with businessmen's another daughter for purchasing of Marriage's material. In the market, Vikramaditya met to shanidev who was in disguise. Shanidev gave a picture of duck to Vikramaditya.
The marriage arrangement was going on properly. Suddenly, the marriage's necklace of bride had lost. The necklace was swallowed by the duck which was in picture. Businessmen's wife asked to king about necklace but King could not explain anything to her. She thought that king is thief and she arrested him by the soldier of king Chandrasen.
King Chandrasen was the enemy of King Vikramaditya. Looked to Vikramaditya, King Chandrasen was very happy. He ordered to their soldiers that King Vikramaditya's hands and feet be cut with one stroke of a sward. Listening to this order Vikramaditya cried out. But, Soldiers cuts the hand & feet of him.
Now, The King was without hand and feet. He was dallying like Beggar. An "Oil seed Crusher (Teli)" was looking him and he felt pity on him. He took him to his house and arranged food for him. He also dressed the king's wounds and after some days, Teli made him capable of driving the bullocks around the grinding machine. Now, Vikramaditya can do his work properly. Like this time passed on. The Sade Sathi period was about to be over.
One night, the king was alone in his work. He was singing song. The voice was sweet. His voice was breaking the silence of the night. In the nearest kingdom, one princess heard the song & she got fascinated towards the singer (Vikramaditya). Princess called to her personal attendant and sent him to know about the singer. After some time, the attendant came back and he told to princess that the singer was servant of "Teli" and he is handicapped. Listening to this thing, Princess decided that she would marry with that singer otherwise she would remain unmarried throughout her life. When princess parents heard about this decision they resented on princess. But, ultimately they were ready for that decision.
The King (father of princess) went to the Teli with the proposal of Marriage. The king said to Teli, "Arrange for the marriage of this handicapped person, my daughter wants to marry with this man." Teli did not believe on king but at the final teli became ready for marriage.
Marriage of Princess and handicapped Vikramaditya was over. But princess parents were not happy. At the mid-night of honeymoon King Vikramaditya had a small nap. God Shani dev visited to the King's dream and said, "King Vikramaditya, you ranked me the lowest among the gods. All this happened with you this is effect of my sight. You have undergone enough sufferings for your misjudgment. But now your Sade Sathi period has over." Hearing this news king became happy and he requested to Shani dev "Do not inflict such suffering in future on anyone like me. The God accepted the king's request and disappeared.
When King Vikramaditya opened his eyes, he became surprise to see that his hands and feet in proper shape. The princess & her family member were also so much happy to see this. But when they knew about the reality of handicapped person that he is King Vikramaditya, king (princess father) was overwhelmed with joy and praised his stars.
This news reached immediately in all area & nearest area. The businessman also got this news and felt guilty to his behavior with Vikramaditya. He went to Vikramaditya & requested him, "Excuse me for my wrong behavior with you." And he also invited him for dinner. King Vikramaditya accepted his request & next day he went to businessman's house for dinner. In the house of businessman, King Vikramaditya said, "I shall dine in the same room where the necklace had lost." Without asking any question, the businessman arranged the dinner in that room. When the Vikramaditya were dining, he saw to his great surprise that the invaluable necklace was emerging from the same duck which was in picture. This Imaging thing was seen by all the people who were present in that house. The businessman was so much overwhelmed with joy and he too decided to marry off his daughter to Vikramaditya.
After some days, King Vikramaditya returned to his Kingdom. Queen Madenlekha became so much happy to see Vikramaditya has returned to his kingdom. On the next day in the court, The King Vikramaditya said to his courtiers to make a proclamation by the beat of drum that God Shani is also powerful like other God and so, they should keep fast on Saturday as a mark of honor of God Shani dev. After that in the kingdom of King Vikramaditya, there was arrangement of worship of Shani dev at every Saturday. Now, Vikramaditya & his two queens were live happily.
(Reference and Source: Greatness of Saturn: A Therapeutic Myth by Robert E. Svoboda)


Now, what actually is Sadesati?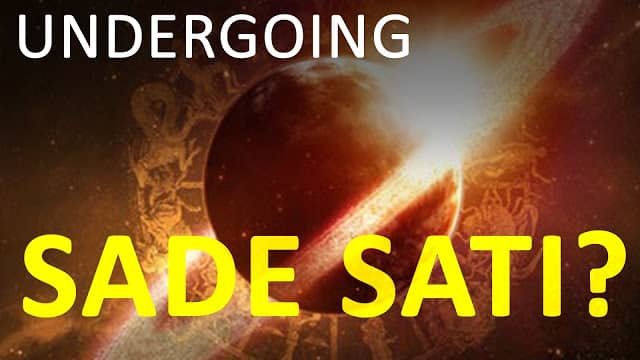 Sade Sati is basically the testing and learning period of 7.5 year of Saturn transit in the zodiac signs of 12th, 1st and 2nd house from the natal moon.Meanwhile saturn do effects when it comes to 4th (Mind) and 8th (Health) from the natal Moon. To understand Sadesati, one should need to understand what actually sade-sati signifies and what are karamas influence on our life. It's basically a testing and transformation phase of Past birth " Praradbha" or  Karmic actions to filter out our deeds and to realize the true essence of Karama one should do in any birth.
Either you have to face your karmic actions or deed of this birth or you have to face the karmic actions of your deeds of 100 years back you had done either in conscious or non-conscious mind but the rule of Karama is one has to pay back those deeds in any case. chance from chasing away or moving away from them only depends on the divine wish of almighty, whether to reduce it or maximize it via your utter devotion, though karma principals are very much straight and divine, If you do your current karma with uttermost devotion and bhakti bhava.
Sade-sati essence is to realise your neglected and pending karmic duties those you are either ignoring or neglecting in any of your birth. if it is the sins you had done then the phase of sade-sati would be very much trans-formative and intense. If your Saturn is Ak or retrograde then the phase of Saturn Sadesati would be soul transforming and it will give lots of ups and down but it will make you the true devotee of almighty and very much spiritual to finish off  those tasks given to you or those are pending from past.  
One should not need to worry or fear of sade-sati if he is true and pious from inside the soul or  if he is doing his current " Kiryamani or aagmi karma " with uttermost and selfless care. " If Saturn is digbali or exalted ( you are blessed  by the Narayana ) and if it  well placed in chart or having Good Shadbala strength or it is well placed in Saptavargi  or dashavargi charts then sade-sati would be blessing to that Native". He would be a devotee of Karma or Shani dev internally.
One who follows the Bhagwad Geeta and karma theory  he never need to worry on account of his karamic actions, those are need to fear those souls are corrupted by the 6 weaknesses in any of birth.
Astrologically ,saturn 7.5 years have three phases- first phases teaches and gives us major lessons via close relationships (wife, Children, Friends, Loved ones, mother, fathers and Guru's etc in our life regarding that house matters.One can learn so much in this period both positively or in negatively way but end would be good for you when Saturn will cross your natal Degree of saturn in transit chart.
for e.g if your Saturn is placed in 15 degree in natal chart then first phase of sade-sati would be effectively start working near mid of first phase of 2.5 years and  would be the time period when you can start getting your lessons of life.
2nd phase of Sade-sati teaches us about individualities and weaknesses we incur via our thoughts and desires, here saturn filters out our weak thoughts  and endless desires and actually it is the root cause of your birth when you can learn your lessons of past, Moon shows the root cause or root reason of past birth. 
Lessons and sufferings would be either health sufferings, mental weakness, anxieties, by enforcing strict discipline in our mind and letting us understand that we must let our desires and greed goes out and become satvik from Ideology  and we should not try to stick to them to harm others. Here natives learns that one has to suffer mentally and physically both to understand how we must sacrifices our desires, may be those desires or greeds become root reasons for sufferings to others in any of birth.So, always watch your actions and Thoughts what  you are doing in current birth. 
3rd phase of saturn sadesati phase of life little bit gives relaxations in our life and teaches us about how important are our material and family responsibilities in material or karmic world, here saturn teaches us that we must not leave our family responsibilities alone or in half and should dutifully done those without sacrificing personal goals.
Here lord of karma teaches us that we must not be lethargic in all family duties and goals, he teaches why Kutuambh and relations living in those are so much important and we must fulfill them with responsibilities.I hope this will help you to understand what actually lord shani dev wanted to teach us via our root reason of birth.
1. Light Mustard oil lamp in the temple before Shani Dev Idol on every Saturday, follow this it for either 11 Saturday or 7 Saturdays in evening.
2. Distribute (Khichdi Made of Kaali Maa Ki Daal and rice) to the poor and the devotees in Shani Mandir or temple on Saturdays.
3. Take some Black Til (Sesame), Black Maa ki Daal, put some til/mustard oil in it and pour it over the Iron or Black Shila Idol of Shanidev placed in the temple.Do this on an every Saturday for continues 40 Saturday or 11 Saturdays.
4. Donate Chappals made of leather, blankets, umbrella to the poor on a Saturday outside the Shani temple.
5. Feed lepers or the handicapped on a Saturday near Shani dev temple.
6. Install the black Horseshoe at home front gate.
7. Do not buy any metal or oil on a Saturday.
8. Read the Shani Stuti after lighting a Til oil lamp under a Pipal tree on Saturdays. Below here is the
Shani Stuti.
Konastha pingalobabhruh
Krishnoroudraantakoyamah
Souri, shanaischaro mandah
Pippaladishu sansthitah
9. Start worshipping Lord Shani Dev every Saturday, those who having an afflicted Saturn in theirhoroscope and they should light a sesame lamp to Shani dev temple on every Saturday and should recite "
Dasrath Krit Neela Shani Stotra " either for 40 days or for continues 40 saturdays.
Here is the stotra for same From Skanda Puran
The following is the Dasaratha Shani Stotra from Padma Purana
Dhyaathwa Saraswatim Devim Gananatham Vinayakam.Raja Dasharathah sthothram Saureridhamathakaroth.Namo Neela mayukhaya Neelothpala nibhaya cha,Namo Nirmaansa dehaaya Deergha shmashru jataaya cha,Namo Vishaala nethraaya Shushkodhara bhayaanakaNamah parushagathraya sthularomaaya Vai namahNamo nithyam Kshudhaarthaaya Nithyathapthaya Vai namah
Namah Kaalaagni rupaaya Krthaanthaka namoshthuthe,Nameste Kotaraakshaaya Durnireekshyaaya Vai namahNamo Ghoraaya Raudraaya Bheeshanaaya KaraalineNameste Sarva bhakshaaya Valeemukha namosthutheSurya putra namestesthu bhaskare bhaya dhayaka
Adho-drushte namasthubhyam vapuhshyaama namosthutheNamo Manda-gathe thubhyam nisthrinshaaya namo namah
Thapasa dagdha-dehaya nithyam yogarathaya cha
Namesthe gyaana nethraya kashyapathmaja sunave
Thushto dadasi Vai raajyam rushto harasi Thathkshanaath
Devaasura manushyaashcha pasupakshisareesrpaah
Thvaya vilokithaah saure dainyamaashu Vrjanti cha
Brahmaa shakro yamashchaiva rishayah saptha-tharakaah
Rajya bhrashtaashcha t'e sarve thava drishtyaa vilokithaah
Deshaa nagara graamaa dweepashechai vaadrayasththaa
Raudra Dhrushtyaa t'u ye drushtaah kshayam gacchanti thath kshanaath
Prasaadam Kuru me saure varaartheham thavaashrithah
Saure kshamasvaaparaadham sarvabhutha hithaayacha
10. Best Remedy for Sade-sati is regularly read the Hanuman Chalisa and Bajrang Baan to please Hanumanji for pacifying extent of Sade-Sati and other Dasha effects.
11. Offer prayers to Lord Shiva as Lord Shiva is the guru of Lord Saturn. Do Either Rudra Abhishek with Bel Patra and other Pancha Amritam and Read Rudra Ashtakam on every Monday and Saturday for a blessed life.
12.Daily Feed crows (vehicle of Lord Shanidev) with a cooked and first-morning meal from your own meal every day.13. Be gentle to your maids, servants, vendors, hawkers, labourers, cleaners, low grade workers.Never try to grab their money or harass them, Pay their dues on time and win the love of Saturn.
14. Take care of and love your Mother, father (GrandfatherGrandmother) with uttermost devotion and do proper Seva till elder age, as Lord Shani-dev loves his mother very much from the core of the heart. So you should not disrespect and neglect your duties toward your parents, if you do so you can face the wrath of the Shani dev, even though Shani Dev has some issues with his father (Surya dev) but from the core of the heart, he has true respect for his father.14.The Best cure for Sade Sati is to daily chant Maha-Mantra of Lord Saturn Maha mantra:
"Om nilanjana samabhasam | Ravi putram yamagrajam ||
Cahaya martanda samhubhutam | Tama namami Shanescharam||"
The person who has Sade Saati should recite Shani Mahamantra 23000 times within the 7 and ½ years. Shani Mahamantra's recital should finish within 23 days. Thus, by reciting the Shani Mahamantra by a 'mala' ten times a day, it will finish in 23 days.
15. Chant 108 Names of Shani Dev, " Shani Dev Ashtottara Shatnamavali ".
(Source and Reference :
https://www.tamilbrahmins.com/showthread.php?t=26113
http://www.shanidev.com/the-cure-for-sade-saathi.html)