Case Study: How to Find Spouse First Alphabet
Keywords : How to Find Spouse First Alphabet :  Understanding spouse in astrology, physical appearance, 7th house, 7th lord and nature of spouse,Marriage and Relationships, spouse appearance in astrology, spouse astrology, Spouse First name, spouse in astrology, type of spouse in astrology, Vedic Astrology, first letter of my life partner astrology.
URL for part 1 :  https://www.vedicsiddhanta.in/2017/07/how-to-find-spouse-characteristics.html
From the previous post, we have understood all the traits required for understanding partners qualities and able to know all the people who are eligible or not for marriage bond. But the Real nature and qualities of the spouse can only be understood via analyzing " Up-Pada Lagna".
What is Up-Pada Lagna ?

For Serious Relationships; Always Check UL(Up-pada) it will indicate the actual nature of the eligible Spouse.
Upapada, also known as  'Arudha' of the 12th bhava' of the chart.12th Bhava denotes to give, to sacrifice and expand.
Nature of this pada is to determine the inner nature of the native towards the spouse. The relationship of the lord of Upapada with the Lagna lord will determine whether the relationship or marriage will mature or not. If UL is well placed in Trines or in Kendra's and also falls in trine to the Lagna of the Spouse, then it is the best match for marriage. But If the lord of Upapada goes to the 12th house, it indicates that marriage won't mature at all. This would also indicate delays, hurdles or unknown troubles occurring in married life many a time mostly denies the marriage.Any Planet placed in UL indicates about the Soul Nature of the spouse i.e If Moon is in UL spouse would be emotional, very caring, Fair in complexion, and loving type. Same way if Venus is placed in UL, the spouse would be romantic, Passionate, beautiful and artistic and sensual in nature. If Ketu or Jupiter will be placed in UL, the spouse would be fair as well spiritual in nature.Saturn in Ul would give somehow Orthodox spouse who follows old traditions and trends in married life.
Since Upapada determines the nature/attitude of the person towards the spouse who is a lifelong partner, it is most important that the sign/rasi of the Upapada would be auspicious with respect to Lagna of the native without any malefic influence.
It's auspiciousness determines the purity of nature of the native and how the person would treat his or her spouse. Any affliction to the  UL Rasi would change the whole scenario of the spouse characteristics. This would indicate compatibility factors, fidelity, affection etc., which forms the basis for a good spousal relationship, either questionable or it is totally absent depending on the inauspiciousness or affliction of the UL sign. Affliction on 2nd from the UL or if 2nd Lord from UL is afflicted in D9 then it would give break in married life, as 2nd from Either sustains or breaks the marriage bonds. Malefic shows the circumstances that can break and beneficial would sustain and also shows the need of the spouse that is required in married life.Thus overall analysis of UL is most important in understanding true nature of spouse.
Now it is confirmed that the Lord of Gaunapada or 12th Lord becomes very important in determining the spouse nature, spouse family, Siblings, Pre and post problems wrt to married life,  spouse attitude of the person, and happiness/sorrow from a spouse.
Usually,  An exalted lord of Upapada will bring a spouse from a noble family, while in the case of a debilitated lord of Upapada the spouse will be from a family below the status of the native.More In-Depth detail on UL will be explained in another post.
For Short Terms Relationships like "Boyfriends/Girlfriends ": always Check A7 or A7 Lord Connectivity with the Arudha Lagna or AL Lord and the link with Planets in 7th House or its lord.Usually, Association of A7 Lord and AL gives strong infatuation with the person those are in affairs and it also shows physical intimacy with partners as well if 7th Lord also joins A7 or A7 Lord. 
General Note:  Always See D1 Chart (Lagna) 7th House or  7th lord for issues in 1st Marriage Partnership  and also confirms the Placement & Strength of 7th lord of Lagna Chart (D1)  in D9 (Navamasa chart- chart of marriage) for any affliction or not than Predict about the Prospects of the Marriage and Marriage Partnerships.
For Denial and obstructions of marriage, 6th house and 6th Lord is mainly responsible for understanding obstruction in entering into relationships and this also causes Separations too.6th house and 6th Lord always try to give deny and delay in Marriage and May cause Separations in any Relationships  if it is linked with the 7th Lord in D9, Normally  Placement of 7th Lord enforces the Relationships and 6th Lord causes delays.
General Note : For Exact Detail on Spouse study of UL (Up-pada is Required to Study deeply) and for Short-Relationships, living in study of the (A7 -Dara-pada) Need to be Study Deeply.
Now after Finding out the Traits and Qualities of the Spouse its the time, try to find out the Name characteristics or First letter or Swara falling in spouse name from the Horoscope though it is a very tough process but quite accurate and gives a clue on it too.Sometimes it is easy to decode but many a time it needs lots of patience to understand the concept.

For Finding out the First Letter or Name of the Spouse you need to check the 7th Lord planets Nakshatra and its Pada and the lord of the Nakshatra Direction in the D1, it will tell all the all qualities of that Nakashtra and actually, it indicates the name of the Spouse of the first letter also.This Nakshatra will tell you all the qualities of your Future Spouse.After than Check who is the lord of the Nakshatra and Where is the Nakshatra Lord Sitting in your Horoscope. Also, Check the Nakshatra Lord Sign Depositor is sitting in which Sign or House it will also tell the direction too.If the Nakshatra Lord is Sitting in the 10th house then it will tell more about the name hints, clues of naming convention and the qualities of the Spouse which indicate her Name.
Conditions to Be Check for Spouse:
Case Study 1 : Male | Single ( Aq ) Lagna :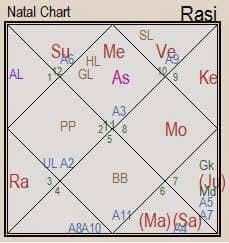 1) Native 7th lord Sun in Pisces Sign (Spiritualistic Sign) – Native will Get Spiritual, emotional and Thought full Spouse but Some How to mean , Self -centered and Egoistic too ( Sun 8th from its own Sign).
2)7th Lord Nakashtra is ( Poorva Bhadrapada – deity is Ajopada (Rudra) ), 4th Pada ( Moksha) Nakashtra ( Cruel Sign & Mean Sign Ruled by Jupiter) – So all the Nature and Qualities of Spouse will be according to Poorva – Bhadra Nakashtra: Symbol double-faced man. It causes burns, punishes by fire, to cause pain, to burn things to ashes, to use words that burn, conduct that blisters, to use harsh words, evil disposition, cruelty, greediness, restlessness, feeling of despair and unsatisfied ambition, to burn by slow degrees, sudden excess of anger etc. Anthropomorphically: the side of the body of Kalapurush. In Moksha Pada, it indicates native may get Spouse which May help to grow spiritually or to be in Spiritualism and can Say she may be Isolated Nature.
3) Nakshatra Lord Jupiter is in Libra Sign ( Depositor Lord Venus is in 12th house – House of Tapa and Moksha or Mediation so native Must be getting Spouse having Venusian qualities having Spirituality in Soul and she may belong from other land or She may like to tapa too ) in 9th House( House of Dharma and Luck, So all significance will improve like dharma, karma, and Bhagya )- So Name Has Much Significance with the Dharma and having artistic bent of mind.
As Guru is in Rahu Nakshatras ( Swati Nakshatra Sign(Libra) is of Balance and Artistic Sign) in 3rd Pada (Kama – passionate behavior) – Spouse will be Very Much Passionate , Sensual and Skilled in art of Negotiation and will be good in an all Artistic pursuit matters and Must be Good in Business Dealings too and will uplift the Dharma and Bhagya.
Guru is in Rahu Nakashtra (Swati) 3rd Pada & having these letters: Ro ,Ru ,Re ,Ra , Taa belong to Swati NakastraCategory – So Native Must be Having Spouse first Letter Name of " R"
7th lord From Venus is Moon & Moon is in 10th house in the Nakashtra Lord of Jupiter who also in Libra sign in 9th house under the influence of Libra sign Ruled by Both Guru, Rahu, and Venus. Moon nakshatra lord is also Guru in Swati nakshtra.
So from 7th Venus also gives clue to "R" Name.
4) Jupiter Nakashatra ( Swati) Lord Rahu is in 5th house in Guru Nakshtra (Punurvase Nakshtra – Jupiter Nakshtra) and Depositor lord Mercury is Rahu Nakshtras in Lagna Aspecting the 7th house: – So Native Will get Very Sharp Minded and Skilled Spouse.
Now Swati Nakshtras Names Ruled by Letter "R" as Guru is in Rahu Nakshatra and Rahu is in Guru Nakshtra, around about Pada 2.
Swati Ruled by Windy Deity so Name Should be Influenced by Wind in name as Rahu is in Dual Sign name could involvement of Two names.
Case Study 2: Male | Married | Capricon Lagna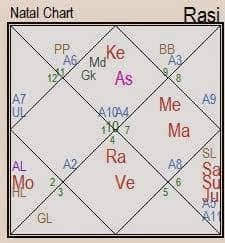 1)Native 7th lord is Moon in 5th house in Taurus Sign ( Sukh, Pleasure , wealth and Family growth) – Native Must get loving Wife and caring too who have capability to bring growth in all materials matters.
2)Native 7th lord nakashtra is in Kritika ( Lord Sun – Bold and Administrative ) in 3rd Pada ( Kama – Desire of all Sukh ) so She will bring all Sukh to the native family after Marriage.
7th lord is in Kritika Nakashtra which means women who can burn anything having all qualities of Sun and agni. Devta is Agni.
The Devata is Agni; Ruling planet is Sun. Agni is the great purifier, the great consumer of and the giver of light, heat and brightness. Agni causes the fire of life and the drive. It is also the spark of life. Without fire creation would not exist. Agni is at the base of creation and of the continuation of existence. It consumes everything. The fire of digestion in the human system and the external fire for cooking are only different manifestation of the same principle, which is Agni. Agni is the symbol of brightness and brilliance, all weapons with firepower. And other things of the same category come within the range of Krittika group. The fire is considered as purifier; for it burns away all that is wicked, dark and dull, also all that is low and sinful and inauspicious in the world. The dross thus blazed away, only effulgence and light remain. Fire gives the earth its activity and dynamic and revives it after the spells of cold that periodically inflict comatose condition of the earth. It is easy enough to deduce from fire the causal effect of the Krittika group. So she will be A light for the native who can burn away all Negative things from native life.
3) Nakashtra Lord Sun is in 9th house in Hasta nakashtra ( Nakashtra of Skills and Hands ) in Dual Sign ( Virgo) and in 1st Pada ( Artha – Wealth and growth in Artha ) and Depositor lord Mercury is in 10th house which means Native will Meet his wife via Work Environment or in Work environment and She will bring All form Social as well as Career growth to the native life including Wealth( 1st Pada) , Dharama( 9th house) to the native and will add luck and Spiritualism( (9th House) too and will be very lucky in Career and all Karma ( 9th lord in 10th house) in actions and She will be Very Dharmic as well very Career oriented too.
Hasta Nakashtra Ruled by Pu , Sha , Na , thaa So native Spouse will be Ruled by all these Letters and Name as 7th Depositor is in 1st pada in Hasta which Natives Means Name must be Having solid Influence of Letter "Na" and Name must be Combination of two names as what Dual Sign Signifies Because of 7th Lord Nakashtra Lord is in Dual Sign.
7th from Venus is Saturn also in 9th house ( House of Jupiter and Sun) with Sun , Jupiter again in Dual Sign which Means Native Wife have Strong role of Sun, Saturn and Jupiter ( Mixed Influence) and all qualities of will be within the reach of Sun( Dharma).
Sun nakashtra lord Is Hasta – Moon also in 5th house and 7th lord is also Moon so Native wife must Be very emotional and Caring too and tender nature.
So She must be having Name which has Moon Role Much in real life and its true Native Spouse Name Starts from letter "Na" and Name is " Navneeta" Combination of two Names – " Nav " Neeta" = Nav + Neeta = " Navneeta" Which Means Very Soft , tender and Like butter and very smooth.

Regards,

Rakesh Jamwal