" The Divine Codes " – volume 5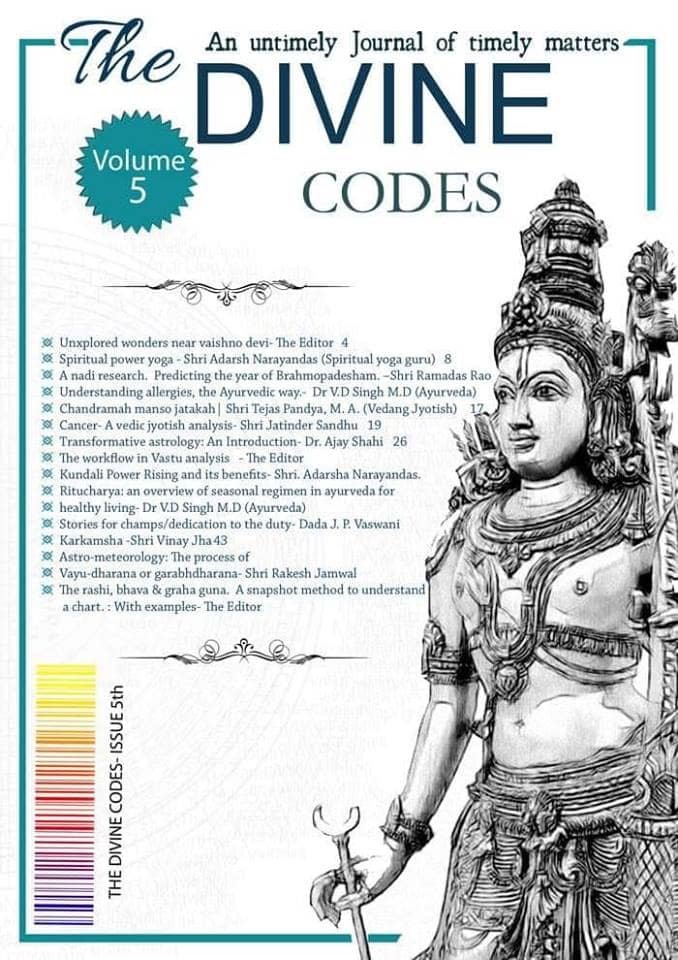 Dear Readers,
We are glad to inform you that the 5th Volume of our magazine has just been released on the auspicious day of Aswin Shukla Poornima.
THE DIVINE CODES- ISSUE 5 – Released
Articles at Glympse for volume 5th | October 2018 | The Divine Codes
• Unxplored wonders near Vaishno devi- The Editor
• Spiritual power yoga — Shri Adarsh Narayandas (Spiritual yoga guru)
• A nadi research. Predicting the year of Brahmopadesham. –Shri Ramdas Rao
• Understanding allergies, The Ayurvedic way. Dr V.D Singh M.D (Ayurveda)
• || चन्द्रमा मनसो जातः || Shri Tejas Pandya, M. A. (Vedang Jyotish)
• Cancer- A vedic jyotish analysis- Shri Jatinder Sandhu
• Transformative astrology: An Introduction- Dr. Ajay Shahi
• The workflow in Vastu analysis – The Editor
• Kundali Power Rising and its benefits- Shri. Adarsha Narayandas.
• Ritucharya: an overview of seasonal regimen in ayurveda for healthy living- Dr V.D Singh M.D (Ayurveda)
• Stories for champs/dedication to the duty- Dada J. P. Vaswani
• Karkamsha – Shri Vinay Jha
• Astro-meteorology: The process of vayu-dharana or garabhdharana- Shri Rakesh Jamwal
• The rashi, bhava & graha guna. A snapshot method to understand a chart. : With examples- The Editor
DOWNLOAD LINKS: