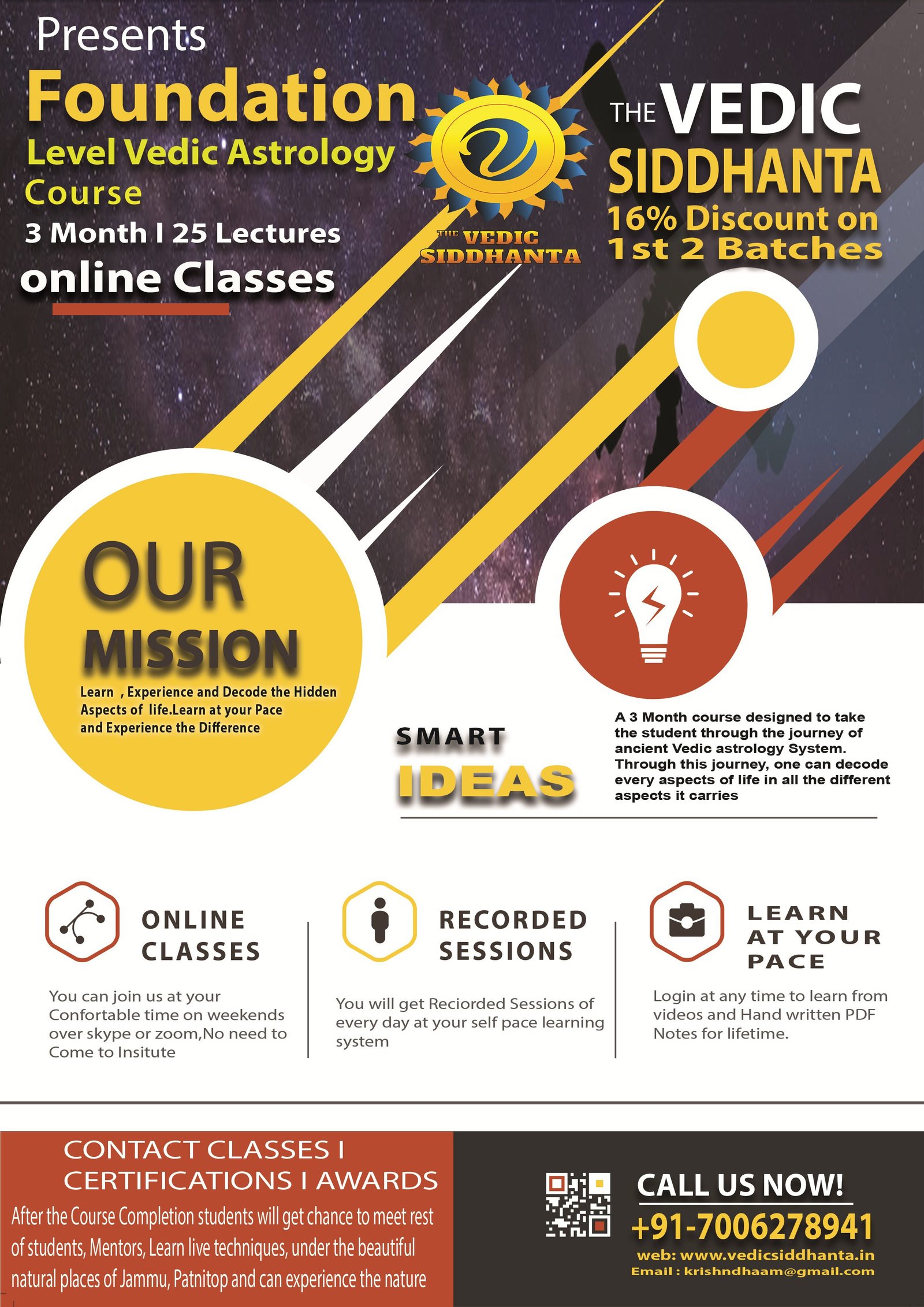 A 3 Month course designed to take the student through the journey of ancient Vedic astrology System. Through this journey, one can decode every aspect of life in all the different aspects it carries, develop the intuitive abilities as well as teaching various predictive techniques by the end of this course by various predictive Jyotish system like Parashara, Jamini, Nadi, prashna, etc.
This course gives the aspirant a working knowledge with Natal chart and how these relate to different areas of life, relationship, career, finance, creativity, health, children and spirituality. Vedic Jyotishi is a wonderful self-development tool. Here you will learn how to use Jyotish system for your self-development and unlocking various hidden aspects of life and help you understand your own self more deeply and precisely.
Foundation Level Course In Vedic Astrology :
Learn this scientifically designed certified Vedic Astrology course which delivers:
Week 1 : Day 1
History of Vedic Astrology( Knowledge of Vedic Seers)
Working Principle of Astrology
Use of Astrology
Misconception regarding Astrology
Various Issues of Life & Astrology
Day 2
Mathematical Astrology
(Astronomical Fundamental of Astrology)
Arrangement of Planets in Solar System
Understanding Seasons and Motions of the Sun
Understanding Cycle and Phases of Moon
Relative Motion in Astrology and Understanding Conjunctions
1) Time taken by a planet to travel a zodiac
2) Angular Velocity of Earth
Week 2nd :
Day 3
Zodiac Signs or Rashi's
Learning Planets or Grahas
Understanding Constellations or Nakshatras
Understanding Various Set of Planets or Combustion or Asat
Understanding Retrograde Planets Motions or Vakri Grahas
Day 4 :
Zodiac Signs & their lord planets
Zodiac Signs & Neech Grahas
Zodiac Signs & Exalted Grahas
Understanding Risings Ascendants
Decoding Various Lagna and their Lordship
Week 3
Day 5
Ayanansha or Ayanamsha
Dinmaan / Dinman
Ratrimaan / Ratriman
Ishtkaal / Ishtkal
Sidereal or Tropical What to choose
Day 6

 

:
Vikram Samvat Year
Shakey Samvat Year
Solar Transitions or Saur Sankranti
Saayan Surya in Jyotish
Niryan Surya in Astrology
Week 4 Day 7 :
12 Indian / Desi Months
Sandhigat Grihas in Astrology
Solar Month or Saur Maas
Lunar Month or Chandra Maas
Day 8:
Paksha or Fortnight in Astrology
Shukla Paksh
Krishna Paksh
Aadhik Maas in Jyotish
Kshaya Maas in Jyotish
Week 5 Day 9:
Kshitij or Horizon
Lagna or Ascension
Chandra Rashi or Moon Sign
Saayan Surya Rashi or Sun Sign
Panchak in Jyotish
Week 6
Day 10:
What is Panchanga ?
How to read a panchanga ?
Tithi
Vara
Nakshtra
Day 11 :
Karana
Hora
Nomenclature of Indian month
Uttarayana in Jyotish
Dakshinayana in Jyotish
Week 7
Day 12:
What is Horoscope?
What is Birth Chart or Lagna Kundli?
What is Chandra Kundli or Moon Chart?
What is Surya Kundli or Sun Chart?
What is Sudarshan Chakra? Tripod in Astrology
Day 13:
Lagna Kundli & directions
Birth Chart & different houses
Eclipses ? Solar and Lunar Eclipses
Kendra and Trikona Sthaans in birth chart
How to Understand Poornima in chart ? /How to Understand Aamaavasya in Chart ?
Week 8 |
Day 14:
The 9 Planets
Understanding 9 Planets
Attributes and Colours of planets
Digbala of planets
Exaltation and Debeltions of planets
Day 15:
Stones or Gems related to planets
Graha Karka Tatwa (Significations of Grahas)
Graha Maitri ( friendships)
Graha Bala ( Planetary Strengths)
Week 9 : Day 16:
Graha and Bhava Analysis ( House)
Strength of Bhavas (Houses)
12 Houses Analysis
Functional Nature of planets in Bhavas
Day 17:
Understanding Various Dashas
Dasha Span of Mahadashas of planets
Sequence of Mahadashas of planets
Vimshottari Mahadasha and Antardasha of planets
Week 10 Day 17 :
Various Doshas and Curses in Astrology ? are they really Work or Authentic
Kaal Sarpa Dosha in Jyotish
Gandanta or Gandmool Dosha in Jyotish
Pitra Dosha in Jyotish
Manglik Dosha in Jyotish
Day 18:
What is Sadhesati of Shani?
What is Dhaiya of Shani?
Ashtam of Shani
How to read Sadhesati
Remedies of Sadhesati
Week 11
Day 19
Sthaan Parivartan Yog between Grihas
Drishti Sambandh between Grihas
Yuti Sambandh or Yog Sambandh
Uni-directional Yuti Sambandh
Bi-directional Yuti Sambandh
Day 20
Various Yogas in Astrology
Roles of planets in Various Yogas
Panch Mahapurush Yogas in Astrologogy
Surya Centric Yogas
Chandra Centric Yogas
Week 12: Day 21
Hans Yog of Guru or Brihaspati
Bhadra Yog of Budh
Malavya Yog of Shukra
Kemdrum Yog of Chandra
Wealth and Penury Yogas in Astrology
Day 22
Gajkesari Yog
Shash Yog of Shani
Ruchak Yog of Mangal
How to apply yogas in Horoscope
Week 13
Day 23
Understanding Transits or Gochar
Usage of Transits on Chandra or Lagna
Ashatakvarga and Transits
Transits and Vimshotri dashas
How to analyze a horoscope?
Day 24
Learning Planetary Lordships
Timing events by Dasha
Timing events by Transits
Timing Various events of Life
Case Studies
Day 25
Interactive Sessions on Course
Discussion on Doubts
Reading horoscopes of Participants
Discussing Case studies Various Known persons
Results of Top Student : Student of the Course
Time – 8 PM to 10 PM ( Interactive Session over Zoom Meeting ) on Every Weekends (Saturday and Sunday)
( Followed by virtual and real-time follow up sessions )
Note : 1 Day of Contact Classes can be arranged if the participants are ready to come for Live classes in a Selected Venue in Jammu or decided later depending on the situation (Charges will be shared depending on the costing and Budget including fooding, lodging and Travel)
Venue- Online classes over zoom or Skype
Guide- Rakesh Singh Jamwal – Author and Researcher
🔆 Energy and Knowledge Exchange (Course Fees) – Rs. 12,000
( Heavy Discount on students who will participate in 1st two batches up-to 16% that will be ) including my handwritten PDF Notes and lectures.)
Prize Distribution and Course Completion Certificate will be included in the course
Register your seat to receive a complimentary Book of Renowned Author and Astrologer Late Dr. B.V. Raman
( My Experience in Astrology )
For more updates and Course announcements on the upcoming Foundation level course of The Vedic Siddhanta, Subscribe to our YouTube channel for the latest information.
https://www.youtube.com/c/TheVedicsiddhanta
to Book your Seat, click on the below-mentioned link :